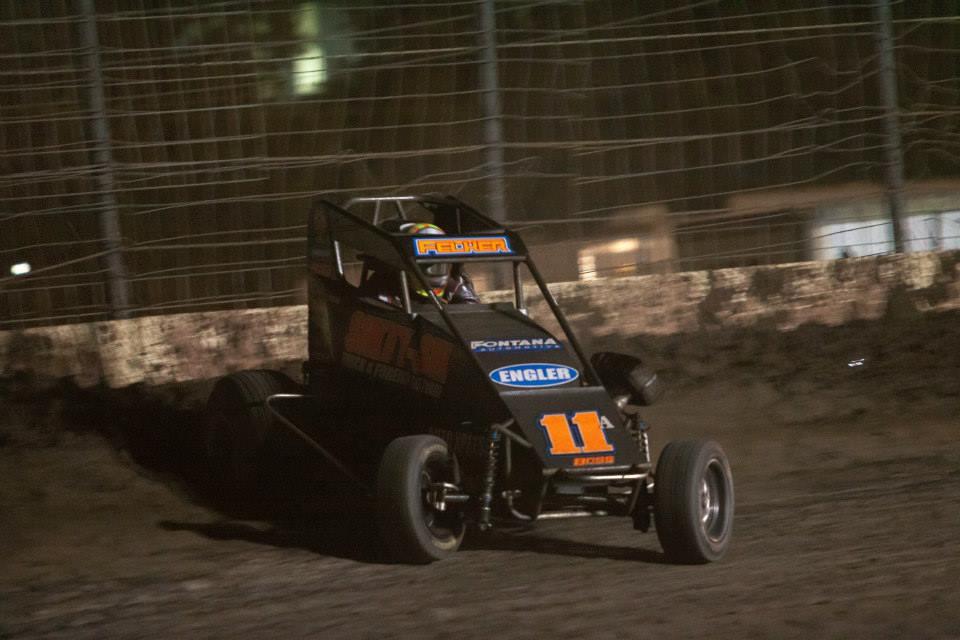 ---
POWRi West Midgets Port City Raceway - Story & Results
Felker Soars to West Success at Port City
Cody Morris
Lucas Oil POWRi West Official Release
Photos: Special Thanks to Kristy McDougal
Monday, September 29th, 2014
Tulsa, Oklahoma
In the final pages of an outstanding first full season, the Lucas Oil POWRi West Midget Series rolled back to where the campaign began at Tulsa, Oklahoma's famed high banked 1/8th mile oval, Port City Raceway.
Boasting season high entries in consecutive weeks, this round would also share another familiarity.
9-27West1.jpg
Courtesy a heat race #4 win from the tail, North Richland Hills, Texan Chad Wilson (pictured above in the #20) started on the pole with Tulsa area favorite Jason McDougal alongside.
McDougal battled into an early lead after series promoter and B Feature winner Eric Fenton tumbled on the opening go, and held that lead still when Collinsville's Tyler Thomas went airborne two laps later.
Jason McDougal has been strong in his rookie Midget campaign, leading laps in four separate A Features this season, but this outing would be ill fated as his #73 broke on the fifth lap, handing the lead to Bixby's Kevin Bayer, who has a POWRi West Midget score at OKC's I-44 Riverside Speedway back in August.
Bayer led through a Zane Lawrence spin at the midway point of the 25 lapper, but faced an increasingly sturdy challenge from Carl Junction, Missouri's 2012 POWRi National Midget Champion Andrew Felker, pictured below courtesy Kristy Mcdougal.
9-27West2.jpg
Hometown racer Johnathon Halford spun to bring out the fifth and final stoppage on the 15th circuit. Felker turned up the heat on the leader immediately out of the restart and grabbed the lap 16 lead.
Felker paced the final 9 laps to score his 2nd POWRi West victory in as many weeks in the Fontana powered Route 66 Truck & Foreign Auto Salvage #11A Boss Chassis.
Bayer settled for the runner up finish in the Jet Motorsports #91B entry, with Choctaw, Oklahoma's Cody Brewer advancing a couple of positions to place third.
Broken Arrow, Oklahoma's POWRi West point leader Alex Sewell raced from 7th to claim fourth at the line, a top five finish that might just seal the championship in his first full season in Midget racing (supposing he makes features both night in the two day finale at OKC). Sewell (#8) pictured racing against California's AJ Burns (#1ou) below.
9-27West3.jpg
Owasso's Ty Hulsey is no stranger to Port City Raceway, in fact, he has three micro sprint titles on the famed bullring, Hulsey turned his best performance of the season with a excellent march from 13th to complete the top five finishing order.
Tulsa's Chris Andrews has likely earned the most success at Port City Raceway, or all of Tulsa micro racing for that matter when indoor Tulsa Shootouts are considered, and in a South Side Mowers team car to Eric Fenton, Andrews advanced from 9th at the start to finish sixth.
Kevin Battles turns wrenches most Saturdays' at PCR for his son Blake Battles micro sprint efforts, but in this late season run Battles was the best at precisely that, advancing from the B Feature and earning the Factor One Racing Hard Charger Performance with a highly impressive run from 19th to seventh, which happens to be a position rewarded by The Dirty Knuckle Tavern as well. Battles pictured below.
9-27West4Battles.jpg
Pauls Valley, Oklahoma's Steven Shebester took the Texas based, Rick Bailey owned #51 from 10th to eighth, with series promoter and B Feature winner Eric Fenton rebounding from his opening lap tumble and battling a bent shock and a run back through the field. Fenton, pictured below, managed an impressive 9th place finish.
9-27West5Fenton.jpg
Piedmont, Oklahoma's Grady Chandler was the 16th and final direct lock-in from heat race action, the young sensation scooted up from 16th to complete the top ten finish.
The Lucas Oil POWRi West Midget Series returns for the 2014 season finale with a double serving in headlining the 2nd Annual Twister Nationals at Oklahoma City's I-44 Riverside Speedway on October 10th-11th.
Official Results
Heat 1 (8 laps): 1. Jason McDougal; 2. Chris Andrews; 3. Steven Shebester; 4. Grady Chandler; 5. Kevin Battles; DNS: Nick O'Neal
Heat 2 (8 laps): 1. Kevin Bayer; 2. Cody Brewer; 3. Alex Sewell; 4. AJ Burns; 5. Johnathon Halford; 6. Jordan McPherson; DNS: Bobby Brewer
Heat 3 (8 laps): 1. Tyler Thomas; 2. Andrew Felker; 3. Zane Lawrence; 4. Ty Hulsey; 5. Eric Fenton; 6. Tyler Nelson; 7. Hannah Adair
Heat 4 (8 laps): 1. Chad Wilson; 2. Hunter Fischer; 3. Doug McCune; 4. Nick Bailey; 5. Jeromy Hoeffler; 6. Michelle Decker
B Feature (12 laps - top 4 transfer to A Feature): 1. 14E Eric Fenton (2); 2. 83 Johnathon Halford (3); 3. 3T Kevin Battles (1); 4. 19N Nick O'Neal (7); 5. 88 Tyler Nelson (5); 6. 69 Jeromy Hoeffler (4); 7. Jordan McPherson (6); DNS: 4m Michelle Decker, 44D Hannah Adair, 1 Bobby Brewer
Lucas Oil POWRi West A Feature (25 laps): 1. 11A Andrew Felker (6); 2. 91B Kevin Bayer (3); 3. 96 Cody Brewer (5); 4. 8 Alex Sewell (7); 5. 21H Ty Hulsey (13); 6. 14B Chris Andrews (9); 7. 3T Kevin Battles (19); 8. 51 Steven Shebester (10); 9. 14E Eric Fenton (17); 10. 29s Grady Chandler (16); 11. 19N Nick O'Neal (20); 12. 89 Nick Bailey (15); 13. 76 Zane Lawrence (11); 14. 1ou AJ Burns (14); 15. 9u Doug McCune (12); 16. 83 Johnathon Halford (18); 17. 20 Chad Wilson (1); 18. 24 Hunter Fishcer (4); 19. 91T Tyler Thomas (8); 20. 73 Jason McDougal (2)
Lap Leaders: McDougal 1-5, Bayer 6-15, Felker 16-25
Stoppages: 5 total (2 red, 3 yellow)
Factor One Racing Hard Charger: Kevin Battles +12
The Dirty Knuckle Tavern Lucky P7: Kevin Battles
The Dirty Knuckle Tavern Lucky P13: Zane Lawrence
2014 Lucas Oil POWRi West Feature Winners:
Alex Sewell 3, Matt Sherrell 2, Christopher Bell 2, Andrew Felker 2, Kevin Bayer 1, Zach Daum 1, Darren Hagen 1, Cody Brewer 1, Jonathon Halford 1
The POWRi West Series gives our most sincere thanks to our awesome partners and sponsors: Factor One Racing, Fenton Graphics, Boss Chassis, MudX, Rod End Supply, KBR Performance, Tulsa Gas Technologies, The Dirty Knuckle Tavern, IRaceTv and of course our title sponsor Lucas Oil.
For more information regarding the season finale in Oklahoma City, please follow POWRi West on Facebook, Twitter, and Instagram, or visit www.powri.com for the same, as well as updated point standings.
Article Media
Back to News