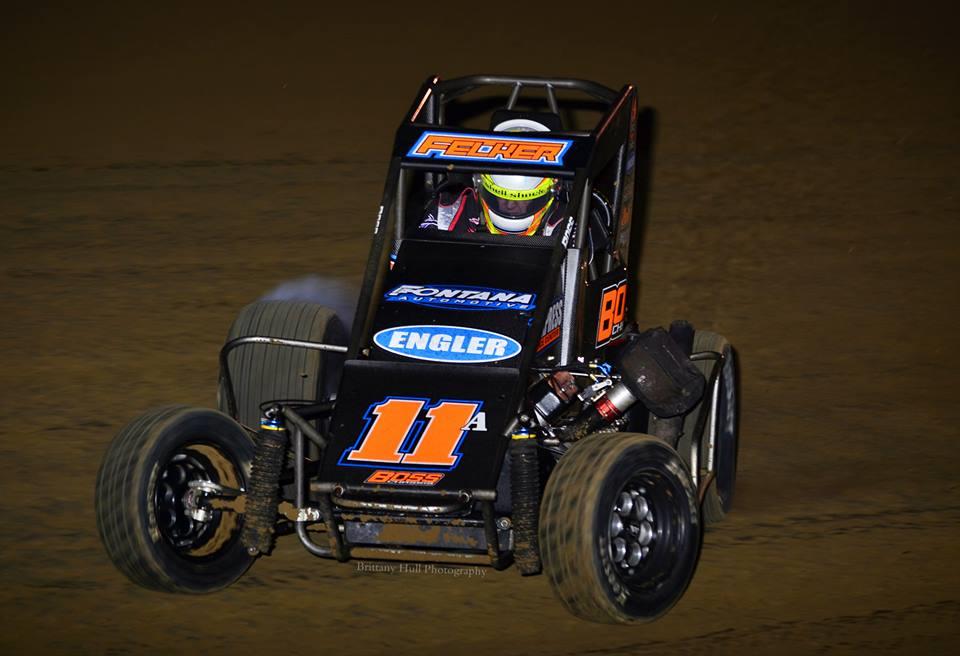 9/30/2014
Inside Line Promotions
---
Felker Records First Midget Victory at Port City, Second Straight POWRi West Win
(Photo by Brittany Hull Photography)
Inside Line Promotions – TULSA, Okla. (Sept. 30, 2014) – Andrew Felker scored his first career midget victory at Port City Raceway last Saturday during the POWRi Lucas Oil West Midget Series event.
"It feels good, especially being back at the track where I grew up," he said. "That's where I ran every week for the first three or four years of racing micros."
Felker, who estimated he had earned 40-to-50 micro sprint victories at the bullring, kicked off Saturday night by advancing from fourth to second place in his heat race.
"I went to the top in turns one and two on the start and got to second," he said. "I tried to reel in Tyler (Thomas) for most of the race. I got to him on the last lap, but ran out of time to do much."
That lined Felker up on the outside of the third row for the 25-lap main event.
"I jumped up to the top early," he said. "The top was real slick to a pretty good-sized ledge. You had to be really careful because the car wanted to bicycle."
Felker quickly advanced into second place before he started searching for a way to drive around the leader.
"I couldn't really get my momentum up so I started following him on the bottom," he said. "I couldn't find a way to get around him down there so I went back to the top. It took about four laps to get my momentum up and I got enough just to clear him. Then I went back down to the bottom for the rest of the race."
Felker took the lead just after the midpoint of the race as he cruised to his second straight victory. It marked his third win of the season.
He is scheduled to race this Thursday through Saturday at Tri-City Speedway in Pontoon Beach, Ill., during the Gold Crown Midget Nationals with the USAC Honda National Midget Series.
QUICK RESULTS –
Sept. 27 – Port City Raceway in Tulsa, Okla. – Heat race: 2 (4); Feature: 1 (6).
SEASON STATS –
46 races, 3 wins, 10 top fives, 28 top 10s, 38 top 15s, 38 top 20s
UP NEXT –
Thursday through Saturday at Tri-City Speedway in Pontoon Beach, Ill., for the Gold Crown Midget Nationals with the USAC Honda National Midget Series
MEDIA LINKS –
Website: http://www.AndrewFelkerRacing.com
Twitter: https://twitter.com/AndrewFelker11a
Facebook: https://www.facebook.com/AndrewFelkerRacing
VIDEO –
Here is a video by i Race TV of Felker's POWRi West victory at I-44 Riverside Speedway on Sept. 20: http://youtu.be/5V4UcDt4ZfI?list=UU2I713gCnnZ6fhqgdb9ssOA
APPAREL –
Felker has t-shirts for sale at each of his races. To view his race schedule, visit http://www.AndrewFelkerRacing.com.
SPONSOR SPOTLIGHT – CSI Shocks
Located in Brownsburg, Ind., CSI Shocks, a.k.a. Competition Suspension, is a leader in the shock industry within short-track racing. Since its inception in 2009, drivers using CSI Shocks have won more than 500 races. For more information, visit http://www.CSIshocks.com.
"Since we've gone to the CSI Shocks program it has stepped things up with our program," Felker said. "Since they came out with the RS-X2, it's been a key to our success all year."
Felker would also like to thank 66 Truck & Foreign Salvage, Auto Xpress, MelMark Pipe & Supply, Fontana Automotive, Engler Machine & Tool, Inc., Momo's Racing Engines, BOSS Chassis, Schluckebier Farms, Pro Powder Coating, All-Pro Auto Interiors, Aggressive Graphics, KBR Performance, Weld Wheels, KMK Enterprises, Heath II, Wilwood, Maxim Racewear, Leading Edge Composites and Liquid Nitro for their continued support.
INSIDE LINE PROMOTIONS –
Inside Line Promotions specializes in affordable public relations and media management for motor sports drivers, teams, sponsors, tracks, series, events, organizations and manufacturers. ILP Founder Shawn Miller leverages professional journalism with new media technologies and social networking to improve your exposure and the return on investment for your sponsors.
To meet the media relations needs of your program and to join Team ILP, contact Shawn at 541-510-3663 or InsideLinePromotions@gmail.com. For more information on Inside Line Promotions, visit http://www.InsideLinePromotions.com.
---
Article Credit: Inside Line Promotions
Submitted By: Shawn Miller
Back to News