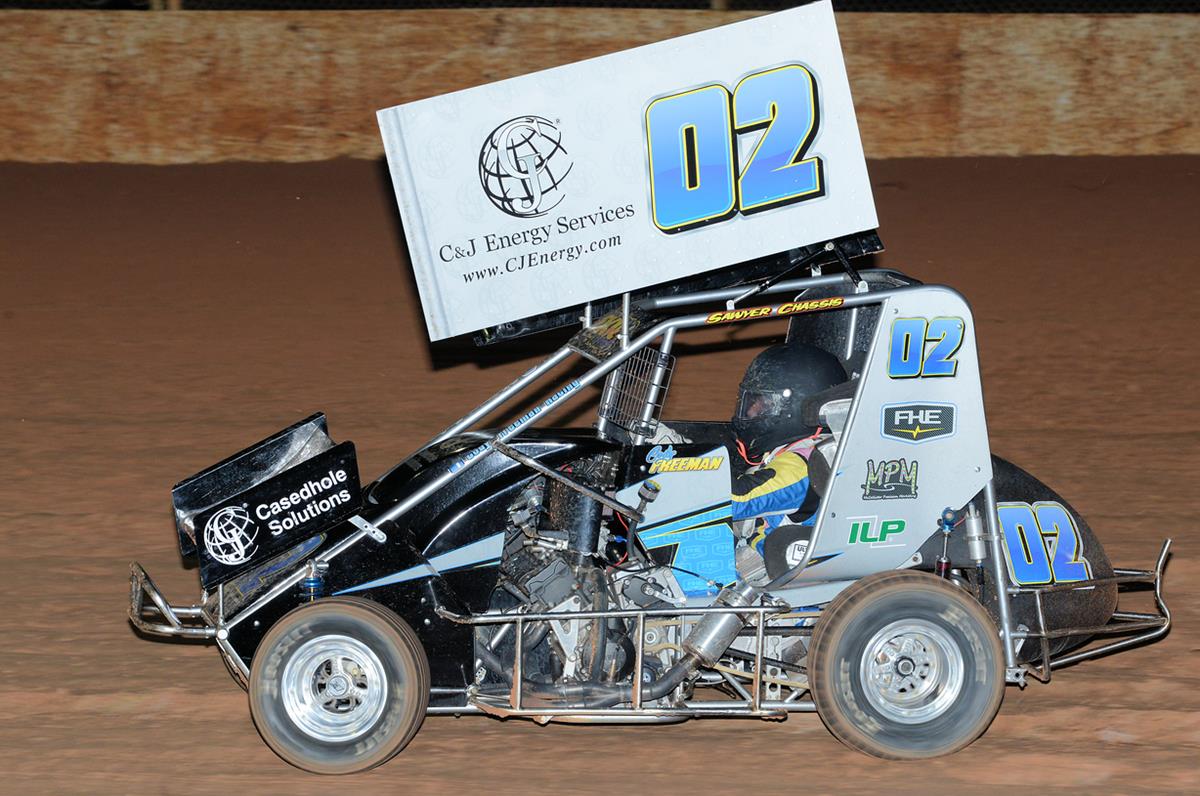 7/13/2015
Inside Line Promotions
---
Freeman Set for Nonwing Season Debut This Weekend at Port City
(Photo Courtesy of Freeman Racing)
Inside Line Promotions – LONGVIEW, Texas (July 13, 2015) – Cody Freeman will make his nonwing micro sprint season debut this weekend in Oklahoma.
Freeman and his team are scheduled to tackle the Non-Wing Nationals on Friday and Saturday at Port City Raceway in Tulsa, where he will compete in the restricted class.
"The goal is to get seat time and experience racing nonwing," he said. "I'm excited for the challenge and the opportunity to try something new."
Freeman finished 14th during two winged features at the bullring last season and he has two career nonwing races under his belt.
"I don't have much experience at Port City or with nonwing racing, but that's why we put this weekend on the schedule," he said. "The only way you get better and grow as a racer is to push yourself and that's what we're doing this weekend."
Freeman has earned two feature victories and five top fives this season.
SEASON STATS –
9 races, 2 wins, 5 top fives, 6 top 10s, 8 top 15s, 9 top 20s
UP NEXT –
Friday and Saturday at Port City Raceway in Tulsa, Okla., for the Non-Wing Nationals
MEDIA LINKS –
Website: http://www.FreemanRacing.com
Twitter: http://www.twitter.com/Freeman_Racing
Facebook: https://www.facebook.com/FKRMotorsports
VIDEO –
Here is a link to on-board footage of Freeman's first career micro sprint feature victory, which was March 14 at Kennedale Speedway Park: https://youtu.be/1IOQygTehfM
Here's on-board footage of Freeman's second micro victory, which was March 28 at Superbowl Speedway: https://youtu.be/zt-zCn8Ddto
SPONSOR SPOTLIGHT – FHE USA
Built with a heritage of hard-work, innovation and dedicated customer service. The heritage of this industry has bred FHE USA work ethic and dogged determination. They pack these values into each product and relationship. FHE USA delivers superior tools and equipment that help your team succeed in the field. With the fastest turn around times in the industry, they will give you quality, customized wireline pressure control equipment quickly, limiting downtime and improving productivity. For more information, visit http://www.FHE-USA.com.
"FHE USA has proven they are here to support me for the long term," Freeman said. "It is a great feeling knowing we have their support and continued commitment. They are a growing company which keeps advancing further to the lead in their industry the same as we are as a team. I feel they are going to be a great team member for many more years to come."
Freeman would also like to thank C&J Energy Services, Casedhole Solutions, McCallister Precision Marketing and Driver Websites for their continued support.
INSIDE LINE PROMOTIONS –
Inside Line Promotions specializes in affordable public relations and media management for motor sports drivers, teams, sponsors, tracks, series, events, organizations and manufacturers. ILP Founder Shawn Miller leverages professional journalism with new media technologies and social networking to improve your exposure and the return on investment for your sponsors.
To meet the media relations needs of your program by joining Team ILP, contact Shawn at 541-510-3663 or Shawn@InsideLinePromotions.com. For more information on Inside Line Promotions, visit http://www.InsideLinePromotions.com.
---
Article Credit: Inside Line Promotions
Submitted By: Shawn Miller
Back to News