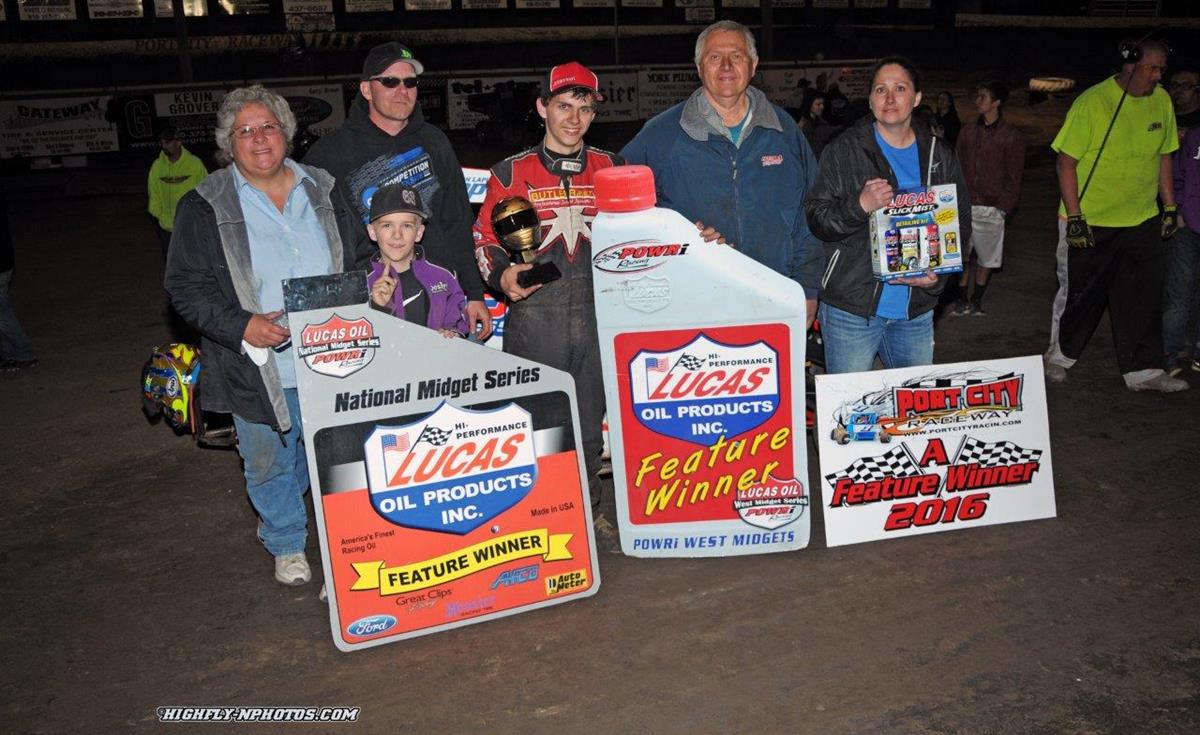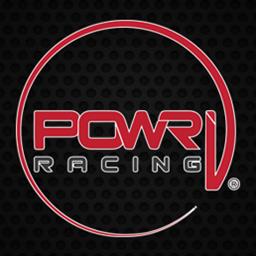 ---
McDougal Captures Victory in Turnpike Challenge Finale
Tulsa, OK – Jason McDougal relentlessly battled with Tanner Thorson before claiming his first Lucas Oil POWRi National Midget Series victory for the final night of the Turnpike Challenge at Port City Raceway. McDougal came from inside the fifth row of the POWRi West Midget Series co-sanctioned event.
Leading the field to green, Logan Seavey would start from the pole position with Tanner Thorson to his outside. Heading into turn one, Thorson would take the lead with Seavey in tow. On lap three, Justin Peck would work into the mix and slide for second just as the caution would fly for Seavey atop turn two. Returning to green flag racing, Thorson would power off with Peck close behind, only for the yellow to fly again two laps later for Holly Shelton on the front stretch.
Coming back to green, Thorson and Peck would both take to the high side as Jonathan Beason made his way into the top three. On lap 11, Beason would move past Peck, sliding for second entering turn one and taking the position off turn two. As Beason looked to be catching Thorson, the yellow would fly for Austin Shores caught on the berm in turns one and two. Returning to racing, Thorson would take off with Beason in striking distance only for the yellow to come back out for Tucker Klaasmeyer and Harli White in turn two.
With Thorson out front, Jason McDougal would apply pressure right from the restart on Beason, taking the second position off four while Andrew Felker pressured Beason for third, eventually taking the position off turn four, as well. On lap 15, Harli White would bring out another caution as her machine sat disabled on the back stretch with a broken front end.
McDougal would be in prime position to strike for the lead with the field bunched back up. Returning to racing, McDougal would catfish the bottom side of the 1/8th mile Port City oval as Thorson rode the rim. Right before the duo entered lap traffic, McDougal would make his move and power into the lead off turn four, as the stands erupted with cheers for the hometown driver. While the drivers worked traffic, McDougal would lose the lead on lap 31, relinquishing the position back to Thorson.
On lap 35 Austin Brown would slow off turn four bringing out the caution. McDougal would again be in a prime position to strike and coming back to green he would pressure for the lead as Felker stayed close to the two drivers. On lap 38 Holly Shelton would loop it on the berm in turn two, bringing out the final caution of the evening, creating a two lap shootout to the finish.
Thorson would lead the field to green, only for McDougal to dig deep and slide for the lead entering turn three to take the lead off turn four. Heading into one, both drivers would dive to the bottom side as McDougal worked to protect the position. Going into three and four for the final time, contact was made, but it wasn't enough to keep McDougal out of victory lane in front of the hometown crowd. Tanner Thorson would bring home second as Andrew Felker rounded out the podium. Justin Peck would improve one position from the night before, bringing home fourth, while Zach Daum finished out the top five after starting 13th.
"That took everything I had to hold him off," said first place finisher Jason McDougal. "I'm speechless. I'd been struggling coming off three and four, so I knew I couldn't fully commit, but I knew I was going to throw it. This is amazing, doing it in my hometown and to have everyone here supporting us to do this."
"That was one hell of a racetrack," Tanner Thorson said. "This promoter puts on an awesome race. Congratulations to Jason McDougal. I tried my hardest to get by him and it didn't work. This is his track. He deserves this."
"We had a good car," explained Andrew Felker. "Early we were picking them off in a hurry and then Jason drove by us like we were stupid. He had the car of the field. He was flying down on the bottom early. I knew the slider was going to be interesting on the last lap, but I just wasn't close enough to capitalize on it. Standing on the podium is not a bad way to end the night."
Midgets
Speedway Motors Heat Race Winners: Heat 1: 67K - Holly Shelton, Heat 2: 8J - Jonathan Beason, Heat 3: 5X - Justin Peck, Heat 4: 5D - Zach Daum, Heat 5: 8 - Alex Sewell, Heat 6: 27 - Tucker Klaasmeyer, Heat 7: 11A - Andrew Felker
C Main Winner: 7M - Chance Morton
Semi Feature Winners: 93 - Dustin Morgan, 97 - Spencer Bayston
Great Clips Feature Winner: 73 - Jason McDougal
POWRi Lucas Oil National Midget Series Feature Results (40 laps): 1. 73 - Jason McDougal 2. 67 - Tanner Thorson 3. 11A - Andrew Felker 4. 5X - Justin Peck 5. 5D - Zach Daum 6. 97 - Spencer Bayston 7. 17E - Blake Edwards 8. 8X - Austin Shores 9. 11H - Chase Hill 10. 8J - Jonathan Beason 11. 17 - Logan Seavey 12. 67K - Holly Shelton 13. 71K - Carson Macedo 14. 14B - Kevin Bayer 15. 71 - Ryan Robinson 16. 1K - Brayton Lynch 17. 98 - Clinton Boyles 18. 93 - Dustin Morgan 19. 7 - Austin Brown 20. 4M - Michelle Decker 21. 8 - Alex Sewell 22. 27 - Tucker Klaasmeyer 23. 17W - Harli White 24. 3N - Jake Neuman
For more information, visit www.powri.com.
Contact:
Derek Schuett
POWRi Media
info@powri.com
Back to News