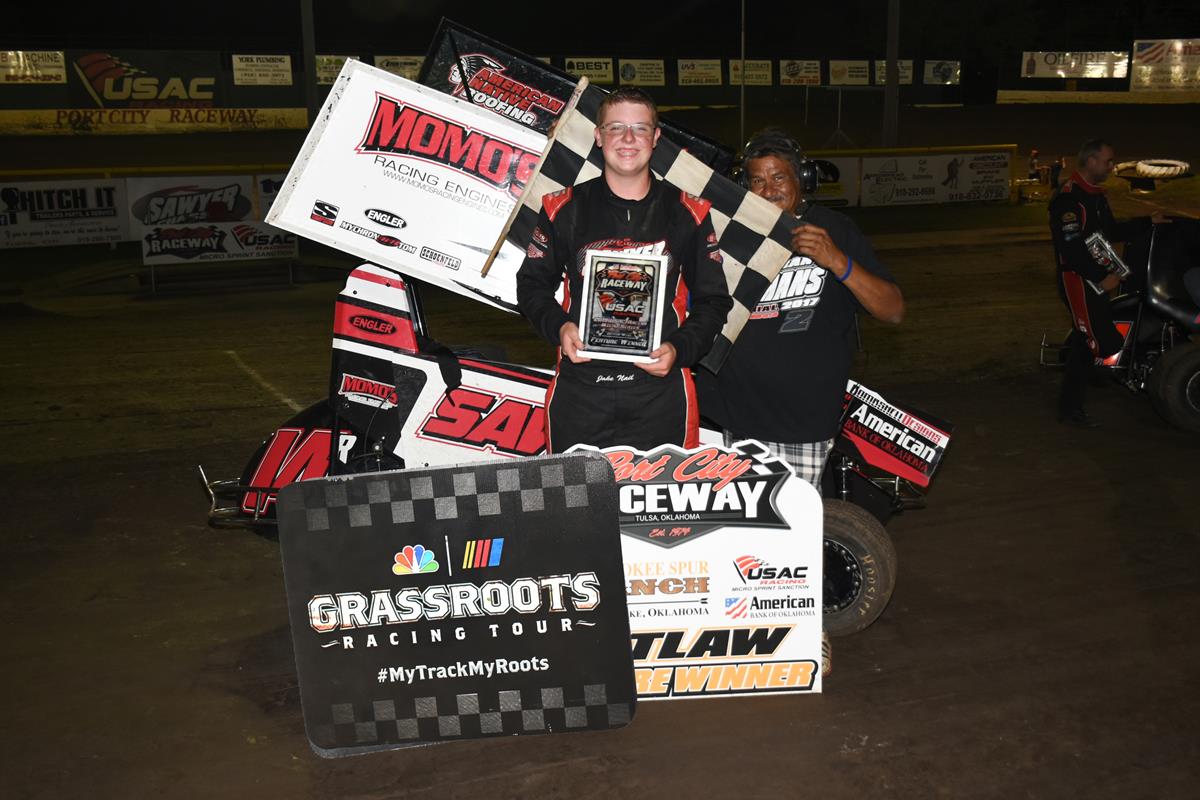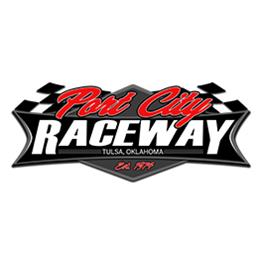 8/4/2019
Port City Raceway
---
Nail, Bayer, Pence, McIntosh, Moran, Kujath and Bennett Best USAC Weekly Racing Fields at Port City Raceway
Photo Credit: TopRow Photos
TULSA, Okla. (August 4, 2019) - Jake Nail, Kevin Bayer, Caleb Pence, Bobby McIntosh, Rees Moran, Bryce Kujath and Thad Bennett each bested their respective USAC Weekly Racing class on Saturday night at Port City Raceway.
132 entries were on hand featuring 16 Outlaw, 32 Non-Wing, 25 A-Class, 16 Sportsman, 17 Restricted, 13 Junior Sprints and 13 Masters.
Jake Nail prevailed in the Outlaw class claiming the victory over Cole Roberts. Trey Robb finished in the third spot with Chris Andrews taking the fourth spot. The top five rounded out with Gage Robb.
Joel Smith, Danny James, Blake Battles, Kris Carroll and Jerrod Wilson brought up the top ten.
Carroll and James were winners in heat race action.
16th starting, Kevin Bayer topped the Non-Wing class. Brock Berreth from tenth finished in the second spot with 12th starting Jason Tracy finishing in third. Jake Nail was fourth with Daniel Shaffer crossing in the fifth spot.
Laydon Pearson, Shawn Mahaffey, Caleb Pence, Gage Robb and Spencer Mason were the top ten.
Heat race action was won by, Nail, Tracy, Trey Robb and Dustin Dixon. The lone B-Feature went to Shawn Mahaffey.
From the second starting spot, Caleb Pence picked up the A-Class feature event. Gage Robb finished in second after starting 16th. Rees Moran finished in third with Gage Laney coming home fourth. The top five rounded out with Trey Robb.
Jason Tracy, Cole Roberts, Jayson Cambell, Kris Carroll and Connor Lee made up the top ten.
Jeremy Wickham, Pence and Jake Rosario took heat race honors with Gage Robb winning the B-Main.
Bobby McIntosh went back to back in Sportsman competition. Kaimron Schoonover crossed in the runner up spot with Ryan Cody coming from 14th to third. Justin Simpson from 12th to finish in fourth. Kayla Ward rounded out the top five.
Dave Nicholson, Randy Myers, Michaela Jewsbury, Darrius Myers and Bre Lamb the top ten.
McIntosh and Ward won the nights two heat races.
A hard charging Rees Moran picked up the Restricted feature event win from the 12th starting spot. Kayden Cole who started 12th finished in second with Conner Long bringing up the podium. Joshua Gentry from 15th finished in fourth with Freddy Rowland fifth.
Hayden Mabe, Jeramiah Green, Thomas Byford, Aubrey Sappington and Chase Wright rounded out the top ten.
Cole and Green were the nights heat race winners.
Bryce Kujath was declared the winner following post race tech in the Junior Sprint class. Jase Blevins followed suit in second with Brody McClelland third. Ayden Parrish finished in the fourth spot with Hudsyn Truitt fifth.
Lathe Griggs, Cale McGee, Jaxon Nail, Masyn Truitt and Sky Bartholomew the top ten.
McClelland and McGee won the heat races.
Thad Bennett won the 15-lap Masters feature event with Glen Bratti crossing in second. Harlan Hulsey from 13th finished in third. Matt Cash was fourth with Dave Nicholson fifth.
Rob Lamb, Tim Greene, Tony Ogden, Milton Goolsby and Johnny Goolsby made up the top ten.
Port City Raceway will sit idle on Saturday, August 10. Racing resumes on Friday, August 16 with a make up points race and back to school night. Saturday, August 17 will be a regular points race and #DOITFORGRADY Night!
RACE RESULTS -
8/3/2019 at Port City Raceway
USAC Weekly Racing
USAC Junior Sprints
A Feature 1 (15 Laps): 1. 88K-Bryce Kujath, 06:40.762[1]; 2. 8-Jase Blevins, 06:41.234[6]; 3. 87-Brody McClelland, 06:41.593[7]; 4. 88P-Ayden Parrish, 06:41.880[9]; 5. 1-Hudsyn Truitt, 06:42.597[5]; 6. 0-Lathe Griggs, 06:43.204[8]; 7. 46-Cale McGee, 06:43.360[4]; 8. 14JR-Jaxon Nail, 06:45.158[13]; 9. 75-Masyn Truitt, 06:45.540[12]; 10. 33-Sky Bartholomew, 03:47.773[2]; 11. 05-Sawyer Beers, 01:00.341[10]; (DNS) 55-Levi Smith, 01:00.341; (DQ) 1G-Ryker Griggs, 06:40.162[3]
Heat 1 (8 Laps): 1. 87-Brody McClelland, 01:55.277[4]; 2. 1-Hudsyn Truitt, 01:56.364[3]; 3. 88P-Ayden Parrish, 01:56.852[5]; 4. 1G-Ryker Griggs, 01:57.769[2]; 5. 88K-Bryce Kujath, 01:58.884[1]; 6. 14JR-Jaxon Nail, 01:59.022[6]; 7. 75-Masyn Truitt, 01:59.402[7]
Heat 2 (8 Laps): 1. 46-Cale McGee, [3]; 2. 8-Jase Blevins, [4]; 3. 33-Sky Bartholomew, [2]; 4. 0-Lathe Griggs, [5]; 5. 05-Sawyer Beers, [6]; (DNS) 55-Levi Smith,
USAC A-Class
A Feature 1 (25 Laps): 1. 8P-Caleb Pence, 18:10.603[2]; 2. 12G-Gage Robb, 18:11.005[16]; 3. 22M-Rees Moran, 18:11.502[4]; 4. 22RL-Gage Laney, 18:12.872[8]; 5. 12-Trey Robb, 18:13.185[15]; 6. 25-Jason Tracy, 18:15.113[11]; 7. 3-Cole Roberts, 18:15.430[19]; 8. 96-Jayson Campbell, 18:16.482[3]; 9. 36-Kris Carroll, 18:16.739[7]; 10. 11S-Connor Lee, 18:17.332[10]; 11. 88-Jason Adams, 18:18.297[20]; 12. 17Z-Zac Moody, 18:19.482[17]; 13. 21-Jeremy Wickham, 17:09.010[1]; 14. 21G-Garth Kasiner, 12:52.535[9]; 15. 9R-Chase Randall, 10:55.819[12]; 16. 33-Cody Barnes, 12:08.833[6]; 17. 92-Jake Rosario, 06:50.818[5]; 18. 42-Grady Mercer, 06:54.537[18]; 19. 11L-Layden Pearson, 02:08.585[14]; (DNS) 81-Frank Flud, 02:08.585
B Feature 1 (15 Laps): 1. 12G-Gage Robb, 05:53.153[1]; 2. 17Z-Zac Moody, 05:58.126[2]; 3. 42-Grady Mercer, 05:58.334[3]; 4. 3-Cole Roberts, 05:58.583[6]; 5. 88-Jason Adams, 05:59.132[4]; 6. 14-Blake Battles, 04:35.207[10]; 7. 11K-Shawn Mahaffey, 00:31.544[5]; 8. 5-Chase Hyland, 00:31.544[7]; (DNS) 10-Brock Berreth, 00:31.544; (DNS) 5R-Tanner Rogers, 00:31.544
Heat 1 (8 Laps): 1. 21-Jeremy Wickham, 04:20.288[1]; 2. 96-Jayson Campbell, 04:21.174[2]; 3. 22RL-Gage Laney, 04:21.399[4]; 4. 81-Frank Flud, 04:21.647[8]; 5. 25-Jason Tracy, 04:21.779[6]; 6. 12G-Gage Robb, 04:22.496[9]; 7. 88-Jason Adams, 04:22.926[3]; 8. 5-Chase Hyland, 03:24.091[7]; 9. 14-Blake Battles, 00:33.465[5]
Heat 2 (8 Laps): 1. 8P-Caleb Pence, 01:43.110[1]; 2. 21G-Garth Kasiner, 01:43.771[4]; 3. 22M-Rees Moran, 01:06.337[2]; 4. 11L-Layden Pearson, 01:45.225[8]; 5. 33-Cody Barnes, 01:47.700[3]; 6. 17Z-Zac Moody, 01:48.119[7]; 7. 11K-Shawn Mahaffey, 01:48.316[5]; 8. 10-Brock Berreth, 01:06.337[6]
Heat 3 (8 Laps): 1. 92-Jake Rosario, 04:52.163[2]; 2. 11S-Connor Lee, 04:53.390[4]; 3. 9R-Chase Randall, 04:53.857[6]; 4. 36-Kris Carroll, 04:54.246[3]; 5. 12-Trey Robb, 04:54.720[8]; 6. 42-Grady Mercer, 04:55.144[7]; 7. 3-Cole Roberts, 01:27.012[5]; 8. 5R-Tanner Rogers, 01:20.464[1]
USAC Restricted
A Feature 1 (20 Laps): 1. 22M-Rees Moran, 25:01.433[13]; 2. 72C-Kayden Cole, 25:02.104[12]; 3. 52JR-Conner Long, 25:03.826[6]; 4. 12G-Joshua Gentry, 25:04.444[15]; 5. 5F-Freddy Rowland, 25:05.337[10]; 6. 52-Hayden Mabe, 25:07.797[4]; 7. 18J-Jeramiah Green, 25:10.930[2]; 8. 22T-Thomas Byford, 25:01.769[16]; 9. 4S-Aubrey Jo Sappington, 25:04.501[8]; 10. 77-Chase Wright, 25:05.055[3]; 11. 50-Jackson Beers, 16:06.550[14]; 12. 59-Brody Mclaughlin, 15:32.439[17]; 13. III-Trae Manning, 00:20.722[5]; 14. U2-Ryan Cotney, 00:21.145[9]; 15. 101-Kylee Young, 00:21.384[11]; 16. 16-Colt Holland, 00:20.769[7]; (DNS) 7S-Kaden Smith, 00:21.384
Heat 1 (8 Laps): 1. 72C-Kayden Cole, 05:40.161[7]; 2. 101-Kylee Young, 05:42.077[6]; 3. 50-Jackson Beers, 05:44.098[9]; 4. III-Trae Manning, 05:46.501[3]; 5. 22T-Thomas Byford, 05:47.235[8]; 6. U2-Ryan Cotney, 00:32.662[5]; 7. 77-Chase Wright, 00:33.197[2]; 8. 16-Colt Holland, 00:33.301[4]; (DNS) 7S-Kaden Smith, 00:33.301
Heat 2 (8 Laps): 1. 18J-Jeramiah Green, 02:58.098[1]; 2. 52JR-Conner Long, 02:58.128[3]; 3. 12G-Joshua Gentry, 02:58.489[8]; 4. 22M-Rees Moran, 02:59.224[7]; 5. 5F-Freddy Rowland, 03:00.083[5]; 6. 52-Hayden Mabe, 03:00.637[2]; 7. 4S-Aubrey Jo Sappington, 03:02.160[4]; (DNS) 59-Brody Mclaughlin, 01:01.322
USAC Non-Wing
A Feature 1 (25 Laps): 1. 91K-Kevin Bayer, 21:58.587[16]; 2. 10-Brock Berreth, 21:59.159[10]; 3. 25-Jason Tracy, 22:00.010[12]; 4. 14R-Jake Nail, 22:00.646[8]; 5. 00-Daniel Shaffer, 22:01.028[9]; 6. 11-Layden Pearson, 22:01.633[14]; 7. 3-Shawn Mahaffey, 22:01.901[17]; 8. 8P-Caleb Pence, 22:03.303[11]; 9. 12G-Gage Robb, 22:03.999[15]; 10. 48-Spencer Mason, 22:04.391[2]; 11. 17Z-Zac Moody, 22:06.579[19]; 12. 33N-Kolton Nimrod, 22:08.862[5]; 13. 7S-Kaden Smith, 21:58.874[6]; 14. 17-Hunter Fischer, 17:07.800[1]; 15. 84-Dave Nicholson, 14:05.539[20]; 16. 47-Austin Helt, 11:48.442[3]; 17. 19B-Keith Burton, 02:09.359[4]; 18. 70-Dustin Dixon, 08:57.054[7]; 19. 12-Trey Robb, 02:09.359[13]; (DNS) 9R-Chase Randall, 02:09.359
B Feature 1 (12 Laps): 1. 3-Shawn Mahaffey, 06:20.656[2]; 2. 9R-Chase Randall, 06:22.748[16]; 3. 17Z-Zac Moody, 06:24.796[3]; 4. 84-Dave Nicholson, 06:26.075[1]; 5. 5-Chase Hyland, 06:26.268[13]; 6. 1C-Connor Lee, 06:26.582[7]; 7. 24T-Glenn James Bratti, 06:28.889[5]; 8. 8B-Cody Barnes, 06:29.796[6]; 9. 20-Shawn Wicker, 06:29.941[9]; 10. 37G-Tim Greene, 06:30.985[11]; 11. 33-Jack Kassik, 05:47.024[4]; 12. 21-Ty Hulsey, 05:35.963[10]; 13. 22X-Matt Cash, 05:27.070[15]; (DNS) 09-Isaac Barr, 05:27.070; (DNS) 81-Frank Flud, 05:27.070; (DNS) 5B-Thad Bennett, 05:27.070
Heat 1 (8 Laps): 1. 14R-Jake Nail, 02:16.358[4]; 2. 33N-Kolton Nimrod, 02:18.212[2]; 3. 17-Hunter Fischer, 02:19.410[1]; 4. 8P-Caleb Pence, 02:19.559[6]; 5. 84-Dave Nicholson, 02:19.899[3]; 6. 24T-Glenn James Bratti, 02:20.865[5]; 7. 20-Shawn Wicker, 02:20.512[8]; 8. 5-Chase Hyland, 02:20.865[7]
Heat 2 (8 Laps): 1. 25-Jason Tracy, 05:03.637[6]; 2. 11-Layden Pearson, 05:04.131[8]; 3. 7S-Kaden Smith, 05:05.380[2]; 4. 48-Spencer Mason, 05:05.729[1]; 5. 3-Shawn Mahaffey, 05:06.201[5]; 6. 8B-Cody Barnes, 05:07.042[4]; 7. 21-Ty Hulsey, 05:07.167[7]; 8. 5B-Thad Bennett, 00:32.298[3]
Heat 3 (8 Laps): 1. 12-Trey Robb, 03:09.435[8]; 2. 47-Austin Helt, 03:10.545[1]; 3. 91K-Kevin Bayer, 03:10.657[6]; 4. 00-Daniel Shaffer, 03:10.924[5]; 5. 17Z-Zac Moody, 03:11.898[7]; 6. 1C-Connor Lee, 03:12.066[4]; 7. 37G-Tim Greene, 03:13.443[3]; 8. 22X-Matt Cash, 00:46.154[2]
Heat 4 (8 Laps): 1. 70-Dustin Dixon, 08:36.819[3]; 2. 12G-Gage Robb, 08:37.853[8]; 3. 10-Brock Berreth, 08:38.204[5]; 4. 19B-Keith Burton, 01:07.725[1]; 5. 33-Jack Kassik, 08:39.711[2]; 6. 09-Isaac Barr, 05:42.237[4]; 7. 81-Frank Flud, 01:07.504[7]; 8. 9R-Chase Randall, 01:07.725[6]
USAC Sportsman
A Feature 1 (20 Laps): 1. 08B-Bobby McIntosh, 14:20.444[3]; 2. 51K-Kaimron Schoonover, 14:21.026[9]; 3. 11-Ryan Cody, 14:21.515[14]; 4. 22-Justin Simpson, 14:21.932[12]; 5. 12K-Kayla Ward, 14:22.366[8]; 6. 17-Dave Nicholson, [13]; 7. 6-Randy Myers, 14:23.921[4]; 8. P1-Michaela Jewsbury, 14:24.150[11]; 9. 16-Darrius Myers, 14:24.852[5]; 10. 11B-Bre Lamb, 14:25.628[2]; 11. 6M-Troy Minton, 07:54.824[6]; 12. 420-Jeff Harris, 07:55.456[7]; 13. 23L-Tyler LaPointe, 07:53.779[10]; 14. 150-Robert Stott, 03:52.397[1]; 15. 22U-Todd Uber, [15]; (DNS) 5-Cory Reed,
Heat 1 (8 Laps): 1. 08B-Bobby McIntosh, 01:44.999[1]; 2. 420-Jeff Harris, 01:45.218[3]; 3. 17-Dave Nicholson, 01:53.903[6]; 4. 51K-Kaimron Schoonover, 01:46.818[4]; 5. P1-Michaela Jewsbury, 01:48.537[5]; 6. 150-Robert Stott, 01:49.447[8]; 7. 16-Darrius Myers, 01:51.173[2]; 8. 5-Cory Reed, 01:53.903[7]
Heat 2 (8 Laps): 1. 12K-Kayla Ward, 03:03.661[4]; 2. 11-Ryan Cody, 03:05.363[7]; 3. 22-Justin Simpson, 03:06.452[6]; 4. 6-Randy Myers, 03:08.743[2]; 5. 6M-Troy Minton, 03:09.302[3]; 6. 11B-Bre Lamb, 03:12.658[1]; 7. 22U-Todd Uber, 02:10.821[8]; 8. 23L-Tyler LaPointe, 02:10.821[5]
USAC Outlaw
A Feature 1 (25 Laps): 1. 14R-Jake Nail, 16:38.637[8]; 2. 3-Cole Roberts, 16:39.761[9]; 3. 12-Trey Robb, 16:39.948[13]; 4. 8-Chris Andrews, 16:40.628[11]; 5. 12G-Gage Robb, 16:41.253[14]; 6. 49-Joel Smith, 16:43.111[6]; 7. 4-Danny James, 16:44.471[4]; 8. 14-Blake Battles, 16:22.676[12]; 9. 3C-Kris Carroll, 14:35.145[3]; 10. 13-Jerrod Wilson, 07:55.848[5]; 11. 91-Kevin Bayer, 07:57.840[15]; 12. 11-Layden Pearson, 08:00.699[10]; 13. 12B-Dalton Brown, 02:21.736[7]; 14. 48-Bryan Davidson, 02:05.832[1]; 15. 8X-Austin Shores, 01:44.764[16]; 16. 21X-Tom Calico, 01:24.448[2]
Heat 1 (8 Laps): 1. 3C-Kris Carroll, 03:13.432[2]; 2. 12B-Dalton Brown, 03:15.298[4]; 3. 11-Layden Pearson, 03:15.704[6]; 4. 3-Cole Roberts, 03:16.546[5]; 5. 48-Bryan Davidson, 03:18.947[1]; 6. 12-Trey Robb, 03:21.409[7]; 7. 13-Jerrod Wilson, 02:46.807[3]; 8. 8X-Austin Shores, 02:50.672[8]
Heat 2 (8 Laps): 1. 4-Danny James, 01:42.704[2]; 2. 49-Joel Smith, 01:42.949[3]; 3. 14R-Jake Nail, 01:44.718[4]; 4. 8-Chris Andrews, 01:45.030[8]; 5. 14-Blake Battles, 01:47.016[6]; 6. 12G-Gage Robb, 01:25.893[7]; 7. 91-Kevin Bayer, 00:55.337[5]; (DNS) 21X-Tom Calico,
USAC Masters
A Feature 1 (15 Laps): 1. 5B-Thad Bennett, [4]; 2. 24T-Glenn Bratti, [1]; 3. 21-Harlan Hulsey, [13]; 4. 22X-Matt Cash, [8]; 5. 84-Dave Nicholson, [11]; 6. 11R-Rob Lamb, [9]; 7. 37G-Tim Greene, [6]; 8. 7-Tony Ogden, [2]; 9. 00G-Milton Goolsby, [5]; 10. 0-Johnny Goolsby, [3]; 11. 1-Ruben Morris, [10]; 12. 8L-Larry Barnes, [7]; (DNS) 10X-Scott Roberts,
---
Submitted By: Terry Mattox
Article Media
Back to News