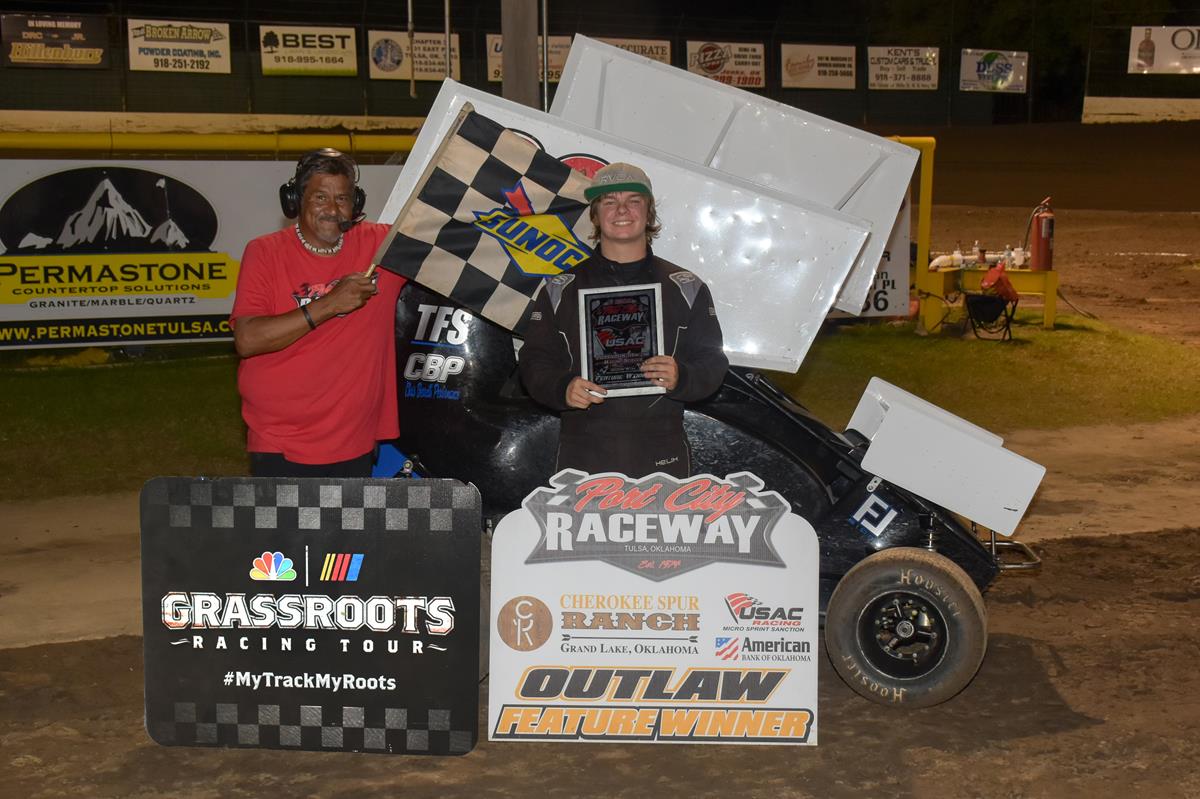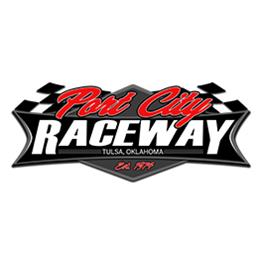 8/26/2019
Port City Raceway
---
Curbow, Newell, Moody, Harris, Silva, Parrish and Ogden Capture Wins at Port City Raceway
Photo Credit: TopRow Photos
TULSA, Okla. (August 25, 2019) - Steven Curbow, Jeffrey Newell, Zac Moody, Jeff Harris, Baron Silva, Ayden Parrish and Tony Ogden captured wins on Saturday night at Port City Raceway during USAC Weekly Racing competition.
108 entries were in the pits featuring 8 USAC Outlaws, 28 USAC Non-Wing, 19 USAC A-Class, 14 USAC Sportsman, 15 USAC Restricted, 15 USAC Junior Sprints and 9 USAC Masters.
Steven Curbow bested the Outlaw feature event from the pole of the 25-lap feature. Kris Carroll came from seventh to finish in the second spot. Joel Smith from eighth took home the third spot. Danny James was fourth with Garrett Olson the top five.
Paul Hendrix, Shane Hacker and Jake Nail the field.
Hacker won the lone heat race.
Jeffrey Newell from sixth picked up the Non-Wing feature event win. Daniel Shaffer came from 13th to finish in the runner up spot. Shawn Mahaffey from 12th finished in third. Fourth went to Jason Tracy after starting 14th. The top five was Grady Mercer.
Gunner Bowden, Ryan Mushrush, Kale Drake, Connor Lee and Matt Carr made up the top ten.
Mushrush, Mercer, Tracy and Newell were heat winners. Matt Carr won the B-Main.
Zac Moody scored the A-Class feature event win. Jeffrey Newell followed suit in second. Third went to Blake Battles after starting eighth. Grayson Gaddy finished in fourth with Kris Carroll the top five.
Jake Rosario, Gunner Bowden, Shawn Mahaffey, Rees Moran and Steven Curbow were the top ten.
Moody, Gaddy and Rosario picked up the nights three heat race victories.
In the Sportsman class, fourth place starter, Jeff Harris picked up the feature win. Justin Simpson from ninth finished in the runner up spot. Ryan Cody came from 12th to finish in third. Dave Nicholson crossed in the fourth spot with Kaimron Schoonover the top five.
Danny Clum, Kayla Ward, Bobby McIntosh, Tyler LaPointe and Bre Lamb rounded out the top ten.
Harris and Troy Minton won the nights two heat races.
Coming from the 14th starting spot, Baron Silva picked up the victory in the Restricted class. Kylee Young advanced eight spots to finish in second. Third went to 12th starting, Rees Moran. Freddy Rowland took the fourth spot with Brody McLaughlin the top five from 11th.
Kayden Cole, Jon Lane, Jeramiah Green, Jackson Beers and Trae Manning made up the top ten.
Aubrey Sappington and Manning captured heat wins.
Ayden Parrish from 15th claimed the Junior Sprint feature event win. Brody McClelland advanced ten spots to finish in second. Third went to Cale McGee who started 14th. Haidyn Stout was fourth with Mekentzi Potter making up the top five.
Carter Sauer, Sky Bartholomew, Sawyer Beers, Tyler Crow and Jaxon Nail made up the top ten.
Ryker Griggs, Lathe Griggs and Ayden Parrish picked up heat race wins.
Tony Ogden was victorious in the Masters class. Dave Nicholson finished in second. Robby Bias was third. Jimmy Jewsbury fourth and Matt Cash fifth.
Tim Greene, Johnny Goolsby, Milton Goolsby and Rob Lamb made up the field.
Tim Greene won the lone heat race.
Next up at Port City Raceway will be the 20th Annual Pete Frazier Memorial presented by Western Flyer Xpress. It will be a 50 point show up points event both nights. The Lucas Oil NOW600 National Series presented by Tel-Star Technologies will also be joining us for the final time this season.
RACE RESULTS -
8/24/2019 at Port City Raceway
USAC Weekly Racing Points Event
USAC Junior Sprints
A Feature 1 (15 Laps): 1. 88P-Ayden Parrish, 07:47.010[15]; 2. 87-Brody McClelland, 07:47.801[12]; 3. 46-Cale McGee, 07:50.379[14]; 4. 55-Haidyn Stout, 07:51.069[1]; 5. 1P-Mekentzi Potter, 07:52.564[3]; 6. 12-Carter Sauer, 07:52.796[10]; 7. 33-Sky Bartholomew, 07:52.812[8]; 8. 50-Sawyer Beers, 07:53.413[5]; 9. 2T-Tyler Crow, 07:54.293[6]; 10. 14JR-Jaxon Nail, 07:56.982[2]; 11. 55S-Levi Smith, 07:43.428[7]; 12. 88K-Bryce Kujath, 01:21.084[9]; 13. 1-Hudsyn Truitt, 01:21.724[11]; (DNS) 0-Lathe Griggs, 01:21.724; (DQ) 1G-Ryker Griggs, 07:42.830[4]
Heat 1 (8 Laps): 1. 1G-Ryker Griggs, 01:51.449[2]; 2. 12-Carter Sauer, 01:54.449[4]; 3. 46-Cale McGee, 01:55.464[5]; 4. 55-Haidyn Stout, 01:57.500[1]; 5. 55S-Levi Smith, 01:57.767[3]
Heat 2 (8 Laps): 1. 0-Lathe Griggs, 01:52.406[4]; 2. 33-Sky Bartholomew, 01:55.180[2]; 3. 1-Hudsyn Truitt, 01:55.350[3]; 4. 50-Sawyer Beers, 01:55.570[1]; 5. 14JR-Jaxon Nail, 01:56.099[5]
Heat 3 (8 Laps): 1. 88P-Ayden Parrish, 02:27.917[5]; 2. 87-Brody McClelland, 02:30.406[4]; 3. 2T-Tyler Crow, 02:31.233[2]; 4. 88K-Bryce Kujath, 02:31.545[3]; 5. 1P-Mekentzi Potter, 02:35.357[1]
USAC A-Class
A Feature 1 (25 Laps): 1. 17Z-Zac Moody, 13:56.077[1]; 2. 1-Jeffrey Newell, 13:56.082[4]; 3. 14-Blake Battles, 13:58.774[8]; 4. 95-Grayson Gaddy, 13:59.642[2]; 5. 36-Kris Carroll, 13:59.768[9]; 6. 92-Jake Rosario, 14:00.146[12]; 7. 8-Gunner Bowden, 14:00.416[17]; 8. 11K-Shawn Mahaffey, 14:01.379[10]; 9. 22M-Rees Moran, 14:01.657[14]; 10. 20S-Steven Curbow, 14:01.889[16]; 11. 83-Shane Weeks, 14:04.232[3]; 12. M16-Dustin Robinson, 14:17.450[19]; 13. 8R-Ryker Pace, 13:53.053[5]; 14. 08K-Danny Padilla, 12:24.215[18]; 15. 33-Cody Barnes, 09:01.152[6]; 16. 25-Jason Tracy, 09:02.390[15]; 17. 22RL-Gage Laney, 06:11.285[13]; 18. 96-Jayson Campbell, 01:29.352[7]; 19. 11S-Connor Lee, 01:29.529[11]
Heat 1 (8 Laps): 1. 17Z-Zac Moody, 04:00.621[1]; 2. 1-Jeffrey Newell, 04:01.096[2]; 3. 11K-Shawn Mahaffey, 04:01.562[4]; 4. 96-Jayson Campbell, 04:02.035[3]; 5. 08K-Danny Padilla, 04:03.241[7]; 6. 22RL-Gage Laney, 03:03.903[5]; (DNS) 20S-Steven Curbow,
Heat 2 (8 Laps): 1. 95-Grayson Gaddy, 01:43.027[1]; 2. 8R-Ryker Pace, 01:44.014[2]; 3. 11S-Connor Lee, 01:44.288[4]; 4. 8-Gunner Bowden, 01:44.517[6]; 5. 14-Blake Battles, 01:45.203[3]; 6. 22M-Rees Moran, 01:45.676[5]
Heat 3 (8 Laps): 1. 92-Jake Rosario, 02:38.893[4]; 2. 36-Kris Carroll, 02:39.902[3]; 3. 25-Jason Tracy, 02:42.171[5]; 4. 83-Shane Weeks, 02:42.694[1]; 5. 33-Cody Barnes, 02:43.113[2]; 6. M16-Dustin Robinson, 02:43.509[6]
USAC Restricted
A Feature 1 (20 Laps): 1. 17S-Baron Silva, 09:54.149[14]; 2. 101-Kylee Young, 09:55.474[10]; 3. 22M-Rees Moran, 09:56.090[12]; 4. 5F-Freddy Rowland, 09:56.491[7]; 5. 59-Brody Mclaughlin, 09:56.851[11]; 6. 72C-Kayden Cole, 09:57.633[13]; 7. 4C-Jon Lane, 09:58.958[15]; 8. 18J-Jeramiah Green, 10:00.832[6]; 9. 50-Jackson Beers, 10:05.388[9]; 10. III-Trae Manning, 09:55.212[2]; 11. 4S-Aubrey Jo Sappington, 09:55.423[3]; 12. 77-Chase Wright, 09:55.823[4]; 13. 7S-Kaden Smith, 06:03.662[1]; 14. 52-Hayden Mabe, 05:17.954[5]; 15. U2-Ryan Cotney, 04:56.723[8]
Heat 1 (8 Laps): 1. 4S-Aubrey Jo Sappington, 02:10.389[2]; 2. 5F-Freddy Rowland, 02:10.646[4]; 3. 59-Brody Mclaughlin, 02:10.784[6]; 4. 7S-Kaden Smith, 02:11.247[1]; 5. 72C-Kayden Cole, 02:11.541[7]; 6. 52-Hayden Mabe, 02:11.723[3]; 7. 50-Jackson Beers, 02:13.500[5]; 8. 4C-Jon Lane, 02:13.940[8]
Heat 2 (8 Laps): 1. III-Trae Manning, 01:43.778[1]; 2. 17S-Baron Silva, 01:44.204[7]; 3. 18J-Jeramiah Green, 01:44.408[3]; 4. 101-Kylee Young, 01:44.803[5]; 5. 77-Chase Wright, 01:46.672[2]; 6. U2-Ryan Cotney, 01:48.116[4]; 7. 22M-Rees Moran, 00:19.869[6]
USAC Non-Wing
A Feature 1 (25 Laps): 1. 1-Jeffrey Newell, 11:55.421[6]; 2. 00-Daniel Shaffer, 11:56.001[13]; 3. 3-Shawn Mahaffey, 11:58.316[12]; 4. 25-Jason Tracy, 11:58.760[14]; 5. 28P-Grady Mercer, 11:59.192[8]; 6. 8-Gunner Bowden, 11:59.518[15]; 7. 9-Ryan Mushrush, 12:01.099[3]; 8. 75K-Kale Drake, 12:03.099[20]; 9. 1C-Connor Lee, 12:03.950[11]; 10. 93-Matt Carr, 12:04.169[17]; 11. 31-Phillip Cordova, 12:04.891[5]; 12. 33X-Justin Patocka, 11:55.853[4]; 13. 33-Jack Kassik, 11:57.603[2]; 14. 84-Dave Nicholson, 11:57.941[9]; 15. 7S-Kaden Smith, 11:58.796[18]; 16. 22X-Matt Cash, 12:01.668[1]; 17. 37G-Tim Greene, 11:33.957[7]; 18. 17Z-Zac Moody, 09:43.028[10]; 19. 28-Garrett Bias, 00:56.835[19]
B Feature 1 (15 Laps): 1. 93-Matt Carr, 09:30.884[2]; 2. 7S-Kaden Smith, 09:31.970[1]; 3. 28-Garrett Bias, 09:32.689[4]; 4. 75K-Kale Drake, 09:33.029[10]; 5. 42D-Ryker Pace, 09:33.519[6]; 6. 8B-Cody Barnes, 09:33.916[5]; 7. 08K-Danny Padilla, 09:34.472[12]; 8. 35-Scott Thompson, 01:45.177[7]; 9. 29P-Brian Potter, 05:12.280[3]; 10. 15-Rob Donnelly, 01:45.177[8]; (DNS) 1K-Kevin Morris, 01:45.177; (DNS) 14R-Jake Nail, 01:45.177
Heat 1 (8 Laps): 1. 9-Ryan Mushrush, 01:48.466[2]; 2. 00-Daniel Shaffer, 01:48.694[6]; 3. 22X-Matt Cash, 01:51.099[1]; 4. 37G-Tim Greene, 01:52.158[4]; 5. 7S-Kaden Smith, 01:52.495[3]; 6. 8B-Cody Barnes, 01:53.382[5]; 7. 1K-Kevin Morris, 01:55.141[7]
Heat 2 (8 Laps): 1. 28P-Grady Mercer, 01:43.758[4]; 2. 33-Jack Kassik, 01:44.934[1]; 3. 31-Phillip Cordova, 01:45.270[3]; 4. 1C-Connor Lee, 01:45.340[5]; 5. 93-Matt Carr, 01:45.590[7]; 6. 42D-Ryker Pace, 01:46.778[2]; 7. 75K-Kale Drake, 01:46.913[6]
Heat 3 (8 Laps): 1. 25-Jason Tracy, 06:55.984[6]; 2. 33X-Justin Patocka, 06:56.858[2]; 3. 84-Dave Nicholson, 06:57.125[4]; 4. M16-Dustin Robinson, 00:43.924[7]; 5. 29P-Brian Potter, 06:59.499[3]; 6. 35-Scott Thompson, 00:43.924[1]; 7. 14R-Jake Nail, 00:43.924[5]
Heat 4 (8 Laps): 1. 1-Jeffrey Newell, 01:43.878[3]; 2. 8-Gunner Bowden, 01:44.992[6]; 3. 3-Shawn Mahaffey, 01:45.537[5]; 4. 17Z-Zac Moody, 01:45.938[4]; 5. 28-Garrett Bias, 01:46.330[2]; 6. 15-Rob Donnelly, 01:27.286[1]; (DNS) 08K-Danny Padilla, 01:27.286
USAC Sportsman
A Feature 1 (20 Laps): 1. 420-Jeff Harris, 07:41.712[4]; 2. 22-Justin Simpson, 07:42.148[9]; 3. 11-Ryan Cody, 07:42.892[12]; 4. 17-Dave Nicholson, 07:43.454[10]; 5. 51K-Kaimron Schoonover, 07:45.712[6]; 6. 71-Danny Clum, 07:47.502[13]; 7. 12K-Kayla Ward, 07:48.447[7]; 8. 08B-Bobby McIntosh, 07:48.699[11]; 9. 23L-Tyler LaPointe, 07:49.872[3]; 10. 11B-Bre Lamb, 07:42.022[1]; 11. 150-Robert Stott, 03:33.394[2]; 12. P1-Michaela Jewsbury, 03:39.169[8]; 13. 175-Ryan Truitt, 00:36.117[14]; 14. 6M-Troy Minton, 00:20.074[5]
Heat 1 (8 Laps): 1. 420-Jeff Harris, 04:02.268[3]; 2. 17-Dave Nicholson, 04:02.591[6]; 3. 11-Ryan Cody, 04:02.837[7]; 4. 51K-Kaimron Schoonover, 04:04.653[4]; 5. 150-Robert Stott, 04:06.285[2]; 6. P1-Michaela Jewsbury, 00:26.574[5]; (DNS) 175-Ryan Truitt, 00:26.574
Heat 2 (8 Laps): 1. 6M-Troy Minton, 03:31.640[3]; 2. 22-Justin Simpson, 03:31.839[5]; 3. 23L-Tyler LaPointe, 03:32.398[2]; 4. 12K-Kayla Ward, 03:33.712[4]; 5. 71-Danny Clum, 03:34.669[7]; 6. 08B-Bobby McIntosh, 03:34.773[6]; 7. 11B-Bre Lamb, 03:37.172[1]
USAC Outlaw
A Feature 1 (25 Laps): 1. 20S-Steven Curbow, 05:59.520[1]; 2. 3-Kris Carroll, 05:59.957[7]; 3. 49-Joel Smith, 06:01.340[8]; 4. 4-Danny James, 06:06.438[4]; 5. 44G-Garrett Olson, 06:08.364[6]; 6. 51-Paul Hendrix, 06:01.986[3]; 7. 12-Shane Hacker, 06:04.492[2]; 8. 14R-Jake Nail, 02:17.336[5]
Heat 1 (8 Laps): 1. 12-Shane Hacker, 01:40.872[2]; 2. 3-Kris Carroll, 01:42.499[7]; 3. 20S-Steven Curbow, 01:43.238[1]; 4. 49-Joel Smith, 01:43.286[8]; 5. 51-Paul Hendrix, 01:44.786[3]; 6. 4-Danny James, 01:45.042[4]; 7. 44G-Garrett Olson, 01:45.859[6]; (DNS) 14R-Jake Nail, 01:45.859
USAC Masters
A Feature 1 (15 Laps): 1. 7-Tony Ogden, 03:32.125[2]; 2. 84-Dave Nicholson, 03:32.163[8]; 3. 28B-Robby Bias, 03:32.742[4]; 4. P1-Jimmy Jewsbury, 03:37.087[9]; 5. 22X-Matt Cash, 03:37.364[7]; 6. 37G-Tim Greene, 03:37.853[5]; 7. 0-Johnny Goolsby, 03:32.580[1]; 8. 00G-Milton Goolsby, 02:58.932[3]; (DNS) 11R-Rob Lamb, 02:58.932
Heat 1 (8 Laps): 1. 37G-Tim Greene, 04:23.464[5]; 2. 7-Tony Ogden, 04:24.323[2]; 3. P1-Jimmy Jewsbury, 04:25.114[9]; 4. 00G-Milton Goolsby, 04:25.374[3]; 5. 28B-Robby Bias, 04:25.835[4]; 6. 22X-Matt Cash, 04:26.244[7]; 7. 0-Johnny Goolsby, 04:28.339[1]; 8. 11R-Rob Lamb, 01:41.908[6]; (DNS) 84-Dave Nicholson, 01:41.908
---
Submitted By: Terry Mattox
Article Media
Back to News