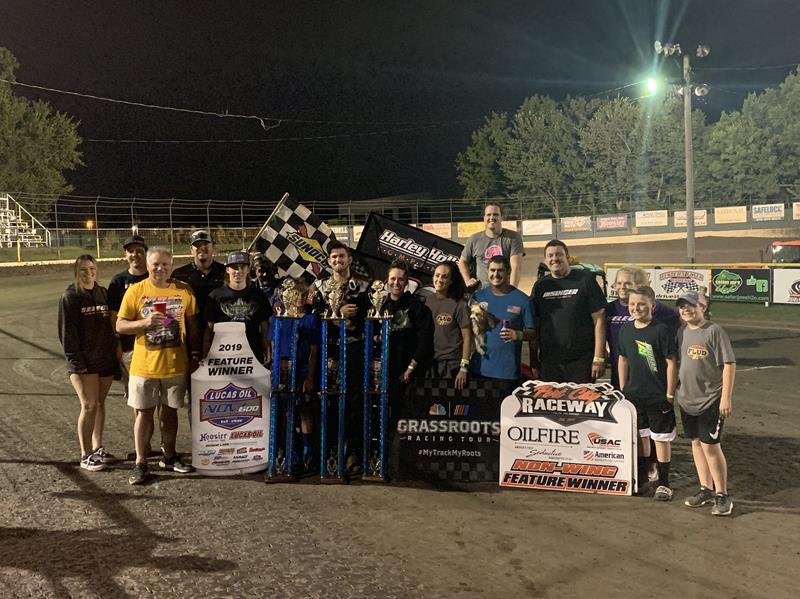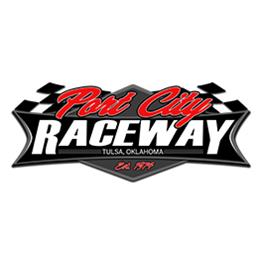 9/1/2019
Port City Raceway
---
Flud, Cody, Timms, White and Bennett Pick Up Pete Frazier Memorial Victories at Port City Raceway
TULSA, Okla. (Sept. 1, 2019) - Frank Flud, Ryan Cody, Ryan Timms, Peyton White and Thad Bennett each picked up victories on Saturday during the 20th Annual Pete Frazier Memorial presented by Western Flyer Xpress finale at Port City Raceway.
20 Outlaws, 45 Non-Wing, 45 A-Class, 16 Sportsman, 26 Restricted, 18 Junior Sprints and 11 Masters were on hand.
In Outlaw competition it was Frank Flud getting it done in the 30-lap feature event. Delaney Jost finished in the runner up spot with Joel Smith crossing in third. Cole Roberts was fourth and Riley Goodno made up the top five.
Frederic Fezard, Steven Curbow, Branigan Roark, Kris Carroll and Bradley Fezard were the top ten.
Bradley Fezard and Kelsey Gray won the heat races.
It was Frank Flud in the Non-Wing class coming from the 11th starting spot to pick up the win. Laydon Pearson was scored in second with Jeffrey Newell finishing in the third spot. Gage Robb came home fourth with Grady Mercer fifth.
Zac Moody, Matt Carr, Gunner Bowden, Justin Patocka and Kyle Thompson made up the top ten.
Owen Carlson, Jared Dunkin, Daniel Shaffer, Gunner Bowden and Frank Flud won heat races. Kyle Thompson and Grady Mercer won the B-Mains.
From the pole of the A-Class feature, Frank Flud picked up the win. Gage Robb from seventh finished in second. Ryan Timms was third. Fourth went to Trey Robb who started in the 18th spot and Garth Kasiner made up the top five.
Kris Carroll, Cole Roberts, Jake Rosario, Brock Berreth and Matt Carr came across in the top ten.
Jake Rosario, Gage Robb, Matt Carr, Rees Moran and Steven Curbow won the nights five heat races. Laydon Pearson and Cole Roberts won the B-Main events.
Ryan Cody lead wire to wire in the Sportsman class. Bobby McIntosh finished in the runner up spot. Third went to Tony Penick with Dave Nicholson crossing in forth and Justin Simpson the top five.
Kayla Ward, Kaimron Schoonover, Danny Clum, Drew Sawyer and Tyler LaPointe rounded out the top ten.
LaPointe won the nights lone heat race.
Ryan Timms ran to victory in the Restricted class from the third starting spot. Long race leader, Tyler Kuykendall crossed in the second spot. Brody McLaughlin rounded out the podium. Baron Silva finished in fourth with Preston Scheulen fifth.
Timothy Watson III, Conner Long, Rees Moran, Kayden Cole and Garrett Benson made the top ten.
Jace Park, Timothy Watson III and Kylee Young won heat races while Freddy Rowlan won the lone B-Main.
From fifth to a last lap last corner pass Peyton White picked up the Junior Sprint thriller. Cale McGee came home in second. Third went to Lathe Griggs. Talin Turner was fourth at the line and Ryker Griggs made up the top five.
Ayden Parrish, Levi Smith, Hudsyn Truitt, Tyler Crow and Jaxon Nail the top ten.
Mekentzi Potter and Talin Turner won heat races.
Thad Bennett won the Labor Day Masters Bash. Jay Andrews finished in the second spot. Matt Cash was third. Fourth went to Danny Clum and Tony Ogden from tenth to fifth.
Shane Lee, Tim Greene, Rob Lamb, Dave Nicholson and Milton Goolsby were the top ten.
Clum won the lone heat race.
Points racing continues on Saturday, Sept. 7 at 7pm.
RACE RESULTS -
8/31/2019 at Port City Raceway
20th Annual Pete Frazier Memorial presented by Western Flyer Xpress
NOW600 Lucas Oil National Micros presented by Tel-Star Technologies
Junior Sprints
A Feature 1 (20 Laps): 1. 46W-Peyton White, [5]; 2. 46M-Cale McGee, [1]; 3. 0-Lathe Griggs, [9]; 4. 10T-Talin Turner, [8]; 5. 1G-Ryker Griggs, [6]; 6. 88P-Ayden Parrish, [12]; 7. 55-Levi Smith, [11]; 8. 1-Hudsyn Truitt, [10]; 9. 2T-Tyler Crow, [15]; 10. 14JR-Jaxon Nail, [18]; 11. 8-Jase Blevins, [4]; 12. 87-Brody McClelland, [2]; 13. 50-Sawyer Beers, [13]; 14. 1P-Mekentzi Potter, [7]; 15. 55S-Haidyn Stout, [16]; 16. 88K-Bryce Kujath, [14]; 17. 5C-Cooper Miller, [3]; 18. 33-Sky Bartholomew, [17]
Heat 1 (8 Laps): 1. 1P-Mekentzi Potter, [2]; 2. 0-Lathe Griggs, [3]; 3. 88P-Ayden Parrish, [4]; 4. 88K-Bryce Kujath, [1]; 5. 2T-Tyler Crow, [5]; 6. 33-Sky Bartholomew, [6]
Heat 2 (8 Laps): 1. 10T-Talin Turner, [2]; 2. 55-Levi Smith, [1]; 3. 1-Hudsyn Truitt, [5]; 4. 50-Sawyer Beers, [4]; 5. 55S-Haidyn Stout, [3]; 6. 14JR-Jaxon Nail, [6]
A-Class | NOW600 A-Class National Micros
A Feature 1 (30 Laps): 1. 81-Frank Flud, [1]; 2. 12G-Gage Robb, [7]; 3. 5T-Ryan Timms, [2]; 4. 12-Trey Robb, [18]; 5. 21G-Garth Kasiner, [5]; 6. 36-Kris Carroll, [6]; 7. 3-Cole Roberts, [16]; 8. 92-Jake Rosario, [8]; 9. 10-Brock Berreth, [12]; 10. 37-Matt Carr, [9]; 11. 11L-Layden Pearson, [15]; 12. 11K-Shawn Mahaffey, [13]; 13. 20S-Steven Curbow, [11]; 14. 22M-Rees Moran, [10]; 15. 11G-Riley Goodno, [17]; 16. 88R-Ryder Laplante, [14]; 17. 57T-Kyle Thompson, [20]; 18. 07-Owen Carlson, [19]; 19. 91K-Kevin Bayer, [4]; 20. 1-Jeffrey Newell, [3]
B Feature 1 (12 Laps): 1. 11L-Layden Pearson, 08:00.028[1]; 2. 11G-Riley Goodno, 08:00.666[2]; 3. 07-Owen Carlson, 08:01.498[13]; 4. 17Z-Zac Moody, 08:02.791[7]; 5. 96-Jayson Campbell, 08:03.099[10]; 6. 938-Bradley Fezard, 08:03.274[9]; 7. 49-Garrett Hulsey, 08:03.396[4]; 8. 33-Cody Barnes, 08:03.603[6]; 9. 5R-Tanner Rogers, 08:04.458[15]; 10. 17J-Jacob Johnston, 08:04.832[14]; 11. 95-Grayson Gaddy, 08:04.923[12]; 12. 8R-Ryker Pace, 04:35.133[5]; 13. 88-Jason Adams, 04:16.335[8]; 14. 22B-Abbi Buntin, 01:41.922[16]; 15. 11S-Connor Lee, 01:07.749[3]; 16. 07Z-Zack Nelson, 09:08.148[11]
B Feature 2 (12 Laps): 1. 3-Cole Roberts, 03:27.612[2]; 2. 12-Trey Robb, 03:27.838[3]; 3. 57T-Kyle Thompson, 03:28.017[1]; 4. 74T-TJ Thompson, 03:30.145[6]; 5. 21K-Kobe Simpson, 03:30.842[4]; 6. 52-Raymond Moore, 03:31.914[12]; 7. 21-Jeremy Wickham, 03:33.028[7]; 8. 14-Blake Battles, 03:33.563[9]; 9. 83-Shane Weeks, 03:34.048[11]; 10. 27T-Timothy Watson III, 03:34.350[14]; 11. 11H-Logan Hill, 03:12.508[5]; 12. 22RL-Gage Laney, 00:25.322[8]; 13. 8-Gunner Bowden, 00:25.322[10]; 14. 74X-Caleb Pence, 00:25.322[13]; 15. 99-Brett Osborn, 00:25.322[15]
Heat 1 (8 Laps): 1. 92-Jake Rosario, 03:47.433[2]; 2. 10-Brock Berreth, 03:48.102[4]; 3. 49-Garrett Hulsey, 03:49.935[3]; 4. 88-Jason Adams, 03:51.449[1]; 5. 74T-TJ Thompson, 03:51.738[6]; 6. 07Z-Zack Nelson, 03:51.952[5]; 7. 83-Shane Weeks, 03:52.116[8]; 8. 74X-Caleb Pence, 03:52.489[7]
Heat 2 (8 Laps): 1. 12G-Gage Robb, 01:44.469[3]; 2. 57T-Kyle Thompson, 01:46.141[1]; 3. 8R-Ryker Pace, 01:46.349[2]; 4. 3-Cole Roberts, 01:46.652[6]; 5. 22RL-Gage Laney, 01:47.051[5]; 6. 52-Raymond Moore, 01:47.375[4]; 7. 95-Grayson Gaddy, 01:48.614[8]; 8. 17J-Jacob Johnston, 00:58.811[7]
Heat 3 (8 Laps): 1. 37-Matt Carr, 02:46.504[2]; 2. 11K-Shawn Mahaffey, 02:48.206[4]; 3. 21K-Kobe Simpson, 02:49.269[3]; 4. 11S-Connor Lee, 02:49.922[6]; 5. 938-Bradley Fezard, 02:50.273[5]; 6. 21-Jeremy Wickham, 02:51.080[8]; 7. 5R-Tanner Rogers, 02:52.146[1]; 8. 27T-Timothy Watson III, 02:52.544[7]
Heat 4 (8 Laps): 1. 22M-Rees Moran, 01:45.002[2]; 2. 88R-Ryder Laplante, 01:47.343[4]; 3. 11H-Logan Hill, 01:48.437[1]; 4. 33-Cody Barnes, 01:49.580[3]; 5. 17Z-Zac Moody, 01:50.258[6]; 6. 8-Gunner Bowden, 01:50.527[8]; 7. 07-Owen Carlson, 01:50.539[7]; 8. 22B-Abbi Buntin, 01:51.083[5]
Heat 5 (8 Laps): 1. 20S-Steven Curbow, 02:12.138[2]; 2. 11L-Layden Pearson, 02:12.398[3]; 3. 11G-Riley Goodno, 02:12.718[4]; 4. 12-Trey Robb, 02:13.483[6]; 5. 14-Blake Battles, 02:15.006[5]; 6. 96-Jayson Campbell, 02:15.380[7]; 7. 99-Brett Osborn, 02:16.840[1]
Restricted | NOW600 Restricted National Micros
A Feature 1 (30 Laps): 1. 5T-Ryan Timms, 14:33.476[3]; 2. 8K-Tyler Kuykendall, 14:35.111[1]; 3. 59-Brody Mclaughlin, 14:37.384[2]; 4. 17S-Baron Silva, 14:38.772[4]; 5. 00-Preston Scheulen, 14:39.072[6]; 6. 27T-Timothy Watson III, 14:39.589[7]; 7. 52JR-Conner Long, 14:39.775[5]; 8. 22M-Rees Moran, 14:40.008[9]; 9. 72C-Kayden Cole, 14:40.707[8]; 10. 2B-Garrett Benson, 14:41.176[13]; 11. 56-Jace Park, 14:41.814[10]; 12. 88R-Ryder Laplante, 14:42.343[12]; 13. 78-Ethan Ayars, 14:43.557[18]; 14. 7S-Kaden Smith, 14:44.759[17]; 15. 12-Tyler Devenport, 14:34.475[20]; 16. 101-Kylee Young, 14:34.719[11]; 17. 5F-Freddy Rowland, 14:34.894[15]; 18. 18J-Jeramiah Green, 14:37.004[19]; 19. 12G-Joshua Gentry, 14:37.198[16]; 20. 52-Hayden Mabe, 05:09.757[14]
B Feature 1 (12 Laps): 1. 5F-Freddy Rowland, 09:27.274[3]; 2. 12G-Joshua Gentry, 09:28.061[2]; 3. 7S-Kaden Smith, 09:29.074[5]; 4. 78-Ethan Ayars, 09:29.879[6]; 5. 18J-Jeramiah Green, 09:30.211[1]; 6. 12-Tyler Devenport, 09:30.623[7]; 7. 50-Jackson Beers, 09:32.144[9]; 8. 77W-Chase Wright, 09:32.399[12]; 9. 77-Cooper Sullivan, 09:33.117[11]; 10. 22-Remmi Butolph, 07:33.591[10]; 11. 15-Brody Brown, 02:59.005[8]; 12. 23-Journey Hunt, 02:59.005[4]
Heat 1 (8 Laps): 1. 56-Jace Park, 01:41.125[1]; 2. 2B-Garrett Benson, 01:42.050[2]; 3. 18J-Jeramiah Green, 01:44.937[3]; 4. 88R-Ryder Laplante, 01:45.446[7]; 5. 78-Ethan Ayars, 01:46.830[5]; 6. 50-Jackson Beers, 01:48.119[6]; 7. 77W-Chase Wright, 01:48.894[4]
Heat 2 (8 Laps): 1. 27T-Timothy Watson III, 01:43.236[2]; 2. 72C-Kayden Cole, 01:44.495[4]; 3. 12G-Joshua Gentry, 01:45.063[3]; 4. 7S-Kaden Smith, 01:47.654[1]; 5. 23-Journey Hunt, 01:49.211[6]; 6. 12-Tyler Devenport, 01:49.227[7]; 7. 77-Cooper Sullivan, 01:50.146[5]
Heat 3 (8 Laps): 1. 101-Kylee Young, 01:43.540[1]; 2. 52-Hayden Mabe, 01:45.828[2]; 3. 22M-Rees Moran, 01:46.110[6]; 4. 5F-Freddy Rowland, 01:46.216[4]; 5. 15-Brody Brown, 01:48.448[3]; 6. 22-Remmi Butolph, 01:48.777[5]
Non-Wing | NOW600 Non-Wing National Micros
A Feature 1 (30 Laps): 1. 81-Frank Flud, 27:05.078[11]; 2. 11-Layden Pearson, 27:05.664[2]; 3. 1-Jeffrey Newell, 27:05.864[1]; 4. 12G-Gage Robb, 27:06.553[6]; 5. 28P-Grady Mercer, 27:07.869[16]; 6. 17Z-Zac Moody, 27:08.969[17]; 7. 37-Matt Carr, 27:09.329[13]; 8. 8-Gunner Bowden, 27:09.934[7]; 9. 33X-Justin Patocka, 27:11.678[19]; 10. 57T-Kyle Thompson, 23:04.807[15]; 11. 27-Jesse Frazier, 19:15.243[5]; 12. 5T-Ryan Timms, 19:16.834[8]; 13. 21G-Garth Kasiner, 19:20.099[14]; 14. 33-Kolton Nimrod, 15:24.994[12]; 15. 09-Isaac Barr, 15:26.018[20]; 16. 12-Trey Robb, 07:50.621[3]; 17. 14R-Jake Nail, 07:50.821[4]; 18. 00-Daniel Shaffer, 07:51.161[10]; 19. 92-Austin Lambert, 07:56.611[18]; 20. 8P-Caleb Pence, 07:56.611[9]
B Feature 1 (12 Laps): 1. 57T-Kyle Thompson, 18:07.127[3]; 2. 17Z-Zac Moody, 18:07.555[15]; 3. 33X-Justin Patocka, 18:08.613[16]; 4. 29P-Brian Potter, 18:09.387[10]; 5. 7S-Kaden Smith, 18:09.743[6]; 6. 77-Ryan Sullivan, 18:09.757[12]; 7. 27D-Jared Dunkin, 18:09.993[2]; 8. 1C-Connor Lee, 18:10.188[1]; 9. 07Z-Zack Nelson, 18:10.504[11]; 10. 35-Scott Thompson, 13:27.908[4]; 11. 3-Shawn Mahaffey, 13:27.908[5]; 12. 31-Phillip Cordova, 13:27.908[8]; 13. 24T-Glenn James Bratti, 13:27.908[14]; 14. 10D-Devon Debrick, 13:27.908[7]; 15. 11H-Logan Hill, 13:27.908[9]; 16. 10-Brock Berreth, 13:27.908[13]
B Feature 2 (12 Laps): 1. 28P-Grady Mercer, 10:35.083[3]; 2. 92-Austin Lambert, 10:35.598[11]; 3. 09-Isaac Barr, 10:37.345[5]; 4. 75K-Kale Drake, 10:37.852[8]; 5. 42D-Ryker Pace, 10:38.410[15]; 6. 12T-Jason Tyer, 10:39.828[4]; 7. 44-Branigan Roark, 10:40.091[10]; 8. 29-David Pyatt, 10:41.574[12]; 9. 84-Dave Nicholson, 10:28.111[7]; 10. 93M-Thomas McElroy, 05:43.133[9]; 11. 07-Owen Carlson, 05:40.236[1]; 12. 17J-Jacob Johnston, 05:41.403[6]; 13. 1K-Kevin Morris, 01:44.792[14]; 14. 3R-JB Roberts, 01:44.792[13]; 15. 17-Hunter Fischer, 10:34.428[2]
Heat 1 (8 Laps): 1. 07-Owen Carlson, 03:56.800[1]; 2. 21G-Garth Kasiner, 03:57.006[4]; 3. 28P-Grady Mercer, 03:57.346[3]; 4. 17-Hunter Fischer, 03:58.424[7]; 5. 84-Dave Nicholson, 03:58.630[5]; 6. 93M-Thomas McElroy, 04:00.850[6]; 7. 44-Branigan Roark, 00:21.666[8]; 8. 3R-JB Roberts, 00:21.666[2]
Heat 2 (8 Laps): 1. 27D-Jared Dunkin, 03:40.490[1]; 2. 37-Matt Carr, 03:42.095[5]; 3. 33-Kolton Nimrod, 03:44.479[8]; 4. 10D-Devon Debrick, 03:31.224[2]; 5. 31-Phillip Cordova, 03:31.667[4]; 6. 07Z-Zack Nelson, 01:05.985[3]; (DNS) 1K-Kevin Morris, 03:42.248; (DQ) 17Z-Zac Moody, 03:42.248[6]
Heat 3 (8 Laps): 1. 00-Daniel Shaffer, 01:44.617[4]; 2. 5T-Ryan Timms, 01:45.306[8]; 3. 12T-Jason Tyer, 01:46.458[2]; 4. 3-Shawn Mahaffey, 01:47.247[5]; 5. 17J-Jacob Johnston, 01:48.991[6]; 6. 92-Austin Lambert, 01:49.102[3]; 7. 29-David Pyatt, 01:50.977[7]; 8. 24T-Glenn James Bratti, 00:22.848[1]
Heat 4 (8 Laps): 1. 8-Gunner Bowden, 03:12.539[6]; 2. 8P-Caleb Pence, 03:34.283[7]; 3. 35-Scott Thompson, 03:34.283[3]; 4. 09-Isaac Barr, 03:05.320[4]; 5. 75K-Kale Drake, 00:53.246[1]; 6. 77-Ryan Sullivan, 00:21.642[2]; (DQ) 42D-Ryker Pace, 03:31.744[8]; (DQ) 33X-Justin Patocka, 03:34.283[5]
Heat 5 (8 Laps): 1. 81-Frank Flud, [4]; 2. 57T-Kyle Thompson, [2]; 3. 1C-Connor Lee, [6]; 4. 7S-Kaden Smith, [3]; 5. 11H-Logan Hill, [1]; 6. 29P-Brian Potter, [5]; 7. 10-Brock Berreth, [7]
Sportsman
A Feature 1 (25 Laps): 1. 11-Ryan Cody, [1]; 2. 08B-Bobby McIntosh, [2]; 3. 88-Tony Penick, [6]; 4. 17-Dave Nicholson, [3]; 5. 22-Justin Simpson, [5]; 6. 12K-Kayla Ward, [4]; 7. 51K-Kaimron Schoonover, [7]; 8. 71-Danny Clum, [9]; 9. 29-Drew Sawyer, [10]; 10. 23L-Tyler LaPointe, [8]; 11. 175-Ryan Truitt, [16]; 12. 420-Jeff Harris, [11]; 13. 11B-Bre Lamb, [12]; 14. 11K-Kolyn Hill, [15]; 15. 150-Robert Stott, [14]; 16. 22U-Todd Uber, [13]
Heat 1 (8 Laps): 1. 23L-Tyler LaPointe, [1]; 2. 51K-Kaimron Schoonover, [4]; 3. 29-Drew Sawyer, [3]; 4. 71-Danny Clum, [8]; 5. 420-Jeff Harris, [6]; 6. 11B-Bre Lamb, [5]; 7. 22U-Todd Uber, [2]; 8. 150-Robert Stott, [7]; 9. 11K-Kolyn Hill, [9]; (DNS) 175-Ryan Truitt,
Outlaw
A Feature 1 (30 Laps): 1. 81-Frank Flud, 02:08.718[7]; 2. 25J-Delaney Jost, 14:12.141[4]; 3. 49-Joel Smith, 14:12.834[8]; 4. 3-Cole Roberts, 14:13.030[3]; 5. 11-Riley Goodno, 14:13.305[5]; 6. 94-Frederic Fezard, 14:14.416[17]; 7. 20S-Steven Curbow, 14:14.525[11]; 8. 44-Branigan Roark, 14:14.577[13]; 9. 3C-Kris Carroll, 14:15.069[2]; 10. 938-Bradley Fezard, 14:15.643[9]; 11. 44G-Garrett Olson, 14:16.327[6]; 12. 12-Shane Hacker, 14:16.889[16]; 13. 4-Danny James, 11:48.361[14]; 14. 91-Kevin Bayer, 08:14.586[1]; 15. 48-Bryan Davidson, 02:08.718[15]; 16. 88K-Kelsey Gray, 02:08.718[10]; 17. 14R-Jake Nail, 02:08.718[12]; 18. 57P-Peter Walker, 02:08.718[18]; 19. 51-Paul Hendrix, 02:08.718[19]; 20. 22D-David Walker, 02:08.718[20]
Heat 1 (8 Laps): 1. 938-Bradley Fezard, 01:18.450[1]; 2. 14R-Jake Nail, 01:18.982[2]; 3. 81-Frank Flud, 00:33.215[7]; 4. 44-Branigan Roark, 01:21.652[5]; 5. 12-Shane Hacker, 01:23.259[3]; 6. 94-Frederic Fezard, 01:23.679[6]; 7. 51-Paul Hendrix, 00:33.215[4]
Heat 2 (8 Laps): 1. 88K-Kelsey Gray, 01:42.851[1]; 2. 20S-Steven Curbow, 01:43.393[3]; 3. 49-Joel Smith, 01:44.280[6]; 4. 4-Danny James, 01:45.633[2]; 5. 48-Bryan Davidson, 01:46.452[5]; 6. 57P-Peter Walker, 01:31.098[4]; (DNS) 22D-David Walker, 01:31.098
Masters
A Feature 1 (20 Laps): 1. 5B-Thad Bennett, [1]; 2. 77-Jay Andrews, [3]; 3. 22X-Matt Cash, [4]; 4. 71-Danny Clum, [7]; 5. 7-Tony Ogden, [10]; 6. 9-Shane Lee, [5]; 7. 37G-Tim Greene, [8]; 8. 11R-Rob Lamb, [6]; 9. 84-Dave Nicholson, [2]; 10. 00G-Milton Goolsby, [9]; 11. 0-Johnny Goolsby, [11]
Heat 1 (8 Laps): 1. 71-Danny Clum, [1]; 2. 37G-Tim Greene, [3]; 3. 00G-Milton Goolsby, [2]; 4. 7-Tony Ogden, [4]; 5. 0-Johnny Goolsby, [5]
---
Submitted By: Terry Mattox
Back to News