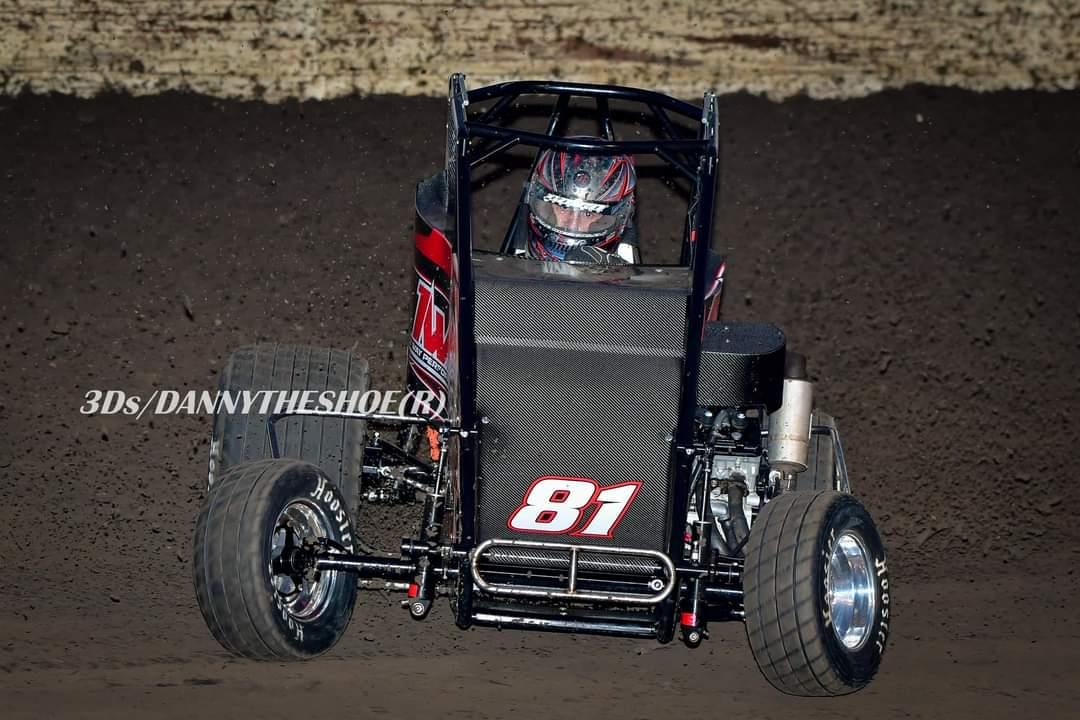 10/26/2021
Inside Line Promotions
---
Flud Rebounds for Fourth-Place Outing at KKM Giveback Classic
(Photo by Danny The Shoe Clum Motorsports)
Inside Line Promotions – TULSA, Okla. (Oct. 26, 2021) – Frank Flud finished fourth during the KKM Giveback Classic last Saturday at Port City Raceway.
It marked his 71st top five of the season and was a good rebound following a violent crash during Thursday's opener of the Non-Wing micro sprint spectacle hosted by Port City Raceway.
Flud kicked off the event by qualifying third quickest of the 38 entrants. He then advanced from fourth to second place in a heat race and from sixth to second place in a qualifier to garner the pole position for the main event as the high-points driver.
"We had a really good car," he said. "We qualified well and did good in our heat and our qualifier. Cannon (McIntosh) got out to an early lead in the feature. I was set up on the longer end of the race. I got past Cannon and was making headway. We caught traffic and it slowed us up. I wasn't really sure what direction they were going. One driver dropped to the bottom and as I got to him he jumped to the top. I slid him and he slid me back. I slid him again and he crossed me over, started racing me like it was for a position. I got beside him on the backstretch and I guess he decided to go to the bottom to get out of my way. When he turned down I think my right rear caught his left rear and I jumped up over him and went for a ride. It ended up flipping down the backstretch and we ended by the catchfence in turn three."
The incident with approximately a half-dozen laps remaining resulted in a DNF for Flud.
"It did a little damage to the frame and was mostly bolt-on stuff," he said. "I had my 'A' Class car that we got ready to go on Saturday. Fortunately the way Keith (Kunz) has that format laid out we were the highest driver not locked in so I got to start pole of the first B Main."
The team returned to the track for Saturday's event finale, in which Flud won a B Main from the pole to transfer into the 67-lap main event.
"I made it up to second at one point for a lap or two in the feature," he said. "I don't know if a piece of mud or what, but something pinched a water line and cut it by the header. It way overheated and that hurt me by the end of the race and we ended up fourth.
"With everything that took place I'm really happy with how it turned out. We showed the speed to be able to compete for the win. I'm not happy with the result, but that's the racer in me. I'm happy with battling back from everything we had to fight through. Also, both boys in our driver development program were able to qualify in the top five and run well in their heats and qualifiers. We were all three starting in the top 10 in the B Features on Saturday and both the boys were able to make the show as well. That was great, especially given how big of an event it was, and it shows their progress this year."
Flud plans on taking this weekend off before returning to action Nov. 5-6 at Creek County Speedway in Sapulpa, Okla., with the Lucas Oil National Open Wheel 600 Series presented by Hi-Plains Building Division.
QUICK RESULTS –
Oct. 21 – Port City Raceway in Tulsa, Okla. (Non-Wing) – Qualifying: 3; Heat race: 2 (4); Qualifier: 2 (6); Feature: 18 (1).
Oct. 23 – Port City Raceway in Tulsa, Okla. (Non-Wing) – B Main: 1 (1); Feature: 4 (9).
SEASON STATS –
91 races, 31 wins, 71 top fives, 78 top 10s, 86 top 15s, 89 top 20s
UP NEXT –
Nov. 5-6 at Creek County Speedway in Sapulpa, Okla., with the Lucas Oil National Open Wheel 600 Series presented by Hi-Plains Building Division
MEDIA LINKS –
Twitter: https://twitter.com/81racing
Facebook: https://www.facebook.com/frankfludracing
SPONSOR SPOTLIGHT – Performance Electronics, LTD
Performance Electronics, Ltd (PE) is an engineering company, founded in 1999, which specializes in the design and manufacture of embedded electronic control systems for use within various industries. For more information, visit https://pe-ltd.com/.
"Performance Electronics, LTD, has been handling our ECUs and wiring harnesses for several years," Flud said. "They've always provided us with consistent products and great customer service."
Flud would also like to thank 1 Way Performance, Harley Hollan Companies, Smith Titanium, PureMax Racing Oil, Outlaw Wings, Engler Machine & Tool, Inc., Disinger Racing Products, The Lumber Lounge & Garage, Keizer Aluminum Wheels, MyChron-Tom, Metric Cycles Racing Engines, Swindell Bleeders, Schoenfeld Headers, TUHB, Impact RaceGear, Broken Arrow Powder Coating, Select Coatings, Klint Pursley Trucking, Walker Performance Filtration, Hoss Media, Fast Four Media and Velocita for their continued support.
INSIDE LINE PROMOTIONS –
Inside Line Promotions specializes in affordable public relations and media management for motor sports drivers, teams, sponsors, tracks, series, events, organizations and manufacturers. ILP Founder Shawn Miller leverages professional journalism with new media technologies and social networking to improve your exposure and the return on investment for your sponsors.
To meet the media relations needs of your program by joining Team ILP, contact Shawn at 541-510-3663 or Shawn@InsideLinePromotions.com. For more information on Inside Line Promotions, visit http://www.InsideLinePromotions.com.
---
Article Credit: Inside Line Promotions
Submitted By: Shawn Miller
Back to News