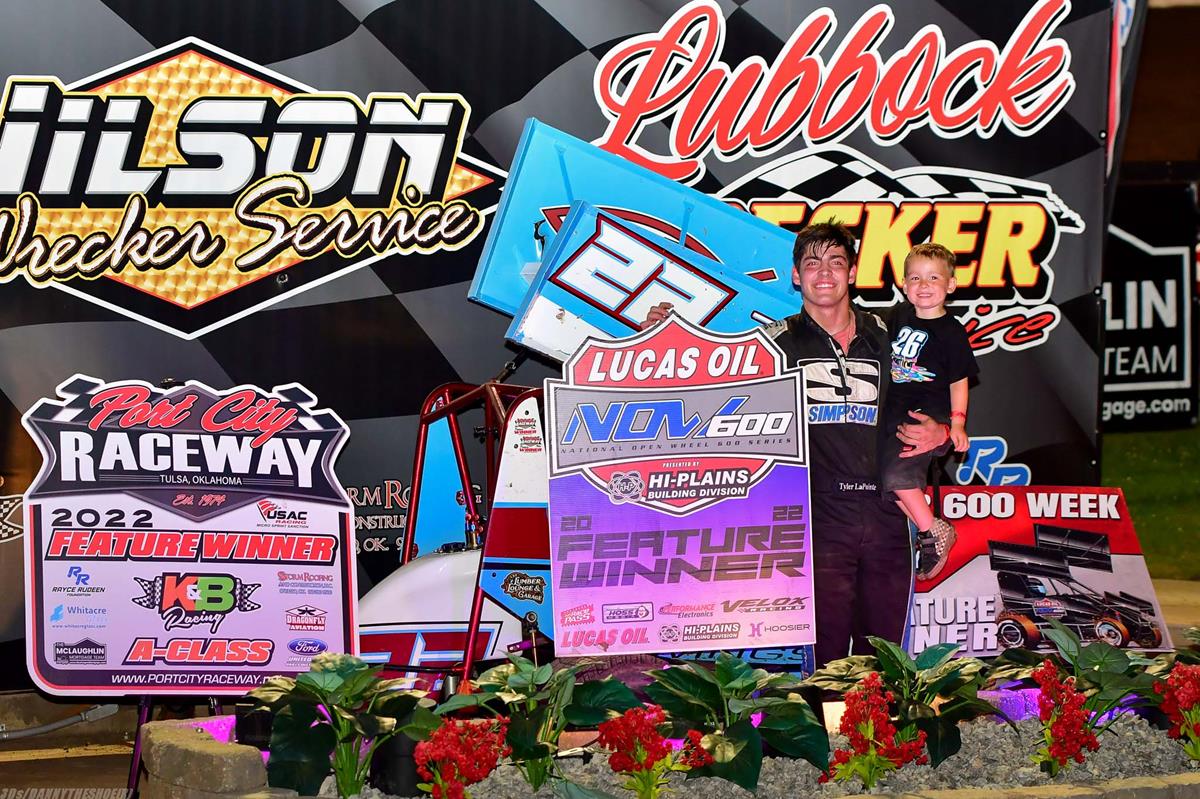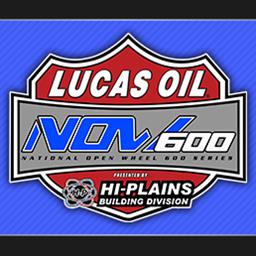 6/12/2022
NOW600 National Micros
---
Gage Laney, Kris Carroll, Jett Nunley, and Peter Smith Earn Port City Wins With NOW600
(Image Credit: Danny Clum)
Bryan Hulbert – TULSA, Okla. (June 11, 2022) Working through the fourth round of the 2022 Sooner 600 Week, the Lucas Oil National Open Wheel 600 Series presented by Hi-Plains Building Division took on Port City Raceway for the second night with Gage Laney, Kris Carroll, Jett Nunley, and Peter Smith all earning wins. Saturday's field consisted of 188 entries, including Port City Raceway's weekly Sportsman and Junior Sprint divisions.
Gage's first career victory with the Lucas Oil National Open Wheel 600 Series presented by Hi-Plains Building Division, the No. 22RL topped A-Class. Leading start-to-finish, Laney held off Jake Rosario for the win while Jace McIntosh claimed third. Elijah Gile and Jett Hays made up the top five.
Topping Outlaw on Friday, Claremore's Kris Carroll added a Stock Non-Wing win to his weekend. The third time the No. 5k has graced the top podium step, Kris shot from fourth to the lead on Lap 3. Working through late-race cautions, the No. 81 of Frank Flud rolled the hub while Kris worked the cushion. Side by side at the line, the two were separated by 0.050-seconds. Through the first and second turns, a misstep by Flud spun the No. 81 to a stop. Able to pull away from there, Kris Carroll kept pace over Blake Battles with Austin Torgerson in third. Jake Rosario and Ashton Torgerson made up the top five.
Hard Charger from the B-Feature on Friday night, the No. 33 of Jett Nunley, put himself in a much better starting spot Saturday. Taking the green from third, Jett chased Brody Brown for the lead through the opening seven laps. Keeping pace from there, the No. 33 kept to the bottom of the track, while the race for second saw Garyn Howard work top shelf to get the spot on Lap 10. Brody Brown slipped to third with Levi Hillier and Cale Lagroon in tow.
His second win of Sooner 600 Week, New Mexico's Peter Smith led all 20 laps in Outlaw. Chased by Johnny Boland, the No. 1v settled for second over Cameron Sorrels, Elijah Gile, and Braxton Wilson. Port City Raceway's weekly division winner in Sportsman was Brad Best, who took the lead on Lap 8. Junior Sprints saw Mattix McBride make his way into Victory Lane.
Sooner 600 Week concludes on Sunday, June 12, at Caney Valley Speedway in Caney, Kan. Gates open at 4:00 P.M. with Hot Laps at 6:15 P.M., and Racing at 7:00 P.M. (CDT). Adult tickets are $10, Seniors are $5, and Children 12 & under are Free. Pits are $30. Caney Valley Speedway is located at County Rd 1300, Caney, KS 67333. More information can be found by calling (620) 330-0485 or logging on to http://www.caneyvalleyspeedway.net.
Fans not able to attend can see every lap live on https://www.now600.tv.
To keep up on everything happening with the National Open Wheel 600 Series, from the National Tour to Regional and Weekly racing lineups, log onto http://www.now600series.com and make sure to follow the tour on Facebook and Twitter (@NOW600Series).
Race Results:
NOW600 National Series
Creek County Speedway (Sapulpa, Okla.)
Sooner 600 Week – Night 4
Saturday, June 11, 2022
Entry Count: 188
A-CLASS
Hi Plains Building Division A-Main (25 Laps): 1. 22RL-Gage Laney[2]; 2. 92-Jake Rosario[1]; 3. 27-Jace McIntosh[4]; 4. 13-Elijah Gile[5]; 5. 11J-Jett Hays[3]; 6. 13C-William Conner[6]; 7. 1V-Johnny Boland[8]; 8. 36-Kris Carroll[11]; 9. 02-Ashton Torgerson[16]; 10. 81-Frank Flud[9]; 11. 08-Peter Smith[15]; 12. 17S-Baron Silva[20]; 13. 3Z-Trey Zorn[7]; 14. 35-Gaige Weldon[12]; 15. 11-Chris Cochran[18]; 16. 14X-Braxston Wilson[17]; 17. 27J-Jason Wilson[19]; 18. 15-Brody Brown[13]; 19. 1H-Connor Lee[10]; 20. 99-Brett Osborn[14]
Ward Worthy Farms B-Main 1 (12 Laps): 1. 08-Peter Smith[1]; 2. 11-Chris Cochran[4]; 3. 26-Corbin Rueschenberg[2]; 4. 20B-Chase Bolf[5]; 5. 38K-Jackson Kounkel[7]; 6. 2-Lathe Griggs[3]; 7. 21-Keegan Osantowski[12]; 8. 72-Alex Karpowicz[9]; 9. 5G-Landon Graham[11]; 10. 28J-Justine Wilson[10]; 11. 21C-Carter Holt[8]; 12. 77E-Cole Esgar[6]; 13. (DNS) 27W-Kaden Weger
Ward Worthy Farms B-Main 2 (12 Laps): 1. 02-Ashton Torgerson[3]; 2. 27J-Jason Wilson[2]; 3. 23L-Tyler LaPointe[6]; 4. 11D-Dominic White[4]; 5. 7A-Aaron Jesina[8]; 6. 21G-Garth Kasiner[13]; 7. 29S-Blake Scott[11]; 8. 38-Riley Osantowski[1]; 9. 9T-Tanner Holwerda[10]; 10. 21W-Will Perdue[12]; 11. 19G-Bubba Gatewood[5]; 12. (DNS) 14R-Jake Nail; 13. (DNS) 57T-Kyle Thompson
Ward Worthy Farms B-Main 3 (12 Laps): 1. 14X-Braxston Wilson[1]; 2. 17S-Baron Silva[3]; 3. 10T-Talin Turner[2]; 4. 33B-Cody Barnes[6]; 5. 78B-Brody Wake[9]; 6. 19J-Justin Robison[5]; 7. 52-Hayden Mabe[11]; 8. 88R-Ryder Laplante[7]; 9. 66-Jayden Clay[12]; 10. 23-Journey Hunt[10]; 11. 3TT-Dexter Thompson[13]; 12. 3T-Trevor McIntire[8]; 13. 14G-Madelyn Gjerness[4]
Velox Racing Heat 1 (8 Laps): 1. 15-Brody Brown[1]; 2. 1V-Johnny Boland[3]; 3. 02-Ashton Torgerson[2]; 4. 10T-Talin Turner[4]; 5. 38K-Jackson Kounkel[5]; 6. 14R-Jake Nail[8]; 7. 29S-Blake Scott[7]; 8. 66-Jayden Clay[6]
Velox Racing Heat 2 (8 Laps): 1. 92-Jake Rosario[2]; 2. 11J-Jett Hays[4]; 3. 14X-Braxston Wilson[3]; 4. 20B-Chase Bolf[5]; 5. 77E-Cole Esgar[6]; 6. 28J-Justine Wilson[1]; 7. 5G-Landon Graham[7]; 8. 21W-Will Perdue[8]
Velox Racing Heat 3 (8 Laps): 1. 36-Kris Carroll[1]; 2. 27-Jace McIntosh[4]; 3. 2-Lathe Griggs[2]; 4. 11-Chris Cochran[3]; 5. 23L-Tyler LaPointe[5]; 6. 7A-Aaron Jesina[7]; 7. 52-Hayden Mabe[6]; 8. 21-Keegan Osantowski[8]
Velox Racing Heat 4 (8 Laps): 1. 35-Gaige Weldon[1]; 2. 08-Peter Smith[2]; 3. 38-Riley Osantowski[3]; 4. 26-Corbin Rueschenberg[4]; 5. 33B-Cody Barnes[5]; 6. 3T-Trevor McIntire[6]; 7. 23-Journey Hunt[7]; 8. 3TT-Dexter Thompson[8]
Velox Racing Heat 5 (8 Laps): 1. 13-Elijah Gile[2]; 2. 99-Brett Osborn[3]; 3. 27J-Jason Wilson[1]; 4. 19J-Justin Robison[4]; 5. 21C-Carter Holt[5]; 6. (DNS) 21G-Garth Kasiner; 7. (DNS) 27W-Kaden Weger
Velox Racing Heat 6 (8 Laps): 1. 1H-Connor Lee[1]; 2. 3Z-Trey Zorn[3]; 3. 81-Frank Flud[4]; 4. 17S-Baron Silva[6]; 5. 88R-Ryder Laplante[2]; 6. 72-Alex Karpowicz[5]; 7. 9T-Tanner Holwerda[7]
Velox Racing Heat 7 (8 Laps): 1. 13C-William Conner[4]; 2. 22RL-Gage Laney[6]; 3. 11D-Dominic White[1]; 4. 14G-Madelyn Gjerness[5]; 5. 19G-Bubba Gatewood[7]; 6. 57T-Kyle Thompson[2]; 7. 78B-Brody Wake[3]
Performance Electronics Qualifying 1 (3 Laps): 1. 10T-Talin Turner, 11.049[7]; 2. 1V-Johnny Boland, 11.127[2]; 3. 02-Ashton Torgerson, 11.317[8]; 4. 15-Brody Brown, 11.427[3]; 5. 38K-Jackson Kounkel, 11.756[1]; 6. 66-Jayden Clay, 11.756[4]; 7. 29S-Blake Scott, 11.756[5]; 8. 14R-Jake Nail, 11.756[6]
Performance Electronics Qualifying 2 (3 Laps): 1. 11J-Jett Hays, 10.439[1]; 2. 14X-Braxston Wilson, 10.471[5]; 3. 92-Jake Rosario, 10.476[4]; 4. 28J-Justine Wilson, 10.835[8]; 5. 20B-Chase Bolf, 10.929[6]; 6. 77E-Cole Esgar, 10.971[7]; 7. 5G-Landon Graham, 10.987[2]; 8. 21W-Will Perdue, 11.582[3]
Performance Electronics Qualifying 3 (3 Laps): 1. 27-Jace McIntosh, 10.094[6]; 2. 11-Chris Cochran, 10.146[2]; 3. 2-Lathe Griggs, 10.165[5]; 4. 36-Kris Carroll, 10.169[1]; 5. 23L-Tyler LaPointe, 10.209[3]; 6. 52-Hayden Mabe, 10.226[8]; 7. 7A-Aaron Jesina, 10.251[7]; 8. 21-Keegan Osantowski, 10.251[4]
Performance Electronics Qualifying 4 (3 Laps): 1. 26-Corbin Rueschenberg, 09.570[7]; 2. 38-Riley Osantowski, 09.882[6]; 3. 08-Peter Smith, 10.237[3]; 4. 35-Gaige Weldon, 10.351[4]; 5. 33B-Cody Barnes, 10.678[2]; 6. 3T-Trevor McIntire, 10.681[1]; 7. 23-Journey Hunt, 10.960[5]; 8. 3TT-Dexter Thompson, 12.086[8]
Performance Electronics Qualifying 5 (3 Laps): 1. 13-Elijah Gile, 09.604[4]; 2. 27J-Jason Wilson, 09.813[3]; 3. 27W-Kaden Weger, 09.871[7]; 4. 21G-Garth Kasiner, 09.932[5]; 5. 99-Brett Osborn, 09.959[2]; 6. 19J-Justin Robison, 09.962[6]; 7. 21C-Carter Holt, 11.485[1]
Performance Electronics Qualifying 6 (3 Laps): 1. 81-Frank Flud, 09.704[1]; 2. 3Z-Trey Zorn, 09.724[7]; 3. 88R-Ryder Laplante, 09.795[5]; 4. 1H-Connor Lee, 09.830[4]; 5. 72-Alex Karpowicz, 09.875[3]; 6. 17S-Baron Silva, 09.888[2]; 7. 9T-Tanner Holwerda, 10.063[6]
Performance Electronics Qualifying 7 (3 Laps): 1. 13C-William Conner, 09.630[6]; 2. 78B-Brody Wake, 09.726[1]; 3. 57T-Kyle Thompson, 09.762[5]; 4. 11D-Dominic White, 09.780[2]; 5. 14G-Madelyn Gjerness, 09.818[7]; 6. 22RL-Gage Laney, 10.212[3]; 7. 19G-Bubba Gatewood, 10.246[4]
RESTRICTED
Hi Plains Building Division A-Main (25 Laps): 1. 33-Jett Nunley[3]; 2. GH7-Garyn Howard[2]; 3. 15-Brody Brown[1]; 4. 24L-Levi Hillier[6]; 5. 24C-Cale Lagroon[4]; 6. B2-Carson Bolden[12]; 7. 2C-Lucas Conner[7]; 8. 5-Ryder McCutcheon[15]; 9. 10S-Scout Spraggins[11]; 10. 45-Bradley Cox[16]; 11. 10T-Carter Sauer[19]; 12. 1P-Mekentzi Potter[13]; 13. 46-Cale McGee[10]; 14. 88K-Bryce Kujath[9]; 15. 2T-Tyler Crow[8]; 16. 70-Adalynn Green[14]; 17. 8-Jase Blevins[18]; 18. 3-Lathe Griggs[17]; 19. 16-Colton Holland[20]; 20. 73-Chase McDougal[5]
Ward Worthy Farms B-Main 1 (12 Laps): 1. 5-Ryder McCutcheon[1]; 2. 45-Bradley Cox[4]; 3. 3-Lathe Griggs[6]; 4. 8-Jase Blevins[5]; 5. 10T-Carter Sauer[10]; 6. 16-Colton Holland[7]; 7. 5L-Landon Jesina[3]; 8. 11H-Nicholas Harris[16]; 9. 8Z-Kasen Zorn[8]; 10. 95-Ryker Morrow[9]; 11. 77W-Chase Wright[15]; 12. 4S-Aubrey Jo Sappington[11]; 13. 00-Michael Harris[14]; 14. KB3-Kermit Burnam Jr[12]; 15. 5S-Stone Smith[17]; 16. 31BW-Braxton Weger[2]; 17. 1H-Hudsyn Truitt[13]
Velox Racing Heat 1 (8 Laps): 1. 24C-Cale Lagroon[1]; 2. 2C-Lucas Conner[2]; 3. 10S-Scout Spraggins[3]; 4. 11H-Nicholas Harris[8]; 5. 5L-Landon Jesina[7]; 6. 8Z-Kasen Zorn[6]; 7. 3-Lathe Griggs[4]; 8. 77W-Chase Wright[5]
Velox Racing Heat 2 (8 Laps): 1. 24L-Levi Hillier[1]; 2. 33-Jett Nunley[3]; 3. 46-Cale McGee[5]; 4. 31BW-Braxton Weger[2]; 5. 5-Ryder McCutcheon[4]; 6. 95-Ryker Morrow[6]; 7. 4S-Aubrey Jo Sappington[7]; 8. 1H-Hudsyn Truitt[8]
Velox Racing Heat 3 (8 Laps): 1. 73-Chase McDougal[1]; 2. GH7-Garyn Howard[4]; 3. 88K-Bryce Kujath[5]; 4. B2-Carson Bolden[7]; 5. 8-Jase Blevins[2]; 6. 16-Colton Holland[6]; 7. 10T-Carter Sauer[3]; 8. 00-Michael Harris[8]
Velox Racing Heat 4 (8 Laps): 1. 15-Brody Brown[4]; 2. 2T-Tyler Crow[2]; 3. 70-Adalynn Green[1]; 4. 1P-Mekentzi Potter[3]; 5. 45-Bradley Cox[5]; 6. 5S-Stone Smith[7]; 7. KB3-Kermit Burnam Jr[6]
Performance Electronics Qualifying 1 (3 Laps): 1. 3-Lathe Griggs, 10.156[6]; 2. 10S-Scout Spraggins, 10.231[1]; 3. 2C-Lucas Conner, 10.235[3]; 4. 24C-Cale Lagroon, 10.254[7]; 5. 77W-Chase Wright, 10.375[2]; 6. 8Z-Kasen Zorn, 10.464[4]; 7. 5L-Landon Jesina, 10.656[5]; 8. (DNS) 11H-Nicholas Harris, 10.656
Performance Electronics Qualifying 2 (3 Laps): 1. 5-Ryder McCutcheon, 10.175[8]; 2. 33-Jett Nunley, 10.240[7]; 3. 31BW-Braxton Weger, 10.259[2]; 4. 24L-Levi Hillier, 10.324[1]; 5. 46-Cale McGee, 10.360[6]; 6. 95-Ryker Morrow, 10.476[5]; 7. 4S-Aubrey Jo Sappington, 10.498[3]; 8. 1H-Hudsyn Truitt, 10.660[4]
Performance Electronics Qualifying 3 (3 Laps): 1. GH7-Garyn Howard, 10.161[3]; 2. 10T-Carter Sauer, 10.202[2]; 3. 8-Jase Blevins, 10.257[4]; 4. 73-Chase McDougal, 10.317[7]; 5. 88K-Bryce Kujath, 10.345[8]; 6. 16-Colton Holland, 10.396[5]; 7. B2-Carson Bolden, 10.458[6]; 8. 00-Michael Harris, 11.609[1]
Performance Electronics Qualifying 4 (3 Laps): 1. 15-Brody Brown, 10.212[3]; 2. 1P-Mekentzi Potter, 10.223[4]; 3. 2T-Tyler Crow, 10.255[1]; 4. 70-Adalynn Green, 10.882[5]; 5. 45-Bradley Cox, 10.999[7]; 6. KB3-Kermit Burnam Jr, 11.870[2]; 7. (DNS) 5S-Stone Smith, 11.870
NON-WING
Hi Plains Building Division A-Main (25 Laps): 1. 5K-Kris Carroll[5]; 2. 14-Blake Battles[4]; 3. 88-Austin Torgerson[1]; 4. 92-Jake Rosario[8]; 5. 02-Ashton Torgerson[7]; 6. 3Z-Trey Zorn[11]; 7. 27-Jace McIntosh[3]; 8. 13C-William Conner[21]; 9. 78B-Brody Wake[13]; 10. 1H-Connor Lee[14]; 11. 10-Brock Berreth[17]; 12. 38K-Jackson Kounkel[20]; 13. 17S-Baron Silva[9]; 14. 81-Frank Flud[6]; 15. 26-Corbin Rueschenberg[15]; 16. 44-Garrett Olson[12]; 17. 26K-Kale Drake[2]; 18. 24T-Glenn James Bratti[18]; 19. 5G-Landon Graham[19]; 20. 3W-Chris Cochran[10]; 21. 11J-Jett Hays[16]
Ward Worthy Farms B-Main 1 (12 Laps): 1. 26-Corbin Rueschenberg[2]; 2. 24T-Glenn James Bratti[8]; 3. 52-Hayden Mabe[5]; 4. 28-Chelby Hinton[10]; 5. 16S-Seth Shebester[4]; 6. 13C-William Conner[3]; 7. 21G-Garth Kasiner[15]; 8. 7W-Brendon Wisley[7]; 9. 9T-Tanner Holwerda[1]; 10. 14G-Madelyn Gjerness[12]; 11. 57P-Peter Walker[9]; 12. 24-Ryder Wells[6]; 13. 72-Alex Karpowicz[11]; 14. 57T-Kyle Thompson[14]; 15. (DNS) 38H-Levi Henderson
Ward Worthy Farms B-Main 2 (12 Laps): 1. 11J-Jett Hays[1]; 2. 5G-Landon Graham[7]; 3. 35-Gaige Weldon[4]; 4. 20B-Chase Bolf[3]; 5. 10T-Talin Turner[5]; 6. 29-Trevor Cohn[14]; 7. 21W-Will Perdue[8]; 8. 17-Talon McConnell[6]; 9. 57-Kyle Chady[12]; 10. 38-Riley Osantowski[13]; 11. 9C-Cade Cowles[10]; 12. 66-Jayden Clay[11]; 13. 19G-Bubba Gatewood[9]; 14. 14R-Jake Nail[2]
Ward Worthy Farms B-Main 3 (12 Laps): 1. 10-Brock Berreth[2]; 2. 38K-Jackson Kounkel[1]; 3. 19J-Justin Robison[6]; 4. 59-Brody Mclaughlin[4]; 5. 21-Keegan Osantowski[8]; 6. 23L-Tyler LaPointe[3]; 7. 480-Cory Green[9]; 8. 17E-Kaylee Esgar[5]; 9. 7C-Phillip Cordova[12]; 10. 27J-Jason Wilson[14]; 11. 47-Chris Schiesel[10]; 12. 77-Cooper Sullivan[7]; 13. 3T-Trevor McIntire[11]; 14. 727-Kaden Weger[13]
Velox Racing Heat 1 (8 Laps): 1. 27-Jace McIntosh[2]; 2. 17S-Baron Silva[3]; 3. 14R-Jake Nail[4]; 4. 17-Talon McConnell[1]; 5. 19J-Justin Robison[5]; 6. 21W-Will Perdue[8]; 7. 3T-Trevor McIntire[7]; 8. 29-Trevor Cohn[6]; 9. (DNS) 27J-Jason Wilson
Velox Racing Heat 2 (8 Laps): 1. 81-Frank Flud[3]; 2. 38K-Jackson Kounkel[1]; 3. 3W-Chris Cochran[4]; 4. 52-Hayden Mabe[2]; 5. 17E-Kaylee Esgar[6]; 6. 19G-Bubba Gatewood[7]; 7. 47-Chris Schiesel[8]; 8. 57T-Kyle Thompson[5]
Velox Racing Heat 3 (8 Laps): 1. 3Z-Trey Zorn[1]; 2. 02-Ashton Torgerson[3]; 3. 26-Corbin Rueschenberg[5]; 4. 35-Gaige Weldon[2]; 5. 21-Keegan Osantowski[4]; 6. 5G-Landon Graham[8]; 7. 66-Jayden Clay[7]; 8. 38-Riley Osantowski[6]
Velox Racing Heat 4 (8 Laps): 1. 44-Garrett Olson[1]; 2. 78B-Brody Wake[2]; 3. 9T-Tanner Holwerda[3]; 4. 23L-Tyler LaPointe[5]; 5. 59-Brody Mclaughlin[4]; 6. 24T-Glenn James Bratti[8]; 7. 57-Kyle Chady[6]; 8. 38H-Levi Henderson[7]
Velox Racing Heat 5 (8 Laps): 1. 14-Blake Battles[3]; 2. 1H-Connor Lee[2]; 3. 20B-Chase Bolf[1]; 4. 10-Brock Berreth[6]; 5. 77-Cooper Sullivan[5]; 6. 480-Cory Green[7]; 7. 28-Chelby Hinton[4]; 8. (DNS) 21G-Garth Kasiner
Velox Racing Heat 6 (8 Laps): 1. 5K-Kris Carroll[3]; 2. 26K-Kale Drake[4]; 3. 13C-William Conner[1]; 4. 10T-Talin Turner[2]; 5. 7W-Brendon Wisley[5]; 6. 57P-Peter Walker[7]; 7. 9C-Cade Cowles[8]; 8. 727-Kaden Weger[6]
Velox Racing Heat 7 (8 Laps): 1. 92-Jake Rosario[2]; 2. 88-Austin Torgerson[4]; 3. 11J-Jett Hays[3]; 4. 16S-Seth Shebester[5]; 5. 24-Ryder Wells[6]; 6. 72-Alex Karpowicz[1]; 7. 14G-Madelyn Gjerness[7]; 8. 7C-Phillip Cordova[8]
Performance Electronics Qualifying 1 (3 Laps): 1. 27-Jace McIntosh, 10.142[8]; 2. 17S-Baron Silva, 10.147[3]; 3. 27J-Jason Wilson, 10.323[7]; 4. 17-Talon McConnell, 10.365[1]; 5. 19J-Justin Robison, 10.402[2]; 6. 14R-Jake Nail, 10.419[5]; 7. 3T-Trevor McIntire, 10.431[4]; 8. 29-Trevor Cohn, 10.439[6]; 9. 21W-Will Perdue, 10.440[9]
Performance Electronics Qualifying 2 (3 Laps): 1. 3W-Chris Cochran, 10.181[2]; 2. 81-Frank Flud, 10.229[7]; 3. 52-Hayden Mabe, 10.278[8]; 4. 38K-Jackson Kounkel, 10.320[6]; 5. 57T-Kyle Thompson, 10.464[5]; 6. 17E-Kaylee Esgar, 10.536[1]; 7. 19G-Bubba Gatewood, 10.634[4]; 8. 47-Chris Schiesel, 10.883[3]
Performance Electronics Qualifying 3 (3 Laps): 1. 02-Ashton Torgerson, 10.086[8]; 2. 35-Gaige Weldon, 10.197[6]; 3. 26-Corbin Rueschenberg, 10.225[4]; 4. 3Z-Trey Zorn, 10.238[3]; 5. 21-Keegan Osantowski, 10.367[7]; 6. 38-Riley Osantowski, 10.371[5]; 7. 66-Jayden Clay, 10.411[1]; 8. 5G-Landon Graham, 10.452[2]
Performance Electronics Qualifying 4 (3 Laps): 1. 59-Brody Mclaughlin, 10.283[4]; 2. 9T-Tanner Holwerda, 10.295[5]; 3. 78B-Brody Wake, 10.299[8]; 4. 44-Garrett Olson, 10.326[2]; 5. 23L-Tyler LaPointe, 10.489[1]; 6. 57-Kyle Chady, 10.655[6]; 7. 38H-Levi Henderson, 10.655[7]; 8. 24T-Glenn James Bratti, 10.655[3]
Performance Electronics Qualifying 5 (3 Laps): 1. 28-Chelby Hinton, 10.125[3]; 2. 14-Blake Battles, 10.412[4]; 3. 1H-Connor Lee, 10.423[1]; 4. 20B-Chase Bolf, 10.445[2]; 5. 77-Cooper Sullivan, 10.524[5]; 6. 10-Brock Berreth, 10.531[8]; 7. 480-Cory Green, 10.685[7]; 8. 21G-Garth Kasiner, 10.717[6]
Performance Electronics Qualifying 6 (3 Laps): 1. 26K-Kale Drake, 10.229[1]; 2. 5K-Kris Carroll, 10.235[2]; 3. 10T-Talin Turner, 10.329[3]; 4. 13C-William Conner, 10.362[7]; 5. 7W-Brendon Wisley, 10.420[6]; 6. 727-Kaden Weger, 10.537[5]; 7. 57P-Peter Walker, 10.622[4]; 8. 9C-Cade Cowles, 10.784[8]
Performance Electronics Qualifying 7 (3 Laps): 1. 88-Austin Torgerson, 10.354[4]; 2. 11J-Jett Hays, 10.365[2]; 3. 92-Jake Rosario, 10.386[6]; 4. 72-Alex Karpowicz, 10.438[7]; 5. 16S-Seth Shebester, 10.675[8]; 6. 24-Ryder Wells, 10.681[5]; 7. 14G-Madelyn Gjerness, 10.686[3]; 8. 7C-Phillip Cordova, 10.732[1]
OUTLAW
Hi Plains Building Division A-Main (20 Laps): 1. 08-Peter Smith[1]; 2. 1V-Johnny Boland[6]; 3. 57-Cameron Sorrels[3]; 4. 13-Elijah Gile[2]; 5. 14X-Braxston Wilson[4]; 6. 88R-Ryder Laplante[5]; 7. 480-Cory Green[9]; 8. 19J-Justin Robison[7]; 9. 29S-Blake Scott[10]; 10. 15-Jase Randolph[8]
Velox Racing Heat 1 (8 Laps): 1. 08-Peter Smith[4]; 2. 57-Cameron Sorrels[3]; 3. 1V-Johnny Boland[5]; 4. 19J-Justin Robison[1]; 5. 15-Jase Randolph[2]
Velox Racing Heat 2 (8 Laps): 1. 13-Elijah Gile[3]; 2. 88R-Ryder Laplante[2]; 3. 14X-Braxston Wilson[4]; 4. 29S-Blake Scott[5]; 5. (DNS) 480-Cory Green
Performance Electronics Qualifying 1 (3 Laps): 1. 08-Peter Smith, 09.443[3]; 2. 57-Cameron Sorrels, 09.587[4]; 3. 15-Jase Randolph, 09.600[5]; 4. 19J-Justin Robison, 09.643[1]; 5. 1V-Johnny Boland, 09.695[2]
Performance Electronics Qualifying 2 (3 Laps): 1. 14X-Braxston Wilson, 09.269[4]; 2. 13-Elijah Gile, 09.299[3]; 3. 88R-Ryder Laplante, 09.594[5]; 4. 480-Cory Green, 09.811[2]; 5. (DNS) 29S-Blake Scott, 09.811
SPORTSMAN
A Feature 1 (20 Laps): 1. 22K-Brad Best[5]; 2. 36S-Darren Stewart[6]; 3. 08-Bobby McIntosh[4]; 4. 54-Shane Coughran[1]; 5. 420-Jeff Harris[8]; 6. 10P-Brian Potter[7]; 7. 92-Justin Simpson[16]; 8. 38-Levi Henderson[12]; 9. 83-Coltin Strickland[11]; 10. 6-Randy Myers[10]; 11. 18-Lexa Turner[15]; 12. 0-Johnny Goolsby[13]; 13. 4-Danny James[14]; 14. 88-Dustin Maxwell[9]; 15. 00G-Milton Goolsby[18]; 16. 17-Dave Nicholson[2]; 17. 16-Darrius Myers[3]; 18. 25K-Jamie Kruithof[17]; 19. 2-Jeff Griggs[20]; 20. (DNS) 71-Cody Coughran
Heat 1 (8 Laps): 1. 17-Dave Nicholson[3]; 2. 88-Dustin Maxwell[1]; 3. 54-Shane Coughran[4]; 4. 6-Randy Myers[5]; 5. 0-Johnny Goolsby[2]; 6. 00G-Milton Goolsby[6]; 7. 71-Cody Coughran[7]
Heat 2 (8 Laps): 1. 22K-Brad Best[3]; 2. 10P-Brian Potter[2]; 3. 36S-Darren Stewart[4]; 4. 38-Levi Henderson[1]; 5. 4-Danny James[5]; 6. 25K-Jamie Kruithof[6]; 7. (DNS) 2-Jeff Griggs
Heat 3 (8 Laps): 1. 16-Darrius Myers[1]; 2. 08-Bobby McIntosh[4]; 3. 420-Jeff Harris[6]; 4. 83-Coltin Strickland[2]; 5. 18-Lexa Turner[5]; 6. 92-Justin Simpson[3]
Qualifying 1 (3 Laps): 1. 54-Shane Coughran, 10.093[3]; 2. 17-Dave Nicholson, 10.111[7]; 3. 0-Johnny Goolsby, 10.305[5]; 4. 88-Dustin Maxwell, 10.535[6]; 5. 6-Randy Myers, 10.573[4]; 6. 00G-Milton Goolsby, 10.797[2]; 7. (DNS) 71-Cody Coughran, 10.797
Qualifying 2 (3 Laps): 1. 36S-Darren Stewart, 09.710[3]; 2. 22K-Brad Best, 09.841[1]; 3. 10P-Brian Potter, 09.915[7]; 4. 38-Levi Henderson, 10.060[2]; 5. 4-Danny James, 10.110[4]; 6. 25K-Jamie Kruithof, 10.214[6]; 7. (DNS) 2-Jeff Griggs, 10.214
Qualifying 3 (3 Laps): 1. 08-Bobby McIntosh, 09.910[4]; 2. 92-Justin Simpson, 09.936[6]; 3. 83-Coltin Strickland, 10.206[5]; 4. 16-Darrius Myers, 10.219[2]; 5. 18-Lexa Turner, 10.347[1]; 6. 420-Jeff Harris, 10.415[3]
JUNIOR SPRINTS
A Feature 1 (18 Laps): 1. 11-Mattix McBride[2]; 2. 36-JJ Beason[3]; 3. 12P-Collin Pruitt[4]; 4. 11S-Sawyer McBride[1]; 5. 27-Brody Stewart[9]; 6. 9S-Braxton Stewart[10]; 7. 4-Ryker Griggs[11]; 8. 14JR-Jaxon Nail[6]; 9. 17C-Caleb Johannesen[8]; 10. 22-Ryker Jones[12]; 11. 12F-Oakley Fuller[13]; 12. 21W-Oakley Wren[14]; 13. 10E-Eli Potter[5]; 14. 92-Lathan Knott[17]; 15. 55K-Kayden Anderson[15]; 16. 75-Masyn Truitt[7]; 17. 88E-Emery Laplante[16]
Heat 1 (8 Laps): 1. 11-Mattix McBride[2]; 2. 9S-Braxton Stewart[1]; 3. 10E-Eli Potter[4]; 4. 4-Ryker Griggs[3]; 5. 55K-Kayden Anderson[5]; 6. 92-Lathan Knott[6]
Heat 2 (8 Laps): 1. 12P-Collin Pruitt[2]; 2. 36-JJ Beason[3]; 3. 22-Ryker Jones[1]; 4. 17C-Caleb Johannesen[4]; 5. 12F-Oakley Fuller[6]; 6. 88E-Emery Laplante[5]
Heat 3 (8 Laps): 1. 11S-Sawyer McBride[1]; 2. 14JR-Jaxon Nail[2]; 3. 27-Brody Stewart[3]; 4. 75-Masyn Truitt[4]; 5. 21W-Oakley Wren[5]
Qualifying 1 (3 Laps): 1. 10E-Eli Potter, 11.662[1]; 2. 4-Ryker Griggs, 11.678[5]; 3. 11-Mattix McBride, 11.687[4]; 4. 9S-Braxton Stewart, 11.690[6]; 5. 55K-Kayden Anderson, 11.893[3]; 6. 92-Lathan Knott, 12.063[2]
Qualifying 2 (3 Laps): 1. 17C-Caleb Johannesen, 11.736[5]; 2. 36-JJ Beason, 11.758[2]; 3. 12P-Collin Pruitt, 11.818[4]; 4. 22-Ryker Jones, 11.831[3]; 5. 88E-Emery Laplante, 11.994[1]; 6. 12F-Oakley Fuller, 12.110[6]
Qualifying 3 (3 Laps): 1. 75-Masyn Truitt, 11.703[2]; 2. 27-Brody Stewart, 11.725[4]; 3. 14JR-Jaxon Nail, 11.726[3]; 4. 11S-Sawyer McBride, 11.859[1]; 5. 21W-Oakley Wren, 11.880[5]
---
Submitted By: Bryan Hulbert
Article Media
Back to News