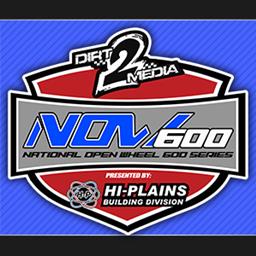 3/11/2023
NOW600 National Micros
---
Snyder Thrashes From 15th To Win Friday's Forge Construction Qualifying Night At Port City Raceway!
Bryan Hulbert – TULSA, Okla. (March 10, 2023) Putting a drive on the field Friday night, Steven Snyder, Jr. served notice with a run from 15th to win Friday's Forge Construction Qualifying Night at the Milestone Home Service Co. Outlaw Nationals presented by T2 Promotions with the Dirt2Media National Open Wheel 600 Series presented by Hi-Plains Building Division.
Besting a field of 86 for the evening's $1,000 winner's check, Snyder is the 12th driver to win in NOW600 Outlaw-sanctioned competition and is locked into Saturday's $10,000 to-win affair.
Charing into the top five on Lap 13, numerous cautions worked to the benefit of Snyder, with the No. 21s able to pick spots at will. Into second on Lap 18, the mark was Frank Flud, who took over the lead from Jake Hagopian on Lap 6. Keeping around a second over Snyder, disaster would strike on Lap 24 when the No. 81 suddenly slowed to a stop in turn two.
Moving Snyder to the lead, it was light out from there, with Snyder pulling away by 2.556-seconds. Brian Carber battled to second, with Matthew Howard third. Cody Key in fourth was followed by Colby Sokol from 12th. The final transfer into Saturday's feature went to Cole Roberts. Seventh was Jett Barnes, with Joey Starnes, Craig Ronk, and TJ Smith making up the top ten.
Welcoming 37 drivers in for Restricted competition, the race for the win came down to the line with Jett Nunley taking his 18th career Dirt2Media NOW600 presented by Hi-Plains Building Division.
Coming up on traffic in the closing laps after maintaining a near half straightaway advantage on the field, Nunley's run came up blocked with Chase McDougal in pursuit. Breathing down Jett's neck at the white flag, the No. 73 made the charge off the final turn but would miss the win by a few feet. Nathan Ward crossed third, with defending event winner Lathe Griggs in fourth. Bradley Cox completed the top five.
Adding Junior Sprints to the 2023 lineup of classes, the 26-car field was dominated by CB Industries shoe Braxton Flatt. Making a rebound run through his Heat Race that would position him on the pole of the A-Feature, Braxton took the win with 0.409-seconds to spare.
Brody Stewart took second, followed by Ryker Griggs who took the show position on the closing lap. Followed by Braxton Stewart to fourth, a slip off the second turn moved Ryker Jones from third to fifth.
The $10,000 to-win Milestone Home Service Co. Outlaw Nationals presented by T2 Promotions concludes Saturday, March 11. Restricted to run for $2,000 to win, and Junior Sprints $500 to win. Grandstands open at 5:00 P.M. with Hot Laps at 6:00 P.M. (CT). Port City Raceway is located at 1706 N 161st E Ave. in Tulsa, Okla. For more information, log onto http://www.portcityraceway.net.
The 2023 season marks the 11th year of competition for the National Open Wheel 600 Series. Anchored by the Dirt2Media NOW600 National Championship, the NOW600 Series comprises several regional tours and sanctioned racetracks. The NOW600 National Championship features three divisions of 600cc micro sprints at each event: Stock Non-Wing, Winged A-Class, and Restricted 'A' Class.
To keep up on everything happening with the National Open Wheel 600 Series, from the National Tour to Regional and Weekly racing lineups, log onto http://www.now600series.com and make sure to follow the tour on Facebook and Twitter (@NOW600Series).
Race Results:
Dirt2Media NOW600 Series
Port City Raceway (Tulsa, Okla.)
Friday, March 10, 2023
Milestone Outlaw Nationals – Night 1
Entry Count: 149
Outlaw
A-Main (30 Laps): 1. 21S-Steven Snyder Jr[15]; 2. 41C-Brian Carber[5]; 3. 8H-Matthew Howard[2]; 4. 56-Cody Key[4]; 5. 24S-Colby Sokol[12]; 6. 3-Cole Roberts[8]; 7. 55-Jett Barnes[11]; 8. 11J-Joey Starnes[17]; 9. 94-Craig Ronk[13]; 10. 15-TJ Smith[9]; 11. 14X-Cody Christensen[20]; 12. 10S-Shane Stewart[16]; 13. 4H-Harley Hollan[10]; 14. 99-Brett Osborn[18]; 15. 81-Frank Flud[6]; 16. 2B-Garrett Benson[3]; 17. 14R-Jake Nail[19]; 18. 12K-Dylan Kadous[14]; 19. 14Q-Jake Hagopian[1]; 20. 51B-Joe B Miller[7]
B-Main 1 (20 Laps): 1. 21S-Steven Snyder Jr[9]; 2. 10S-Shane Stewart[8]; 3. 11J-Joey Starnes[4]; 4. 99-Brett Osborn[1]; 5. 14R-Jake Nail[3]; 6. 14X-Cody Christensen[10]; 7. 67-JJ Loss[11]; 8. 39-Russ Disinger[7]; 9. 20Q-Brecken Reese[14]; 10. 3C-Cole Schroeder[19]; 11. 25S-Justis Sokol[16]; 12. 14C-Chris Cochran[18]; 13. 15B-Brody Brown[20]; 14. 4K-Khloe Cotton[2]; 15. 59-Brody Mclaughlin[17]; 16. 2H-Blake Hahn[12]; 17. 13-Elijah Gile[5]; 18. 1V-Johnny Boland[13]; 19. 93-Matt Carr[6]; 20. 12-Trey Robb[15]
C-Main 1 (15 Laps): 1. 12-Trey Robb[7]; 2. 59-Brody Mclaughlin[2]; 3. 3C-Cole Schroeder[4]; 4. 10T-Cooper Smith[3]; 5. 4L-Mike Linderman[18]; 6. 8K-Tyler Kuykendall[11]; 7. 35-Aubrey Smith[17]; 8. 69X-Matthew Bauldwin[5]; 9. 66-Jayden Clay[8]; 10. 19J-Justin Robison[16]; 11. 21C-Carter Holt[19]; 12. 36-Kris Carroll[1]; 13. 32L-Brian Lunsford[9]; 14. 12X-Jeffrey Newell[6]; 15. 15U-Willie Urish[10]; 16. 2E-Jake Galusha[12]; 17. 52-Hayden Mabe[13]; 18. 1P-Jase Randolph[14]; 19. 8P-Caleb Pence[15]; 20. 20S-Steven Curbow[20]
C-Main 2 (15 Laps): 1. 25S-Justis Sokol[2]; 2. 14C-Chris Cochran[6]; 3. 15B-Brody Brown[4]; 4. 88R-Ryder Laplante[3]; 5. 97-Ryan Timms[9]; 6. 24T-Glenn James Bratti[1]; 7. 28-Chelby Hinton[10]; 8. 83-Brant Woods[16]; 9. 131-Dusty Young[14]; 10. 17S-Baron Silva[13]; 11. 61-Montie Frey[18]; 12. 122-Lane Warner[8]; 13. 46-Peyton White[12]; 14. 25J-Delaney Jost[11]; 15. 88M-Max Crabdree[17]; 16. 42-Ashley Afdahl[20]; 17. 7S-Kaden Smith[7]; 18. 14G-Madelyn Gjerness[19]; 19. 44-Hayden Holt[15]; 20. 11JX-Kenny Koelsch[5]
Heat 1 (10 Laps): 1. 3-Cole Roberts[1]; 2. 36-Kris Carroll[2]; 3. 10S-Shane Stewart[4]; 4. 14R-Jake Nail[8]; 5. 20Q-Brecken Reese[3]; 6. 97-Ryan Timms[9]; 7. 61-Montie Frey[6]; 8. 88M-Max Crabdree[10]; 9. 19J-Justin Robison[7]; 10. 9S-TJ Stark[5]
Heat 2 (10 Laps): 1. 67-JJ Loss[1]; 2. 41C-Brian Carber[5]; 3. 4H-Harley Hollan[8]; 4. 28-Chelby Hinton[4]; 5. 11JX-Kenny Koelsch[2]; 6. 55-Jett Barnes[10]; 7. 2H-Blake Hahn[7]; 8. 8P-Caleb Pence[9]; 9. 131-Dusty Young[3]; 10. 29L-Jackson Lauderbaugh[6]
Heat 3 (10 Laps): 1. 4K-Khloe Cotton[2]; 2. 56-Cody Key[4]; 3. 12K-Dylan Kadous[6]; 4. 83-Brant Woods[3]; 5. 24S-Colby Sokol[10]; 6. 1V-Johnny Boland[8]; 7. 122-Lane Warner[5]; 8. 21C-Carter Holt[9]; 9. 1-Kortland Stephens[1]; 10. 1P-Jase Randolph[7]
Heat 4 (10 Laps): 1. 24T-Glenn James Bratti[1]; 2. 8H-Matthew Howard[6]; 3. 66-Jayden Clay[3]; 4. 13-Elijah Gile[10]; 5. 4-Jett Yantis[2]; 6. 21S-Steven Snyder Jr[8]; 7. 46-Peyton White[9]; 8. 22-Jacob McConnell[7]; 9. 18-Wyatt Siegel[4]; 10. 91-Alec Frisell[5]
Heat 5 (10 Laps): 1. 2E-Jake Galusha[1]; 2. 15B-Brody Brown[2]; 3. 99-Brett Osborn[6]; 4. 94-Craig Ronk[5]; 5. 39-Russ Disinger[8]; 6. 3C-Cole Schroeder[9]; 7. 8K-Tyler Kuykendall[7]; 8. 44-Hayden Holt[3]; 9. 38-Levi Henderson[10]; 10. 01-Kaden Weger[4]
Heat 6 (10 Laps): 1. 59-Brody Mclaughlin[1]; 2. 69X-Matthew Bauldwin[2]; 3. 15U-Willie Urish[4]; 4. 11J-Joey Starnes[8]; 5. 7S-Kaden Smith[6]; 6. 32L-Brian Lunsford[7]; 7. 52-Hayden Mabe[9]; 8. 14G-Madelyn Gjerness[3]; 9. 32K-Kyran Keith[5]
Heat 7 (10 Laps): 1. 15-TJ Smith[2]; 2. 12X-Jeffrey Newell[4]; 3. 14C-Chris Cochran[3]; 4. 12-Trey Robb[8]; 5. 21G-Garth Kasiner[7]; 6. 12M-Tomy Moreau[6]; 7. 78B-Lane Burnett[1]; 8. 93-Matt Carr[5]; 9. (DNS) 20-Tony Morris
Heat 8 (10 Laps): 1. 14Q-Jake Hagopian[6]; 2. 88R-Ryder Laplante[1]; 3. 2B-Garrett Benson[9]; 4. 17S-Baron Silva[4]; 5. 25S-Justis Sokol[5]; 6. 14X-Cody Christensen[7]; 7. 42-Ashley Afdahl[2]; 8. 57-Cam Sorrels[8]; 9. 1NY-Mark Reynolds[3]
Heat 9 (10 Laps): 1. 10T-Cooper Smith[1]; 2. 51B-Joe B Miller[5]; 3. 81-Frank Flud[4]; 4. 25J-Delaney Jost[2]; 5. 4L-Mike Linderman[3]; 6. 12C-Chase Spicola[6]; 7. 20S-Steven Curbow[8]; 8. 5P-Luke Porter[7]; 9. 35-Aubrey Smith[9]
Qualifier 1 (15 Laps): 1. 14Q-Jake Hagopian[4]; 2. 51B-Joe B Miller[3]; 3. 99-Brett Osborn[2]; 4. 39-Russ Disinger[6]; 5. 20Q-Brecken Reese[9]; 6. 10T-Cooper Smith[1]; 7. 15B-Brody Brown[5]; 8. 97-Ryan Timms[7]; 9. 25J-Delaney Jost[8]; 10. 44-Hayden Holt[13]; 11. 61-Montie Frey[11]; 12. 22-Jacob McConnell[12]; 13. 12M-Tomy Moreau[10]; 14. (DNS) 1NY-Mark Reynolds; 15. (DNS) 01-Kaden Weger
Qualifier 2 (15 Laps): 1. 3-Cole Roberts[2]; 2. 2B-Garrett Benson[4]; 3. 14R-Jake Nail[1]; 4. 4K-Khloe Cotton[3]; 5. 1V-Johnny Boland[8]; 6. 3C-Cole Schroeder[7]; 7. 69X-Matthew Bauldwin[5]; 8. 66-Jayden Clay[6]; 9. 1P-Jase Randolph[14]; 10. 8P-Caleb Pence[11]; 11. 14G-Madelyn Gjerness[13]; 12. 4L-Mike Linderman[9]; 13. 12C-Chase Spicola[10]; 14. 5P-Luke Porter[12]; 15. (DNS) 20-Tony Morris
Qualifier 3 (15 Laps): 1. 8H-Matthew Howard[4]; 2. 15-TJ Smith[3]; 3. 11J-Joey Starnes[1]; 4. 21S-Steven Snyder Jr[8]; 5. 67-JJ Loss[2]; 6. 88R-Ryder Laplante[5]; 7. 14C-Chris Cochran[6]; 8. 28-Chelby Hinton[7]; 9. 46-Peyton White[9]; 10. 19J-Justin Robison[13]; 11. 21C-Carter Holt[11]; 12. 20S-Steven Curbow[10]; 13. 1-Kortland Stephens[12]; 14. (DNS) 78B-Lane Burnett
Qualifier 4 (15 Laps): 1. 56-Cody Key[3]; 2. 55-Jett Barnes[6]; 3. 4H-Harley Hollan[4]; 4. 10S-Shane Stewart[5]; 5. 25S-Justis Sokol[8]; 6. 24T-Glenn James Bratti[2]; 7. 122-Lane Warner[11]; 8. 12-Trey Robb[1]; 9. 52-Hayden Mabe[9]; 10. 17S-Baron Silva[7]; 11. 88M-Max Crabdree[10]; 12. 38-Levi Henderson[12]; 13. 29L-Jackson Lauderbaugh[14]; 14. 32K-Kyran Keith[13]
Qualifier 5 (15 Laps): 1. 24S-Colby Sokol[1]; 2. 94-Craig Ronk[6]; 3. 93-Matt Carr[12]; 4. 2H-Blake Hahn[10]; 5. 13-Elijah Gile[4]; 6. 11JX-Kenny Koelsch[9]; 7. 32L-Brian Lunsford[8]; 8. 12X-Jeffrey Newell[3]; 9. 15U-Willie Urish[5]; 10. 18-Wyatt Siegel[11]; 11. 2E-Jake Galusha[2]; 12. 83-Brant Woods[7]; 13. 9S-TJ Stark[13]; 14. (DNS) 57-Cam Sorrels
Qualifier 6 (15 Laps): 1. 81-Frank Flud[5]; 2. 41C-Brian Carber[4]; 3. 12K-Dylan Kadous[3]; 4. 14X-Cody Christensen[8]; 5. 36-Kris Carroll[1]; 6. 59-Brody Mclaughlin[2]; 7. 7S-Kaden Smith[7]; 8. 8K-Tyler Kuykendall[10]; 9. 131-Dusty Young[13]; 10. 35-Aubrey Smith[12]; 11. 42-Ashley Afdahl[11]; 12. 91-Alec Frisell[14]; 13. 21G-Garth Kasiner[6]; 14. 4-Jett Yantis[9]
Restricted 'A' Class
A-Main (25 Laps): 1. 33-Jett Nunley[2]; 2. 73C-Chase McDougal[4]; 3. 95-Nathan Ward[1]; 4. 3-Lathe Griggs[5]; 5. 45-Bradley Cox[9]; 6. 10S-Scout Spraggins[13]; 7. B2-Carson Bolden[11]; 8. GH7-Garyn Howard[7]; 9. 5C-Cooper Miller[6]; 10. 24C-Cale Lagroon[18]; 11. 15-Ryder McCutcheon[16]; 12. 5S-Stone Smith[20]; 13. 8-Jase Blevins[8]; 14. 88K-Bryce Kujath[15]; 15. 83-Dawson Woods[10]; 16. 17L-Chase Lauderbaugh[17]; 17. 22-Hank Soares[14]; 18. 97-Cash Lacombe[3]; 19. 11M-Mattix McBride[19]; 20. 11-Kyle Hooper[12]
B-Main 1 (12 Laps): 1. 88K-Bryce Kujath[1]; 2. 17L-Chase Lauderbaugh[2]; 3. 11M-Mattix McBride[4]; 4. 20S-Ray Brewer[5]; 5. 21E-Enzo Spicola[8]; 6. 31BW-Braxton Weger[11]; 7. 2T-Tyler Crow[9]; 8. 87C-Callan Hill[7]; 9. 11H-Nicholas Harris[3]; 10. 88R-Emery Laplante[10]; 11. 8L-Logun Lunsford[6]; 12. 1K-Kolette Dicero[12]
B-Main 2 (12 Laps): 1. 15-Ryder McCutcheon[2]; 2. 24C-Cale Lagroon[1]; 3. 5S-Stone Smith[6]; 4. 73-Wyatt Miller[8]; 5. 4-Jude Allgayer[3]; 6. 30P-Blake Pittman[9]; 7. 95X-Ryker Morrow[4]; 8. 81L-Ethan Larsen[10]; 9. K9-Sami Porter[5]; 10. 88P-Ayden Parrish[7]; 11. 19A-Ayla Morefield[11]
Heat 1 (8 Laps): 1. 45-Bradley Cox[1]; 2. 3-Lathe Griggs[6]; 3. B2-Carson Bolden[3]; 4. 10S-Scout Spraggins[4]; 5. 4-Jude Allgayer[7]; 6. 73-Wyatt Miller[2]; 7. 31BW-Braxton Weger[5]; 8. 19A-Ayla Morefield[8]
Heat 2 (8 Laps): 1. 5C-Cooper Miller[2]; 2. 95-Nathan Ward[4]; 3. 15-Ryder McCutcheon[1]; 4. 24C-Cale Lagroon[3]; 5. 95X-Ryker Morrow[6]; 6. 5S-Stone Smith[7]; 7. 2T-Tyler Crow[8]; 8. 1K-Kolette Dicero[5]
Heat 3 (8 Laps): 1. 83-Dawson Woods[1]; 2. 97-Cash Lacombe[4]; 3. 88K-Bryce Kujath[2]; 4. 17L-Chase Lauderbaugh[3]; 5. K9-Sami Porter[5]; 6. 88P-Ayden Parrish[6]; 7. 30P-Blake Pittman[7]
Heat 4 (8 Laps): 1. 8-Jase Blevins[1]; 2. 33-Jett Nunley[4]; 3. 22-Hank Soares[2]; 4. 11H-Nicholas Harris[5]; 5. 11M-Mattix McBride[3]; 6. 87C-Callan Hill[6]; 7. 88R-Emery Laplante[7]
Heat 5 (8 Laps): 1. GH7-Garyn Howard[2]; 2. 73C-Chase McDougal[4]; 3. 11-Kyle Hooper[3]; 4. 20S-Ray Brewer[1]; 5. 8L-Logun Lunsford[5]; 6. 21E-Enzo Spicola[6]; 7. 81L-Ethan Larsen[7]
Performance Electronics Qualifying 1 (3 Laps): 1. 10S-Scout Spraggins, 00:10.120[7]; 2. B2-Carson Bolden, 00:10.134[8]; 3. 73-Wyatt Miller, 00:10.143[5]; 4. 45-Bradley Cox, 00:10.179[2]; 5. 31BW-Braxton Weger, 00:10.312[4]; 6. 3-Lathe Griggs, 00:10.340[6]; 7. 4-Jude Allgayer, 00:10.420[1]; 8. 19A-Ayla Morefield, 00:10.622[3]
Performance Electronics Qualifying 2 (3 Laps): 1. 95-Nathan Ward, 00:09.852[1]; 2. 24C-Cale Lagroon, 00:09.946[7]; 3. 5C-Cooper Miller, 00:10.007[2]; 4. 15-Ryder McCutcheon, 00:10.223[5]; 5. 1K-Kolette Dicero, 00:10.304[3]; 6. 95X-Ryker Morrow, 00:10.369[4]; 7. 5S-Stone Smith, 00:10.434[8]; 8. 2T-Tyler Crow, 00:10.434[6]
Performance Electronics Qualifying 3 (3 Laps): 1. 97-Cash Lacombe, 00:10.100[6]; 2. 17L-Chase Lauderbaugh, 00:10.139[3]; 3. 88K-Bryce Kujath, 00:10.362[5]; 4. 83-Dawson Woods, 00:10.427[1]; 5. K9-Sami Porter, 00:10.439[2]; 6. 88P-Ayden Parrish, 00:10.516[7]; 7. 30P-Blake Pittman, 00:10.516[4]
Performance Electronics Qualifying 4 (3 Laps): 1. 33-Jett Nunley, 00:09.869[6]; 2. 11M-Mattix McBride, 00:10.023[7]; 3. 22-Hank Soares, 00:10.031[1]; 4. 8-Jase Blevins, 00:10.169[5]; 5. 11H-Nicholas Harris, 00:10.256[4]; 6. 87C-Callan Hill, 00:10.410[2]; 7. 88R-Emery Laplante, 00:10.825[3]
Performance Electronics Qualifying 5 (3 Laps): 1. 73C-Chase McDougal, 00:10.112[6]; 2. 11-Kyle Hooper, 00:10.250[7]; 3. GH7-Garyn Howard, 00:10.260[3]; 4. 20S-Ray Brewer, 00:10.608[1]; 5. 8L-Logun Lunsford, 00:10.617[5]; 6. 21E-Enzo Spicola, 00:10.696[2]; 7. 81L-Ethan Larsen, 00:11.706[4]
Junior Sprints
A-Main (20 Laps): 1. 81-Braxton Flatt[1]; 2. 27-Brody Stewart[2]; 3. 4-Ryker Griggs[5]; 4. 9S-Braxton Stewart[6]; 5. 22-Ryker Jones[3]; 6. 45-Tripp Dotson[9]; 7. 11S-Sawyer McBride[12]; 8. 9-Bristol Spicola[8]; 9. 66-Jack Loss[14]; 10. 28W-Blainey Woods[17]; 11. 12F-Oakley Fuller[7]; 12. 45X-Weldon Baker[11]; 13. 95G-Gunner Griffin[18]; 14. 92-Lathan Knott[15]; 15. 55K-Kayden Anderson[16]; 16. 2-Luke Booher[13]; 17. 17C-Caleb Johannesen[10]; 18. 22G-Gavin McDonald[4]
B-Main 1 (12 Laps): 1. 2-Luke Booher[1]; 2. 66-Jack Loss[2]; 3. 92-Lathan Knott[3]; 4. 55K-Kayden Anderson[5]; 5. 28W-Blainey Woods[10]; 6. 95G-Gunner Griffin[4]; 7. 12P-Collin Pruitt[7]; 8. 2M-Lee Moses[9]; 9. 16-Berkley Reese[6]; 10. 57-Hudson Andrews[11]; 11. 52-Carson Brazeal[13]; 12. 1L-Axten Larsen[14]; 13. 37K-Kacie Pittman[8]; 14. 14-Ryder Morris[12]
Heat 1 (8 Laps): 1. 22-Ryker Jones[4]; 2. 12F-Oakley Fuller[2]; 3. 95G-Gunner Griffin[1]; 4. 2-Luke Booher[3]; 5. 16-Berkley Reese[5]; 6. 37K-Kacie Pittman[6]; 7. 1L-Axten Larsen[7]
Heat 2 (8 Laps): 1. 27-Brody Stewart[4]; 2. 9S-Braxton Stewart[3]; 3. 66-Jack Loss[1]; 4. 45X-Weldon Baker[6]; 5. 12P-Collin Pruitt[2]; 6. 28W-Blainey Woods[5]; 7. 52-Carson Brazeal[7]
Heat 3 (8 Laps): 1. 81-Braxton Flatt[4]; 2. 9-Bristol Spicola[1]; 3. 45-Tripp Dotson[2]; 4. 11S-Sawyer McBride[3]; 5. 55K-Kayden Anderson[6]; 6. 2M-Lee Moses[5]
Heat 4 (8 Laps): 1. 22G-Gavin McDonald[3]; 2. 4-Ryker Griggs[4]; 3. 17C-Caleb Johannesen[2]; 4. 92-Lathan Knott[5]; 5. 14-Ryder Morris[6]; 6. 57-Hudson Andrews[1]
Qualifying 1 (3 Laps): 1. 22-Ryker Jones, 00:11.733[5]; 2. 2-Luke Booher, 00:11.785[4]; 3. 12F-Oakley Fuller, 00:11.975[2]; 4. 95G-Gunner Griffin, 00:12.709[3]; 5. 16-Berkley Reese, 00:13.053[6]; 6. 37K-Kacie Pittman, 00:13.366[1]; 7. 1L-Axten Larsen, 00:18.067[7]
Qualifying 2 (3 Laps): 1. 27-Brody Stewart, 00:11.543[3]; 2. 9S-Braxton Stewart, 00:11.751[6]; 3. 12P-Collin Pruitt, 00:11.914[1]; 4. 66-Jack Loss, 00:12.251[5]; 5. 28W-Blainey Woods, 00:12.335[2]; 6. 45X-Weldon Baker, 00:12.390[4]; 7. 52-Carson Brazeal, 00:14.011[7]
Qualifying 3 (3 Laps): 1. 81-Braxton Flatt, 00:11.512[3]; 2. 11S-Sawyer McBride, 00:11.724[6]; 3. 45-Tripp Dotson, 00:11.871[5]; 4. 9-Bristol Spicola, 00:11.886[1]; 5. 2M-Lee Moses, 00:12.251[4]; 6. 55K-Kayden Anderson, 00:12.283[2]
Qualifying 4 (3 Laps): 1. 4-Ryker Griggs, 00:11.358[6]; 2. 22G-Gavin McDonald, 00:11.643[2]; 3. 17C-Caleb Johannesen, 00:11.883[5]; 4. 57-Hudson Andrews, 00:12.037[1]; 5. 92-Lathan Knott, 00:12.452[3]; 6. (DNS) 14-Ryder Morris, 00:12.452
---
Submitted By: Bryan Hulbert
Article Media
Back to News