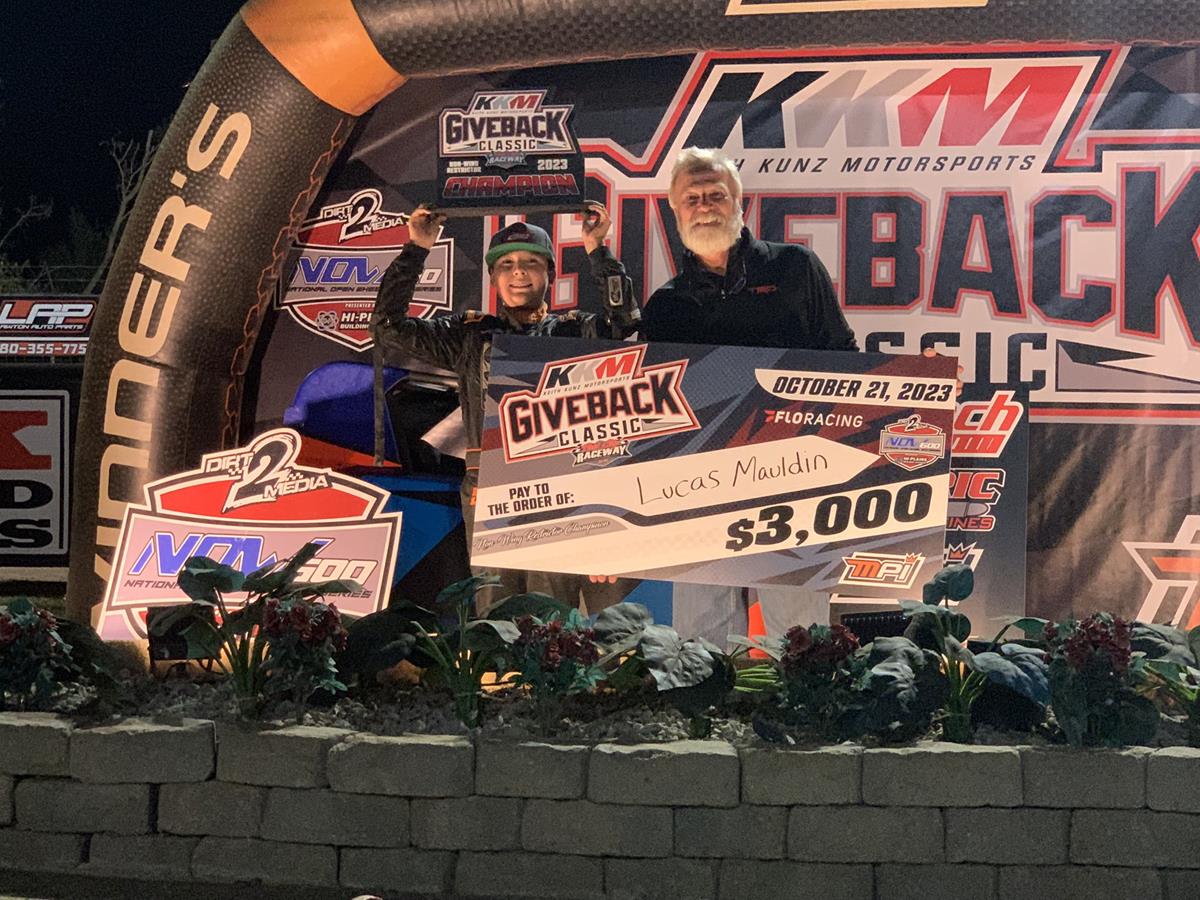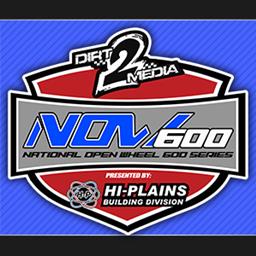 10/22/2023
NOW600 National Micros
---
California's Lucas Mauldin Charges To NOW600 Score At the KKM Giveback Classic!
(Image Credit: KKM)
Bryan Hulbert – TULSA, Okla. (October 21, 2023) Making the run from seventh on Saturday night, California's Lucas Mauldin hunted every inch of the Port City Raceway surface before settling on the cushion and rocketing to victory at the KKM Giveback Classic with the Dirt2Media National Open Wheel 600 Series presented by Hi-Plains Building Division.
Collecting $3,000 for his troubles, Mauldin shot to the point on Lap 29 for a moment before going over the cushion. Allowing Wesley Sweatman to hold the lead, the run at the No. 09w was not the first on the night as Jase Blevins, who started 13th, was the first one to hit the topside for the lead on Lap 20, only to spin to a stop atop the fourth turn.
Restarting fourth, the final half of the feature went without pause as Mauldin jumped to second on Lap 22. Chasing Sweatman top to bottom, the second attempt at the lead was the one that stuck when the Driven Performance No. 55x advanced on Lap 32.
Unchallenged once he took the top spot, Lucas pulled away to a 1.865-second advantage at the checkered flag.
Pressured in the closing laps for second, Wesley Sweatman held on for silver, with Mekentzi Poter settling for the bronze. Fourth went to Hank Soares, with Kyle Hooper picking up four spots to complete the top five.
The next stop for the Dirt2Media National Open Wheel 600 Series presented by Hi-Plains Building Division is the NOW600 Nationals at Creek County Speedway in Sapulpa, Okla., on Friday, November 3, and Saturday, November 4.
The 2023 season marks the 11th year of competition for the National Open Wheel 600 Series. Anchored by the Dirt2Media NOW600 National Championship, the NOW600 Series comprises several regional tours and sanctioned racetracks. The NOW600 National Championship features three divisions of 600cc micro sprints at each event: Stock Non-Wing, Winged A-Class, and Restricted 'A' Class.
To keep up on everything happening with the National Open Wheel 600 Series, from the National Tour to Regional and Weekly racing lineups, log onto http://www.now600series.com and make sure to follow the tour on Facebook and Twitter (@NOW600Series).
Race Results:
NOW600 National
Port City Raceway (Tulsa, Okla.)
KKM Giveback – Night 3
Saturday, October 21, 2023
Restricted Non-Wing
A-Main (40 Laps): 1. 55X-Lucas Mauldin[7]; 2. 09W-Wesley Sweatman[2]; 3. 1P-Mekentzi Potter[4]; 4. 22-Hank Soares[5]; 5. 11K-Kyle Hooper[9]; 6. 31BW-Braxton Weger[1]; 7. 14S-Sawyer Kiner[8]; 8. 21X-Cullen Hutchison[10]; 9. 24C-Cale Lagroon[19]; 10. B2-Carson Bolden[6]; 11. 2T-Tyler Crow[17]; 12. 14R-Jaxon Nail[14]; 13. 45-Bradley Cox[16]; 14. 88K-Bryce Kujath[11]; 15. 71-Tate Gurney[18]; 16. 73-Chase McDougal[15]; 17. 8-Jase Blevins[13]; 18. 73X-Wyatt Miller[20]; 19. 00T-TJ Stark[3]; 20. 5E-Eli Holden[12]
B-Main 1 (15 Laps): 1. 73-Chase McDougal[3]; 2. 2T-Tyler Crow[1]; 3. 24C-Cale Lagroon[2]; 4. 06-Marek Pipe[4]; 5. 9C-Jace Cooksey[12]; 6. GH7-Garyn Howard[8]; 7. 4-Jude Allgayer[9]; 8. 11S-Shyla Ernst[7]; 9. 1K-Kolette Dicero[11]; 10. 9-Mavrick Page[14]; 11. 03-James Ferrin[13]; 12. 110-Keizer Kramer[10]; 13. 73F-Ty Fulghum[6]; 14. 67Z-Clayton Wilson[5]; 15. (DNS) 75-Deekan McRoberts; 16. (DNS) 87C-Callan Hill
B-Main 2 (15 Laps): 1. 45-Bradley Cox[4]; 2. 71-Tate Gurney[5]; 3. 73X-Wyatt Miller[2]; 4. 97-Cash Lacombe[1]; 5. 21E-Enzo Spicola[8]; 6. 14B-Brody Bridgeman[3]; 7. 11-Mattix McBride[6]; 8. K9-Sami Porter[10]; 9. 67-Dayton Shelton[12]; 10. 46-Blayne Mabry[16]; 11. 21K-Kooper Kelly[7]; 12. 12C-Bella Coleman[15]; 13. 11AZ-Annalesia Miller[14]; 14. (DNS) 11H-Nicholas Harris; 15. (DNS) 29S-Jackson Scott; 16. (DNS) 28L-Jensen Long
LCQ 1 (12 Laps): 1. 55X-Lucas Mauldin[1]; 2. 88K-Bryce Kujath[2]; 3. 2T-Tyler Crow[4]; 4. 73-Chase McDougal[10]; 5. 67Z-Clayton Wilson[7]; 6. 11S-Shyla Ernst[9]; 7. 4-Jude Allgayer[3]; 8. 1K-Kolette Dicero[5]; 9. 03-James Ferrin[8]; 10. (DNS) 75-Deekan McRoberts
LCQ 2 (12 Laps): 1. 14S-Sawyer Kiner[1]; 2. 5E-Eli Holden[4]; 3. 97-Cash Lacombe[2]; 4. 14B-Brody Bridgeman[5]; 5. 71-Tate Gurney[3]; 6. 21K-Kooper Kelly[9]; 7. 11H-Nicholas Harris[6]; 8. 29S-Jackson Scott[7]; 9. 28L-Jensen Long[8]; 10. 12C-Bella Coleman[10]
LCQ 3 (12 Laps): 1. 11K-Kyle Hooper[1]; 2. 8-Jase Blevins[2]; 3. 24C-Cale Lagroon[3]; 4. 06-Marek Pipe[6]; 5. 73F-Ty Fulghum[7]; 6. GH7-Garyn Howard[4]; 7. 110-Keizer Kramer[10]; 8. 9C-Jace Cooksey[8]; 9. 9-Mavrick Page[9]; 10. 87C-Callan Hill[5]
LCQ 4 (12 Laps): 1. 21X-Cullen Hutchison[2]; 2. 14R-Jaxon Nail[1]; 3. 73X-Wyatt Miller[3]; 4. 45-Bradley Cox[9]; 5. 11-Mattix McBride[4]; 6. 21E-Enzo Spicola[6]; 7. K9-Sami Porter[8]; 8. 67-Dayton Shelton[10]; 9. 11AZ-Annalesia Miller[7]; 10. 46-Blayne Mabry[5]
---
Submitted By: Bryan Hulbert
Back to News