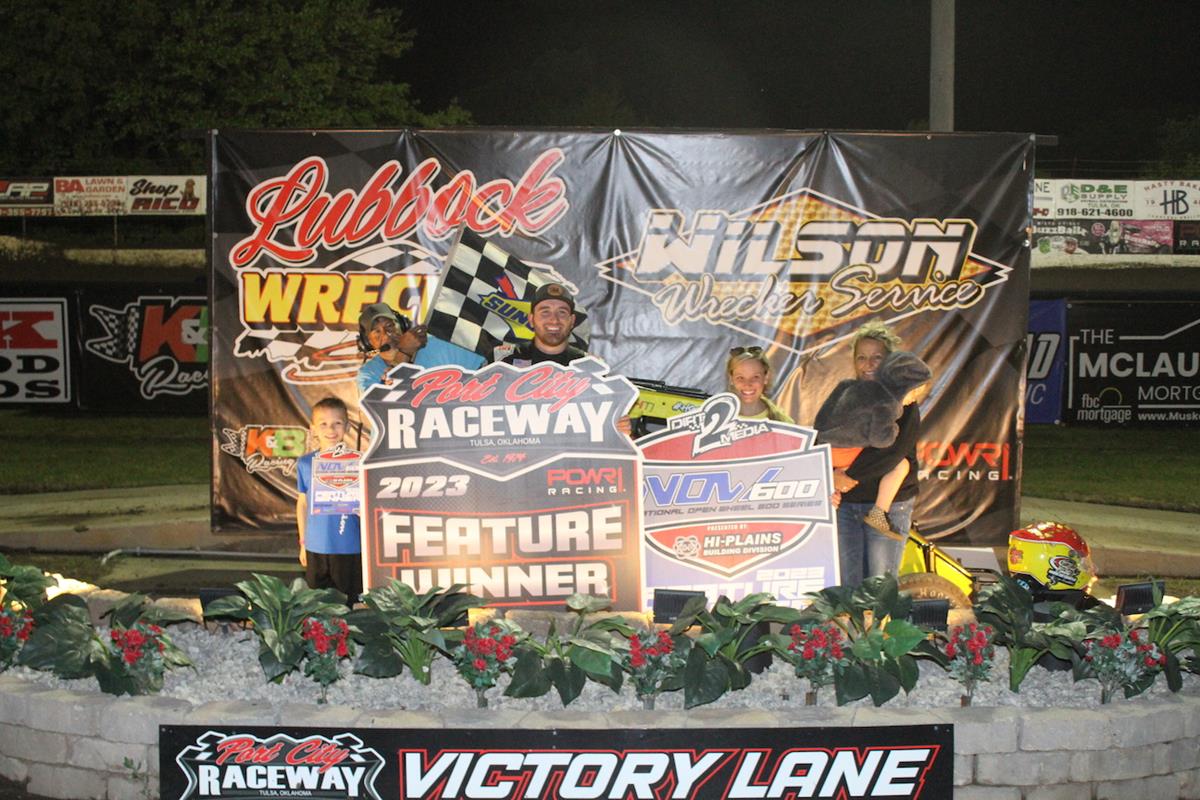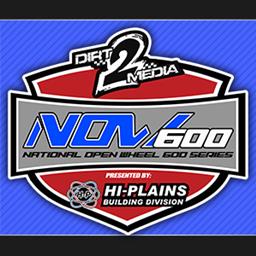 5/6/2023
NOW600 National Micros
---
Flud, Nunley, And Rosario Triumphant In Terry Walker Memorial Preliminary Action
(Image Credit: Richard Bales)
Bryan Hulbert – TULSA, Okla. (May 5, 2023) Kicking off the sixth annual Terry Walker Memorial at Port City Raceway on Friday night, Frank Flud brought his A-Class win total to 71 with a last lap pass, while Jett Nunley tied Ryan Timms as the overall Restricted winner.
Last topping the Dirt2Media National Open Wheel 600 Series presented by Hi-Plains Building division during last year's Terry Walker Memorial, defending event champion Jake Rosario made it career win No. 3 in Stock Non-Wing.
Chasing Tulsa's Jeffery Newell through the opening 21 laps, the night ended in a cloud of smoke for the No. 12. Advancing Harley Hollan to the point, the winner of the inaugural Terry Walker Memorial held the lead until Lap 24 when Frank Flud shot by for the win by 0.148-seconds. Brant Woods crossed third, with Kris Carroll moving from 12th to fourth. Jake Rosario completed the top five.
Working around Kevin Bayer in Stock Non-Wing after the first two laps, Connor Lee took off with the lead but would see his night end on Lap 18 with an expired power plant. Putting the No. 92 of Rosario to the top, the Snap-On Tools entry was stalked to the finish by Flud. Getting close a few times, Flud would end up trailing by 0.437-seconds. Making a huge run from 20th, Kris Carroll crossed third, with Kevin Bayer fourth. Jace McIntosh crossed fifth.
In pursuit of Cash Lacombe the first nine revolutions, the lead went to Garyn Howard. Keeping pace into traffic with Nunley in tow, the No. 33 finally gained the advantage on Lap 16. Keeping the field at bay through late-race restarts, the No, 33 grabbed the win by 0.764-seconds over Chase McDougal. Third went to Braxton Weger, with Wyatt Miller rebounding from an early incident to finish fourth. Cash Lacombe slipped to fifth.
The Sportsman feature went to Brad Best, with Junior Sprints topped by Ryker Griggs. Greeting a field of 131 entries in NOW600 competition, the combined was 170 with Junior Sprints and Sportsman on the card.
The Terry Walker Memorial concludes on Saturday, May 6 at Port City Raceway. Grandstands open at 5:00 P.M., Hot Laps are at 6:00 P.M., with racing at 7:00 P.M. (CDT). Grandstands are $12 for adults, $6 for youth and seniors, and free for veterans.
Port City Raceway is located at 1706 N 161st E Ave. in Tulsa, Okla. Information on the track can be found at (918) 438-7856 or online at http://www.portcityraceway.net.
Fans not able to attend can see every lap live on https://www.now600.tv and http://www.dirt2media.tv.
The 2023 season marks the 11th year of competition for the National Open Wheel 600 Series. Anchored by the Dirt2Media NOW600 National Championship, the NOW600 Series comprises several regional tours and sanctioned racetracks. The NOW600 National Championship features three divisions of 600cc micro sprints at each event: Stock Non-Wing, Winged A-Class, and Restricted 'A' Class.
To keep up on everything happening with the National Open Wheel 600 Series, from the National Tour to Regional and Weekly racing lineups, log onto http://www.now600series.com and make sure to follow the tour on Facebook and Twitter (@NOW600Series).
Race Results:
Dirt2Media NOW600 Series
Port City Raceway (Tulsa, Okla.)
Friday, May 5, 2023
Stock Non-Wing
Hi Plains Building Division A-Main (25 Laps): 1. 92-Jake Rosario[4]; 2. 81-Frank Flud[12]; 3. 5K-Kris Carroll[20]; 4. 73-Kevin Bayer[1]; 5. 08J-Jace McIntosh[2]; 6. 59-Brody Mclaughlin[16]; 7. 52-Hayden Mabe[10]; 8. 19J-Justin Robison[7]; 9. 68-Landon Ellis[18]; 10. 12C-Chase Spicola[19]; 11. 22-Jesse Pate[14]; 12. 5-Ryder McCutcheon[5]; 13. 21-Jeremy Wickham[9]; 14. 25J-Delaney Jost[11]; 15. 1H-Connor Lee[6]; 16. 480-Cory Green[8]; 17. 15-Brody Brown[13]; 18. 88R-Ryder Laplante[15]; 19. 32-Trey Marcham[17]; 20. 12-Jeffrey Newell[3]
Hoosier Racing Tire B-Main 1 (12 Laps): 1. 88R-Ryder Laplante[1]; 2. 32-Trey Marcham[3]; 3. 12C-Chase Spicola[7]; 4. 23L-Tyler LaPointe[2]; 5. 33-Chris Crawford[6]; 6. 34-Colton Robinson[10]; 7. 66-Jayden Clay[9]; 8. 14G-Madelyn Gjerness[16]; 9. 5P-Luke Porter[13]; 10. 5G-Landon Graham[14]; 11. 38-Levi Henderson[5]; 12. 11T-Taitum McElvany[12]; 13. 18J-Jeramiah Green[11]; 14. 10-Brock Berreth[8]; 15. 08-Peter Smith[4]; 16. 78C-Chance Cody[15]
Hoosier Racing Tire B-Main 2 (12 Laps): 1. 59-Brody Mclaughlin[2]; 2. 68-Landon Ellis[4]; 3. 5K-Kris Carroll[3]; 4. 82S-Austin Saunders[5]; 5. 12B-Brandon Boggs[1]; 6. 727-Kaden Weger[7]; 7. 97-Brandon Lewis[10]; 8. 111-Keatan Goss[9]; 9. 4-Brent Shoemaker[14]; 10. 14-Blake Battles[8]; 11. 9D-Degan Lelsz[15]; 12. 24T-Glenn James Bratti[6]; 13. 36S-Darren Stewart[12]; 14. 78B-Brody Wake[11]; 15. 1V-Johnny Boland[13]
Milestone Home Service Co Heat 1 (8 Laps): 1. 1H-Connor Lee[4]; 2. 25J-Delaney Jost[2]; 3. 15-Brody Brown[3]; 4. 52-Hayden Mabe[9]; 5. 727-Kaden Weger[1]; 6. 12C-Chase Spicola[7]; 7. 18J-Jeramiah Green[5]; 8. 5P-Luke Porter[6]; 9. 14G-Madelyn Gjerness[8]
Milestone Home Service Co Heat 2 (8 Laps): 1. 08J-Jace McIntosh[2]; 2. 88R-Ryder Laplante[1]; 3. 19J-Justin Robison[4]; 4. 32-Trey Marcham[3]; 5. 38-Levi Henderson[6]; 6. 33-Chris Crawford[8]; 7. 34-Colton Robinson[7]; 8. 1V-Johnny Boland[5]; 9. 4-Brent Shoemaker[9]
Milestone Home Service Co Heat 3 (8 Laps): 1. 480-Cory Green[1]; 2. 92-Jake Rosario[4]; 3. 81-Frank Flud[5]; 4. 5K-Kris Carroll[2]; 5. 68-Landon Ellis[3]; 6. 24T-Glenn James Bratti[7]; 7. 66-Jayden Clay[8]; 8. 36S-Darren Stewart[6]; 9. 5G-Landon Graham[9]
Milestone Home Service Co Heat 4 (8 Laps): 1. 21-Jeremy Wickham[1]; 2. 5-Ryder McCutcheon[4]; 3. 12B-Brandon Boggs[2]; 4. 23L-Tyler LaPointe[6]; 5. 08-Peter Smith[3]; 6. 14-Blake Battles[5]; 7. 97-Brandon Lewis[7]; 8. 11T-Taitum McElvany[9]; 9. 9D-Degan Lelsz[8]
Milestone Home Service Co Heat 5 (8 Laps): 1. 12-Jeffrey Newell[2]; 2. 22-Jesse Pate[1]; 3. 73-Kevin Bayer[4]; 4. 59-Brody Mclaughlin[3]; 5. 82S-Austin Saunders[5]; 6. 10-Brock Berreth[6]; 7. 111-Keatan Goss[7]; 8. 78B-Brody Wake[9]; 9. 78C-Chance Cody[8]
Performance Electronics Qualifying 1 (3 Laps): 1. 1H-Connor Lee, 10.581[2]; 2. 15-Brody Brown, 10.769[6]; 3. 25J-Delaney Jost, 11.001[3]; 4. 727-Kaden Weger, 11.394[9]; 5. 18J-Jeramiah Green, 11.399[4]; 6. 5P-Luke Porter, 11.476[5]; 7. 12C-Chase Spicola, 11.512[7]; 8. 14G-Madelyn Gjerness, 11.530[8]; 9. 52-Hayden Mabe, 11.885[1]
Performance Electronics Qualifying 2 (3 Laps): 1. 19J-Justin Robison, 10.488[2]; 2. 32-Trey Marcham, 10.497[4]; 3. 08J-Jace McIntosh, 10.593[6]; 4. 88R-Ryder Laplante, 10.628[3]; 5. 1V-Johnny Boland, 10.736[9]; 6. 38-Levi Henderson, 10.810[5]; 7. 34-Colton Robinson, 10.890[8]; 8. 33-Chris Crawford, 11.087[1]; 9. 4-Brent Shoemaker, 11.353[7]
Performance Electronics Qualifying 3 (3 Laps): 1. 92-Jake Rosario, 10.323[6]; 2. 68-Landon Ellis, 10.624[8]; 3. 5K-Kris Carroll, 10.742[7]; 4. 480-Cory Green, 10.762[5]; 5. 81-Frank Flud, 10.830[3]; 6. 36S-Darren Stewart, 10.934[4]; 7. 24T-Glenn James Bratti, 10.966[1]; 8. 66-Jayden Clay, 11.000[9]; 9. 5G-Landon Graham, 11.136[2]
Performance Electronics Qualifying 4 (3 Laps): 1. 5-Ryder McCutcheon, 10.101[7]; 2. 08-Peter Smith, 10.408[5]; 3. 12B-Brandon Boggs, 10.458[2]; 4. 21-Jeremy Wickham, 10.785[1]; 5. 14-Blake Battles, 10.854[3]; 6. 23L-Tyler LaPointe, 11.216[6]; 7. 97-Brandon Lewis, 11.349[9]; 8. 9D-Degan Lelsz, 11.364[4]; 9. 11T-Taitum McElvany, 12.157[8]
Performance Electronics Qualifying 5 (3 Laps): 1. 73-Kevin Bayer, 10.067[1]; 2. 59-Brody Mclaughlin, 10.077[8]; 3. 12-Jeffrey Newell, 10.096[3]; 4. 22-Jesse Pate, 10.108[5]; 5. 82S-Austin Saunders, 10.139[9]; 6. 10-Brock Berreth, 10.216[6]; 7. 111-Keatan Goss, 10.249[4]; 8. 78C-Chance Cody, 10.252[7]; 9. 78B-Brody Wake, 10.294[2]
Winged A-Class
Hi Plains Building Division A-Main (25 Laps): 1. 81-Frank Flud[5]; 2. 14H-Harley Hollan[4]; 3. 83-Brant Woods[2]; 4. 36-Kris Carroll[12]; 5. 92-Jake Rosario[6]; 6. 33-Jett Nunley[3]; 7. 22-Jesse Pate[13]; 8. 22RL-Gage Laney[7]; 9. 2B-Garrett Benson[16]; 10. 87-Mack Leopard[10]; 11. 3-Cole Roberts[17]; 12. 1H-Connor Lee[15]; 13. 12B-Brandon Boggs[14]; 14. 12-Jeffrey Newell[1]; 15. 5-Ryder McCutcheon[9]; 16. 66-Jayden Clay[18]; 17. 82S-Austin Saunders[20]; 18. 73-Kevin Bayer[11]; 19. 480-Cory Green[8]; 20. 15-Brody Brown[19]
Hoosier Racing Tire B-Main 1 (12 Laps): 1. 1H-Connor Lee[1]; 2. 66-Jayden Clay[2]; 3. 68-Landon Ellis[4]; 4. 08-Peter Smith[6]; 5. 14G-Madelyn Gjerness[5]; 6. 00T-TJ Starck[7]; 7. 34-Colton Robinson[8]; 8. 66AU-Kinser Claridge[9]; 9. 5B-Cade Bierman[10]; 10. 22T-Thomas Byford[11]; 11. 27KW-Kaden Weger[3]; 12. 5S-Stone Smith[12]; 13. 24T-Glenn James Bratti[13]; 14. 45-Bradley Cox[14]
Hoosier Racing Tire B-Main 2 (12 Laps): 1. 2B-Garrett Benson[1]; 2. 15-Brody Brown[5]; 3. 49A-Ace Moore[3]; 4. 52-Hayden Mabe[10]; 5. B2-Carson Bolden[9]; 6. 5G-Landon Graham[4]; 7. 24C-Cale Lagroon[6]; 8. 7C-Phillip Cordova[14]; 9. 19J-Justin Robison[12]; 10. 12H-Shane Hacker[11]; 11. 78B-Brody Wake[2]; 12. 25J-Delaney Jost[7]; 13. 5C-Cooper Miller[8]; 14. 12C-Chase Spicola[13]
Hoosier Racing Tire B-Main 3 (12 Laps): 1. 3-Cole Roberts[1]; 2. 82S-Austin Saunders[2]; 3. 78C-Chance Cody[3]; 4. 49Z-Zak Moore[7]; 5. 23L-Tyler LaPointe[9]; 6. 77W-Chase Wright[8]; 7. 53J-Rob Johnson[12]; 8. 9A-Hunter Hanson[11]; 9. 16-Colton Holland[13]; 10. 08J-Jace McIntosh[6]; 11. 9D-Degan Lelsz[5]; 12. 1V-Johnny Boland[4]; 13. 59-Brody Mclaughlin[10]
Milestone Home Service Co Heat 1 (8 Laps): 1. 36-Kris Carroll[1]; 2. 14H-Harley Hollan[4]; 3. 27KW-Kaden Weger[2]; 4. 1V-Johnny Boland[5]; 5. 24C-Cale Lagroon[3]; 6. 34-Colton Robinson[6]; 7. 59-Brody Mclaughlin[7]; 8. 24T-Glenn James Bratti[8]
Milestone Home Service Co Heat 2 (8 Laps): 1. 12-Jeffrey Newell[4]; 2. 12B-Brandon Boggs[2]; 3. 3-Cole Roberts[3]; 4. 00T-TJ Starck[1]; 5. 08J-Jace McIntosh[6]; 6. 66AU-Kinser Claridge[5]; 7. 52-Hayden Mabe[7]; 8. 53J-Rob Johnson[8]
Milestone Home Service Co Heat 3 (8 Laps): 1. 73-Kevin Bayer[1]; 2. 22-Jesse Pate[2]; 3. 2B-Garrett Benson[3]; 4. 82S-Austin Saunders[4]; 5. 9D-Degan Lelsz[7]; 6. B2-Carson Bolden[5]; 7. 12H-Shane Hacker[6]; 8. (DNS) 45-Bradley Cox
Milestone Home Service Co Heat 4 (8 Laps): 1. 81-Frank Flud[2]; 2. 33-Jett Nunley[4]; 3. 1H-Connor Lee[5]; 4. 68-Landon Ellis[3]; 5. 15-Brody Brown[7]; 6. 49Z-Zak Moore[6]; 7. 5S-Stone Smith[1]; 8. 19J-Justin Robison[8]
Milestone Home Service Co Heat 5 (8 Laps): 1. 480-Cory Green[2]; 2. 78B-Brody Wake[1]; 3. 87-Mack Leopard[4]; 4. 5G-Landon Graham[3]; 5. 7C-Phillip Cordova[8]; 6. 77W-Chase Wright[6]; 7. 9A-Hunter Hanson[5]; 8. 16-Colton Holland[7]
Milestone Home Service Co Heat 6 (8 Laps): 1. 22RL-Gage Laney[2]; 2. 83-Brant Woods[4]; 3. 14G-Madelyn Gjerness[1]; 4. 49A-Ace Moore[6]; 5. 08-Peter Smith[3]; 6. 23L-Tyler LaPointe[5]; 7. 5B-Cade Bierman[8]; 8. 12C-Chase Spicola[7]
Milestone Home Service Co Heat 7 (8 Laps): 1. 92-Jake Rosario[2]; 2. 66-Jayden Clay[1]; 3. 5-Ryder McCutcheon[4]; 4. 78C-Chance Cody[3]; 5. 25J-Delaney Jost[5]; 6. 5C-Cooper Miller[6]; 7. 22T-Thomas Byford[7]
Performance Electronics Qualifying 1 (3 Laps): 1. 14H-Harley Hollan, 09.377[1]; 2. 24C-Cale Lagroon, 09.399[2]; 3. 27KW-Kaden Weger, 09.442[4]; 4. 36-Kris Carroll, 09.539[6]; 5. 1V-Johnny Boland, 09.570[8]; 6. 34-Colton Robinson, 09.643[5]; 7. 59-Brody Mclaughlin, 09.651[7]; 8. 24T-Glenn James Bratti, 09.947[3]
Performance Electronics Qualifying 2 (3 Laps): 1. 12-Jeffrey Newell, 09.293[4]; 2. 3-Cole Roberts, 09.484[5]; 3. 12B-Brandon Boggs, 09.509[3]; 4. 00T-TJ Starck, 09.512[1]; 5. 66AU-Kinser Claridge, 09.518[7]; 6. 08J-Jace McIntosh, 09.553[2]; 7. 52-Hayden Mabe, 09.591[6]; 8. 53J-Rob Johnson, 09.813[8]
Performance Electronics Qualifying 3 (3 Laps): 1. 82S-Austin Saunders, 09.220[2]; 2. 2B-Garrett Benson, 09.386[4]; 3. 22-Jesse Pate, 09.410[8]; 4. 73-Kevin Bayer, 09.422[7]; 5. B2-Carson Bolden, 09.607[3]; 6. 12H-Shane Hacker, 09.710[5]; 7. 9D-Degan Lelsz, 09.734[1]; 8. 45-Bradley Cox, NT
Performance Electronics Qualifying 4 (3 Laps): 1. 33-Jett Nunley, 09.287[7]; 2. 68-Landon Ellis, 09.335[6]; 3. 81-Frank Flud, 09.346[5]; 4. 5S-Stone Smith, 09.400[1]; 5. 1H-Connor Lee, 09.429[8]; 6. 49Z-Zak Moore, 09.525[4]; 7. 15-Brody Brown, 09.567[3]; 8. 19J-Justin Robison, 09.667[2]
Performance Electronics Qualifying 5 (3 Laps): 1. 87-Mack Leopard, 09.426[4]; 2. 5G-Landon Graham, 09.502[6]; 3. 480-Cory Green, 09.672[8]; 4. 78B-Brody Wake, 09.720[7]; 5. 9A-Hunter Hanson, 09.730[2]; 6. 77W-Chase Wright, 09.856[5]; 7. 16-Colton Holland, 09.856[3]; 8. (DNS) 7C-Phillip Cordova, 09.856
Performance Electronics Qualifying 6 (3 Laps): 1. 83-Brant Woods, 09.179[2]; 2. 08-Peter Smith, 09.235[5]; 3. 22RL-Gage Laney, 09.478[3]; 4. 14G-Madelyn Gjerness, 09.604[7]; 5. 23L-Tyler LaPointe, 09.669[6]; 6. 49A-Ace Moore, 09.720[1]; 7. 12C-Chase Spicola, 09.791[4]; 8. 5B-Cade Bierman, 09.968[8]
Performance Electronics Qualifying 7 (3 Laps): 1. 5-Ryder McCutcheon, 09.205[7]; 2. 78C-Chance Cody, 09.222[2]; 3. 92-Jake Rosario, 09.397[1]; 4. 66-Jayden Clay, 09.622[3]; 5. 25J-Delaney Jost, 09.714[5]; 6. 5C-Cooper Miller, 09.770[6]; 7. 22T-Thomas Byford, NT
Restricted 'A' Class
Hi Plains Building Division A-Main (25 Laps): 1. 33-Jett Nunley[5]; 2. 73-Chase McDougal[9]; 3. 31BW-Braxton Weger[2]; 4. 73X-Wyatt Miller[10]; 5. 97-Cash Lacombe[1]; 6. 87C-Callan Hill[11]; 7. 11H-Nicholas Harris[14]; 8. GH7-Garyn Howard[4]; 9. 8-Jase Blevins[7]; 10. 1P-Mekentzi Potter[8]; 11. K9-Sami Porter[18]; 12. 4-Jude Allgayer[19]; 13. 14R-Jaxon Nail[20]; 14. 24C-Cale Lagroon[17]; 15. 2T-Tyler Crow[16]; 16. 73F-Ty Fulghum[12]; 17. 5C-Cooper Miller[15]; 18. 83-Dawson Woods[3]; 19. 3-Lathe Griggs[6]; 20. 11AZ-Annalesia Miller[13]
Hoosier Racing Tire B-Main 1 (12 Laps): 1. 5C-Cooper Miller[2]; 2. 2T-Tyler Crow[1]; 3. 24C-Cale Lagroon[4]; 4. K9-Sami Porter[3]; 5. 4-Jude Allgayer[6]; 6. 14R-Jaxon Nail[12]; 7. 88K-Bryce Kujath[5]; 8. 75-Deekan McRoberts[10]; 9. B2-Carson Bolden[14]; 10. 95-Ryker Morrow[7]; 11. 88P-Ayden Parrish[9]; 12. 21E-Enzo Spicola[17]; 13. 11K-Kyle Hooper[8]; 14. 81L-Ethan Larsen[13]; 15. 88E-Emery Laplante[16]; 16. 7W-Andrew Weathers[11]; 17. 45-Bradley Cox[15]
Milestone Home Service Co Heat 1 (8 Laps): 1. 8-Jase Blevins[1]; 2. 97-Cash Lacombe[3]; 3. 11AZ-Annalesia Miller[2]; 4. 73F-Ty Fulghum[4]; 5. 95-Ryker Morrow[5]; 6. 11K-Kyle Hooper[8]; 7. 81L-Ethan Larsen[6]; 8. 21E-Enzo Spicola[7]
Milestone Home Service Co Heat 2 (8 Laps): 1. 33-Jett Nunley[1]; 2. 31BW-Braxton Weger[3]; 3. 73-Chase McDougal[5]; 4. 5C-Cooper Miller[2]; 5. 24C-Cale Lagroon[6]; 6. 4-Jude Allgayer[4]; 7. 14R-Jaxon Nail[7]; 8. 88E-Emery Laplante[8]
Milestone Home Service Co Heat 3 (8 Laps): 1. GH7-Garyn Howard[5]; 2. 1P-Mekentzi Potter[2]; 3. 2T-Tyler Crow[1]; 4. 87C-Callan Hill[4]; 5. 88K-Bryce Kujath[6]; 6. 88P-Ayden Parrish[7]; 7. 7W-Andrew Weathers[8]; 8. 45-Bradley Cox[3]
Milestone Home Service Co Heat 4 (8 Laps): 1. 3-Lathe Griggs[1]; 2. 83-Dawson Woods[4]; 3. 73X-Wyatt Miller[3]; 4. 11H-Nicholas Harris[5]; 5. K9-Sami Porter[7]; 6. 75-Deekan McRoberts[6]; 7. B2-Carson Bolden[2]
Performance Electronics Qualifying 1 (3 Laps): 1. 73F-Ty Fulghum, 10.289[4]; 2. 97-Cash Lacombe, 10.388[6]; 3. 11AZ-Annalesia Miller, 10.389[3]; 4. 8-Jase Blevins, 10.419[2]; 5. 95-Ryker Morrow, 10.445[8]; 6. 81L-Ethan Larsen, 10.611[7]; 7. 21E-Enzo Spicola, 10.630[1]; 8. 11K-Kyle Hooper, 10.763[5]
Performance Electronics Qualifying 2 (3 Laps): 1. 4-Jude Allgayer, 10.032[8]; 2. 31BW-Braxton Weger, 10.105[5]; 3. 5C-Cooper Miller, 10.106[6]; 4. 33-Jett Nunley, 10.138[3]; 5. 73-Chase McDougal, 10.188[1]; 6. 24C-Cale Lagroon, 10.357[2]; 7. 14R-Jaxon Nail, 10.602[4]; 8. 88E-Emery Laplante, 10.623[7]
Performance Electronics Qualifying 3 (3 Laps): 1. 87C-Callan Hill, 10.071[3]; 2. 45-Bradley Cox, 10.349[2]; 3. 1P-Mekentzi Potter, 10.394[6]; 4. 2T-Tyler Crow, 10.445[7]; 5. GH7-Garyn Howard, 10.468[1]; 6. 88K-Bryce Kujath, 10.599[8]; 7. 88P-Ayden Parrish, 10.664[4]; 8. 7W-Andrew Weathers, 11.414[5]
Performance Electronics Qualifying 4 (3 Laps): 1. 83-Dawson Woods, 10.078[4]; 2. 73X-Wyatt Miller, 10.107[7]; 3. B2-Carson Bolden, 10.150[1]; 4. 3-Lathe Griggs, 10.274[2]; 5. 11H-Nicholas Harris, 10.335[5]; 6. 75-Deekan McRoberts, 10.375[6]; 7. K9-Sami Porter, 10.455[3]
Junior Sprints
Top Notch Sod A Feature (20 Laps): 1. 4-Ryker Griggs[2]; 2. 27-Brody Stewart[4]; 3. 81-Braxton Flatt[3]; 4. 2M-Lee Moses[1]; 5. 10E-Eli Potter[6]; 6. 22-Ryker Jones[7]; 7. 17C-Caleb Johannesen[5]; 8. 9S-Braxton Stewart[8]; 9. 36-JJ Beason[9]; 10. 19J-JT Daniel[10]; 11. 2-Luke Booher[14]; 12. 55K-Kayden Anderson[16]; 13. 92-Lathan Knott[13]; 14. 12P-Collin Pruitt[11]; 15. 52-Carson Brazeal[12]; 16. 29-Jesse Bell[15]; 17. 26N-Nate Daniel[18]; 18. 1L-Axten Larsen[17]
Top Notch Sod Heat 1 (8 Laps): 1. 4-Ryker Griggs[1]; 2. 22-Ryker Jones[2]; 3. 9S-Braxton Stewart[3]; 4. 19J-JT Daniel[5]; 5. 92-Lathan Knott[6]; 6. 55K-Kayden Anderson[4]
Top Notch Sod Heat 2 (8 Laps): 1. 81-Braxton Flatt[1]; 2. 27-Brody Stewart[3]; 3. 36-JJ Beason[2]; 4. 12P-Collin Pruitt[5]; 5. 2-Luke Booher[6]; 6. 1L-Axten Larsen[4]
Top Notch Sod Heat 3 (8 Laps): 1. 2M-Lee Moses[2]; 2. 17C-Caleb Johannesen[3]; 3. 10E-Eli Potter[5]; 4. 52-Carson Brazeal[6]; 5. 29-Jesse Bell[4]; 6. 26N-Nate Daniel[1]
Sportsman
Storm Roofing A Feature (20 Laps): 1. 22K-Brad Best[3]; 2. 92-Justin Simpson[2]; 3. 20-John Hull[4]; 4. U2-Ryan Cotney[6]; 5. 17R-Dugan Ridenour[1]; 6. 84-Dave Nicholson[11]; 7. 83-Coltin Strickland[13]; 8. 18-Lexa Turner[10]; 9. 4-Danny James[14]; 10. 82-Robert Randolph[12]; 11. 14F-Bobby Wofford Jr[15]; 12. 6-Randy Myers[18]; 13. 35-Zach McNally[21]; 14. 16-Darrius Myers[9]; 15. 66-Chuck Slater[7]; 16. 0-Johnny Goolsby[16]; 17. 5C-Casey Bierman[19]; 18. 2-Jeff Griggs[5]; 19. 25K-Jamie Kruithof[20]; 20. 88-Dustin Maxwell[8]; 21. (DNS) 08-Bobby McIntosh
Storm Roofing Heat 1 (8 Laps): 1. 2-Jeff Griggs[2]; 2. 66-Chuck Slater[1]; 3. 88-Dustin Maxwell[4]; 4. 16-Darrius Myers[6]; 5. 83-Coltin Strickland[5]; 6. 4-Danny James[7]; 7. 5C-Casey Bierman[3]
Storm Roofing Heat 2 (8 Laps): 1. 17R-Dugan Ridenour[4]; 2. 22K-Brad Best[5]; 3. 18-Lexa Turner[2]; 4. 82-Robert Randolph[3]; 5. 84-Dave Nicholson[7]; 6. 0-Johnny Goolsby[1]; 7. 6-Randy Myers[6]
Storm Roofing Heat 3 (8 Laps): 1. 92-Justin Simpson[4]; 2. 20-John Hull[5]; 3. U2-Ryan Cotney[6]; 4. 35-Zach McNally[7]; 5. 14F-Bobby Wofford Jr[3]; 6. 08-Bobby McIntosh[1]; 7. 25K-Jamie Kruithof[2]
---
Submitted By: Bryan Hulbert
Article Media
Back to News