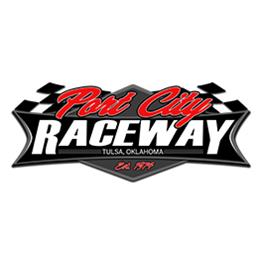 5/23/2022
Port City Raceway
---
Racing Resumes Saturday Night!
Hoss, Tulsa, OK. (May 23, 2022) –The journey to the Night Of Champions Banquet continues this Saturday night as weekly points racing resumes. After a week off due to mother nature, competitors and fans alike are excited to get back to the races.
In the McLaughlin Mortgage Team Jr Sprint division JJ Beason currently holds a 60-point advantage over Jaxon Nail and Caleb Johannesen. Braxton Stewart and Eli Potter currently round out the Top 5.
Jake Rosario has a 14-point advantage over Kris Carroll, while only amere 63 points separate Baron Silva, Connor Lee, and Cole Roberts in the top 5 in the K&B Racing A-Class division.
Roles are reversed in the Dragon Fly Aviation Non-Wing division as Kris Carroll holds a 12-point lead over Jake Rosario and Glen Bratti, with Connor Lee and Baron Silva rounding out the top 5.
Jase Blevins finds himself atop the Whitacre Glass Restrictor division with a 46-point lead over Prestin Dalton, with Kaley Mahaffey, Brody Brown, and Nicholas Harris making up the top 5.
The Storm Roofing Construction Sportsman division, is currently led by Darren Stewart. He has a 67-point lead over Jeff Harris, with Bobby McIntosh, Dave Nicholson, and Alan Ratcliff rounding out the top 5.
Still, plenty of time for drivers to claim those valuable championship points and collect feature wins. Come out and enjoy a great night of racing with us this Saturday night. If you have any further questions, please feel free to call 918-899-9605.   Remember if you can't make it to the races, you can watch live on FloRacing.
For the fans:
Saturday General Admission Gates Open @ 5
Adults $10
Seniors and kids 6-14 $6
Veterans and kids 5 & under are Free
Pit gates open @ 3
Pit Passes $30 per class
Draw Open 3:30 - 5:30
$5 USAC Members $10 Non Member
Sharp Advantage Drivers meeting 5:45
Hot Laps/ Qualifying @ 6:05
Running Order
Hot Laps / Qualifying
A-class
Sportsman
Restrictor
Non-Wing
Jr Sprint
Heat Races 8 Laps
Jr Sprint
Non Wing
Restrictor
Sportsman
A-Class
Jr Sprint B 10 laps If Needed
Restrictor B 12 laps If Needed
A-Class B 12 laps If Needed
Intermission
Sportsman B If Needed
Non Wing B 12 Laps
Jr Sprint A 18 laps
A class A 25 Laps
Sportsman A 20 Laps
Restrictor A 20 Laps
Non Wing A 25 laps
---
Back to News